Alexander Hancock reviews Netflix's latest, a Midwestern gothic thriller.
When Netflix released the first trailer for The Devil All The Time back in August, the internet was set ablaze with comments and reactions to the casting of a Marvel superhero as the film's protagonist. That Tom Holland – the friendly neighborhood Spiderman – was to star as a brooding, violent outcast in a Southern gothic thriller, was just another one of 2020's many oddities. Set in the rural, forgotten town of Knockemstiff, Ohio, director Antonio Campos' adaptation of a book by the same name is a profoundly disturbing character study of an array of people, all of whom are struggling to cope with varying degrees of suffering and agony. From dealing with the effects of parental abuse, to internalised resentment, every inhabitant of Knockemstiff is burdened with harrowing secrets that threaten to blemish their reputation in a town where everyone lives in each other's pockets. For Willard Russell (Bill Skarsgård), this atmosphere proves especially challenging due to the atrocities he witnessed as a US soldier in the Solomon Islands during the Second World War. Upon his return to his hometown, it is clear that Russell's experiences have left him permanently damaged. His inability to control his anger leads to an abusive relationship with his son, Arvin (Tom Holland) and the calamitous hardship he experiences from the death of his wife, leaves him completely broken.

Years later, we find Arvin a changed man, living as an orphan with his adopted stepsister Lenora (Eliza Scanlen). Often hiding under the bill of his cap, Arvin lurks around the outskirts of his town, observing his neighbours and confronting depraved teenagers who terrorise and torment his sister. Though the remnants of his troubled relationship with his father still linger – a palpable resentment that threatens to shatter his steely demeanour suffuses his character – Arvin appears to be settling into a level of comfort in his life, with his sister and grandmother whom he clearly cares about. Enter Reverend Preston Teagardin (Robert Pattinson), the offbeat, outlandish preacher, who sticks out like a sore thumb amongst the melancholic locals. While his arrival in the community initially seems innocent enough – he makes a few snide remarks regarding the cooking of Arvin's grandmother – his virtuous persona soon starts to unravel, disturbing what little harmony was left in the small town of Knockemstiff.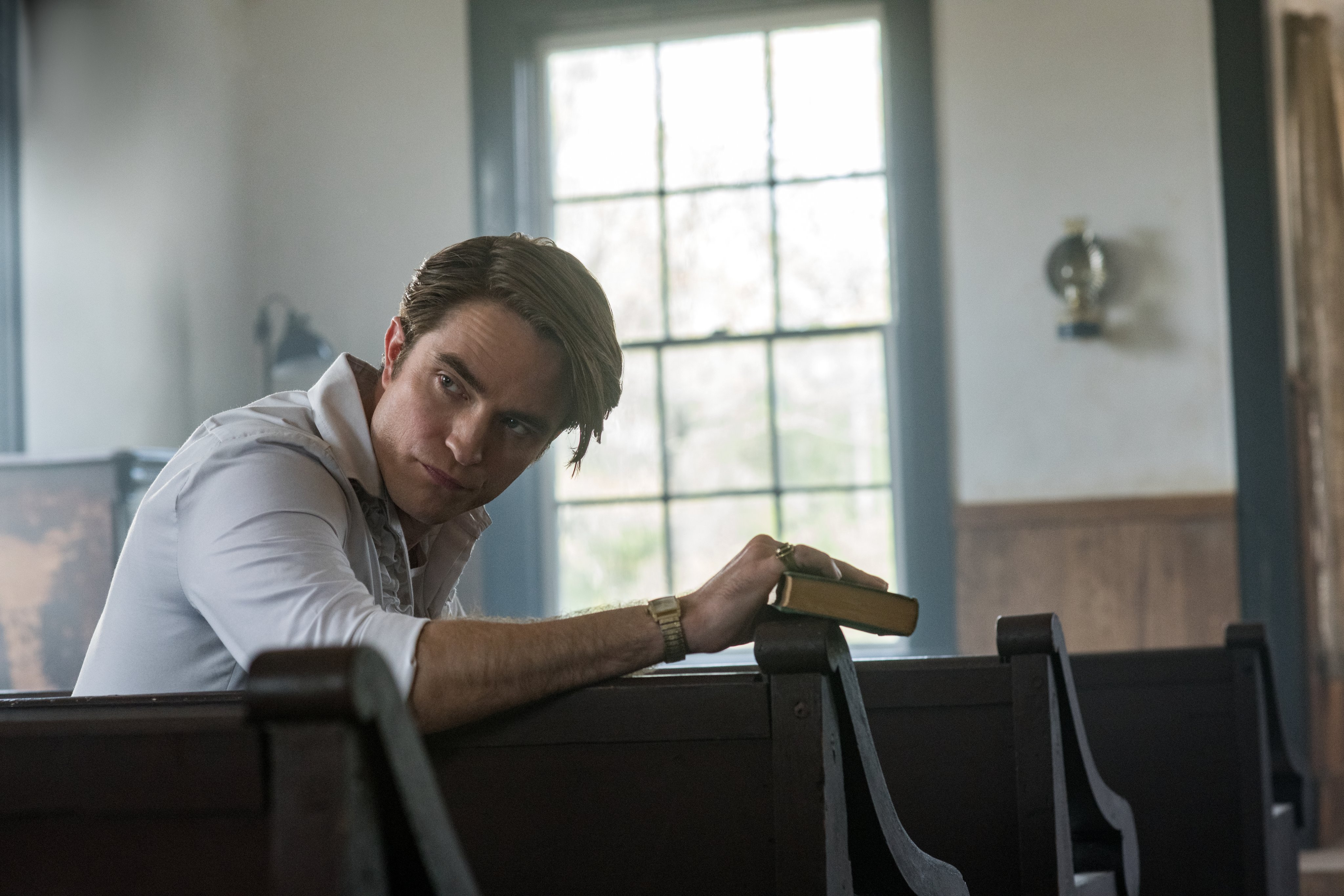 Campos' movie works as a patchwork of vignettes that we watch being gradually pieced together, one by one. If the film is a chessboard, then the characters are often reduced to mere pawns in a story that is so convoluted that at times it's hard to follow the narrative thread. While Campos' manipulation of time – jumping back and forth between the past and present – can be effective when revealing how different characters are in fact connected, it can also feel clumsy and muddled, leaving the viewer with more questions than answers. With an ensemble cast of this scale, unfortunately some characters are less developed than others, and may appear solely to act as a foil to their counterpart. The relentless exploration of abuse, sexual exploitation, suicide, murder and mutilation at times feels suffocating and gratuitous, not leaving you a moment to collect your thoughts or to process the horrors that each scene presents.

The camera mirrors the character of Arvin, weaving in and out of pockets of shadows, drifting amongst shades of darkness as it captures the geography of rural Ohio. Lol Crawley's cinematography creates an intimate relationship between the viewer and the setting; transporting the audience into the landscape, as if we were watching the events unfold, in secrecy, from afar. With a subdued colour palette of muted greens and yellows, the visuals of the film convey a sense of melancholy and establish an unsettling environment that's compounded with atmospheric strings and eerie piano chords.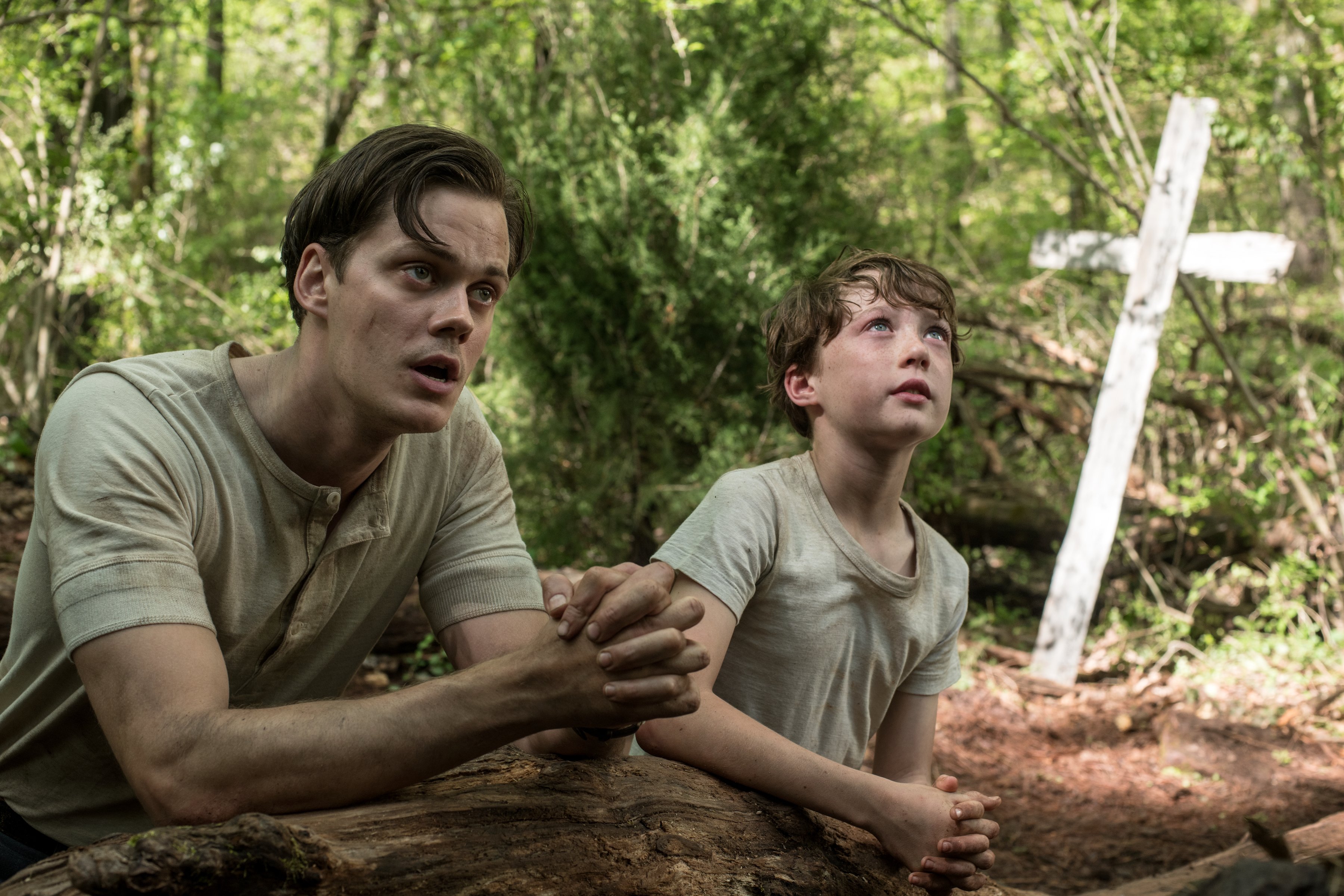 The actors' performances buoy this film and elevate it beyond the issues with the narrative. Each actor seems to be challenged in a way that they haven't been before; for one, the in-form Robert Pattinson as an eccentric pastor, and Sebastian Stan as a corrupt cop who's painted in all shades of grey. Riley Keough also gives an excellent performance as a woman tied down to her murderous boyfriend who we witness oscillating between choosing what's right and what's wrong. But it's Tom Holland who shines brightest here, giving a compelling and understated performance as a young man battered and bruised – both physically and mentally – by a life of violence and loss. Holland's ability to navigate the role with such skill and nuance, is a testament to his versatility and talent.

Although the shortcomings of The Devil All The Time detract from the central storyline, the haunting visuals and dynamic performances are what save this film. Campos succeeds in encouraging the viewer to consider the inescapability of past relationships and how evil – in both a physical and figurative sense – can corrupt one's morality. Can one ever liberate themselves from the trauma that binds them to those who inflicted their pain? Can wrongdoings ever be rectified? If you're in need of a film that'll distract you from thoughts of a potential second lockdown, with fun, escapist stories and characters, this may not be the film for you. But if you're scouring through the seemingly endless content that Netflix has to offer, for a film that'll challenge you and present a range of interesting and difficult questions, this might be it.
The Devil All The Time is available to stream on Netflix. Watch the trailer here: