Emma Davis compiles a handy guide for your cinematic expenses in London Town. 
Welcome to London, one of the most expensive cities to live in but nonetheless an incredible cultural student location. Going to the movies sure is a treat, but it's an expensive one. If you watch movies frequently, how will your bank account keep up with your habit?
This guide is for freshers and students alike. Students are always looking for deals, so here at FilmSoc, we provide:

BFI 25 & Under (£3 tickets)
These discounted tickets are only available on the day of the screening, and you can book online or buy them in person at BFI Southbank. Styled as Britain's home of cinema, the venue has everything — latest releases, special screenings, Q&A events, a library, a free archive viewing room, and a shop. Even London Film Festival events are hosted there!
Sign up for the BFI 25 & Under Scheme here.
Genesis Cinema (£5 tickets & unlimited)
Ticket prices at this Mile End Cinema vary by event, as some are hosted by the cinema and some from others who hire the venue. You can get the Student £5 price from Monday to Wednesday, but it rises to £7.50 Thursday to Sunday.
There are also concession prices for students in their annual membership for unlimited access.
Curzon Student (£6 tickets)
The Curzon Student Membership is free to sign up for. The £6 ticket prices only apply before 5pm on weekdays. Otherwise, you only get a slight discount on weekends and evenings.
The scheme doesn't give you the perks of its paid member schemes like discounted food or second tickets. However, you still get news about events by the cinema chain!
Find out more here.

Young Barbican (£5 tickets)
The Barbican is a world class arts centre and is kind to students! Signing up for their Young Barbican scheme entitles you to not only cheaper movie screenings, but cheaper access to other creative events.
Find out more here.

NUS x ODEON Cinemas (25% off)
The NUS card (now known as the TOTUM card) needs to be bought (from £12 to £32, depend on the length of membership). However, this gets you a heavy discount on tickets at ODEON cinemas. This discount only applies in certain conditions, and you cannot buy your tickets online. In my experience, it's also a hassle for ODEON staff to put the discount through.
See the conditions for the student discount here.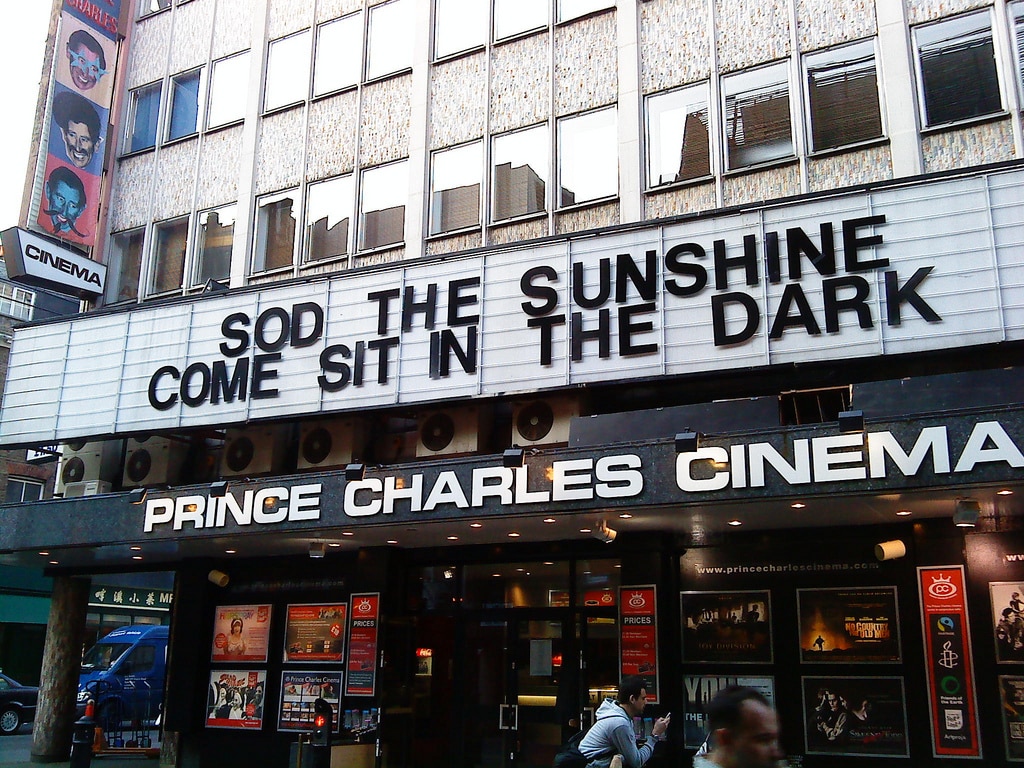 Prince Charles Cinema (£1 tickets!)
This is not a student-specific scheme, but £1 tickets are still a bargain. The Prince Charles Cinema is an iconic venue, show a whole range of movies and hosting events — including the famous regular The Room screenings with Tommy Wiseau and Greg Sestero!
Find out more about PCC membership here.
–
Outside physical theatres, here are also some alternative options to streaming services.
CLIE Database
As a UCL student, you are entitled access to CLIE's Self Access Movie Database. If you're learning a language, there is plenty of foreign language movies available. However, there is also a great selection of English-language films from recent releases to classic movies.
Log in with your UCL account here.
MUBI
This is a paid service, where films are curated for viewing everyday. It also acts a social network for rate and share movies. However, if you sign up with your UCL email, you can access a free selection of films.
Sign up for the MUBI Film Schools Programme here.
Don't forget that FilmSoc also holds our own screenings! Follow our Facebook page to be updated with the events as they happen all year round.