BFI's London Film Festival is in town! The FilmSoc Blog is back for the 66th edition of the city's largest film festival, delivering a look at the hits and misses of the 2022-23 season.
Dominic Ko reviews Rian Johnson's latest whodunnit film, Glass Onion: A Knives Out Mystery, a standalone sequel to Knives Out (2019).
Rian Johnson has done it again, in his latest whodunnit film, Glass Onion: A Knives Out Mystery, a standalone sequel to Knives Out (2019). Daniel Craig reprises his role as 'CSI KFC', Benoit Blanc, our flamboyant, gentlemanly, cigar-chomping master detective, who finds himself transported to a secluded Greek Island for his latest murder mystery.
As a standalone sequel, there is no need to watch the first iteration, but it is highly recommended you do. Both can be viewed as companion pieces in their pointed critique of wealth and our contemporary social hierarchies. However, while Knives Out has a more contained intimate autumn feel, Glass Onion feels more like a huge summer blockbuster with explosive action sequences and larger set pieces. This may seem slightly incongruous with its Netflix streaming release on 23 December 2022, but I doubt many can wait longer for the next installment of Benoit Blanc's exploits.
Just like Knives Out and other whodunnits, Glass Onion features an ensemble of characters. The movie begins by establishing the motley assortment of characters, each representing various dimensions of our society. Instead of the Thrombey clan, this time we are introduced to a group of friends whom the leader, tech billionaire, Miles Bron (Edward Norton) dubs as the 'disruptors'. Invited to his private island is a desperate senate candidate, Claire (Kathryn Hahn), an ignorant fashion designer, Birdie (Kate Hudson), Birdie's loyal assistant, Peg (Jessica Henwick), a men's rights Youtuber, Duke (Dave Bautista), his influencer girlfriend, Whiskey (Madelyn Cline), a perturbed scientist, Lionel (Leslie Odom Jr), and lastly, Miles' ex-business partner, Andi (Janelle Monáe), whom Miles had 'Social Network-ed' out of a company they co-founded.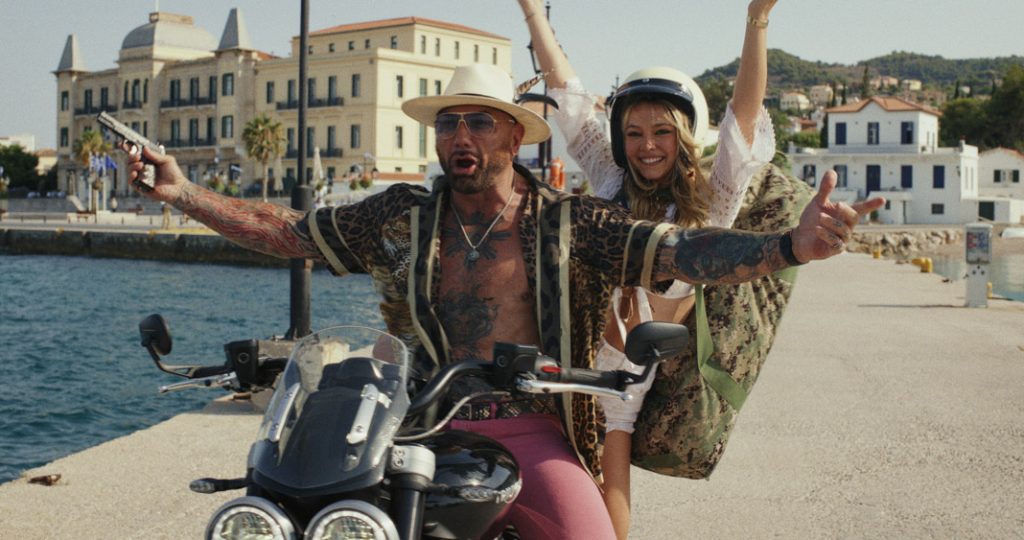 Although they lack the comic chemistry found in the Thrombey clan, this group of 'disruptors' are no less entertaining. Everyone's dialogue is witty and punchy and the cast cleverly caricatures tech magnates, senators, social media influencers, and other movers and shakers of today. For example, Edward Norton's Miles Bron is a thinly veiled stab at Elon Musk. While there are no weak links in this ensemble, particular praise has to go to Kate Hudson's hilariously oblivious supermodel persona. Hudson's character is set front and centre at some of the movie's funniest moments, and you would roll over laughing at her riotous one-liner during Craig's monologue. Contrasting Hudson's playful persona, Janelle Monáe delivers the movie's best performance as the multifaceted Andi, who seethes silently in anger until the truth is revealed to the audience. Just like Ana de Armas in Knives Out, Monáe's character provides the heart of the film and she rises to the occasion to convey her role's complex, enigmatic dimensions. It was an absolute delight watching Rian Johnson carefully peel back the layers of the most mysterious member of the group and see Monáe display her range.
It is challenging to get into Glass Onion's plot without spoiling the multiple twists. But I would congratulate Rian Johnson for delivering an outstanding screenplay, filled with Chekhov's guns, red herrings, endless rug-pulls, and turns. All these make for entertaining rewatches and analyses when the film eventually releases on Netflix. Nevertheless, there is always room for improvement, and Glass Onion's near-perfect twisty screenplay is held back by its self-indulgence. I cannot help but feel the film had been infected with the recent Marvel movie formula with some unnecessary comedic beats at the beginning and gratuitous cameos that seemingly serve no narrative purpose. Perhaps I am being too harsh with the celebrity cameos as there are a few delightful faces and name drops that elicited giggles. However, I felt that Glass Onion's screenplay truly shines in the second half when the murder has been revealed and the film focuses properly on the mystery at hand. Setting aside these minor grievances, it is really to Rian Johnson's immense credit for delivering a wildly satisfying sequel to his critically acclaimed hit in 2019.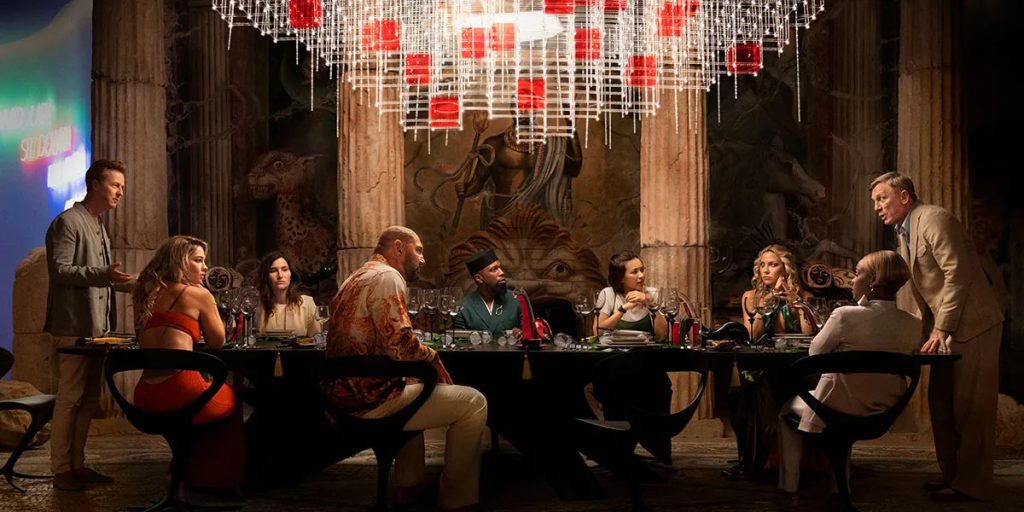 The conclusion to Glass Onion was cathartic, action-packed and it really flips the bird at the hypocrisy of the wealthy. It is hard to choose if Knives Out or Glass Onion is superior, but Glass Onion definitely doubles down on its action-packed entertainment and scathing social commentary. Both films require a minor suspension of disbelief, and so long as you approach the films passively, you will undeniably enjoy yourself. As Rian Johnson admits at the LFF press conference, for this sequel, he had set out to create a roller coaster of adventure instead of a puzzle box, and succeeded he did in delivering one of the most inventive murder mystery films.
As a certified crowd-pleaser, it is a shame to hear that Glass Onion will only be having a one-week theatrical release before its streaming release on 23 December 2022. Its big-budgeted set pieces, explosive sequences, and side-splitting laughs should be enjoyed in the company of other cinema-goers. Thus, if you can see it in theatres, I cannot further emphasize how you have to seize the opportunity. Suffice to say, Rian Johnson's Glass Onion is a hit and I eagerly anticipate his next outing with the gentleman detective, Benoit Blanc.
Glass Onion: A Knives Out Mystery will be released in cinemas on November 23, 2022.
Watch the trailer here: