BFI's London Film Festival is in town! The FilmSoc Blog is back for the 66th edition of the city's largest film festival, delivering a look at the hits and misses of the 2022-23 season.
Mara Dinu reviews Casa Susanna: a documentary focused on the art of cross-dressing and gender self-expression.
What used to regarded as "unacceptable" behaviour for the social norms of 50s and 60s America was explored at Casa Susanna through cross-dressing – the performance of men wearing female clothes, makeup and adopting "feminine" mannerisms. French-Jewish film director, Sébastien Lifshitz, put together an incredible collection of archives from the most animated days of the club while interviewing two transgender women in their 80s, Kate and Diana, who used to be visitors. Along with the two of them, the daughter of a cross-dressing father, who also frequented the house, as well as one of Susanna's relatives were also interviewed.
The house used to be vibrant, full of freedom, and life; a place where many felt safe enough to express themselves and defy clothing and gender norms. The people and the activities happening there also helped a lot of women come out as transgender, after years of trying to suppress their true identities in their hometowns. People used to come to the house from all walks of life, hearing about it through word of mouth or newspaper adverts. It was a safe space for self-exploration and for growing friendships that would last more than a lifetime, as they kept growing branches even through the relatives and children of the visitors.
The documentary is mostly past tense, interview-based, and it follows Kate and Diana on their journey back to the now abandoned house to reveal their old memories in the form of impressive collections of archival footage from that period. That's just an attempt to bring back the memories of each person they met in that house. All of the people visiting it had hard lives and struggled with their identities because of the closed-minded, strict unwritten societal gender-conforming rules, influencing the way people were expected to dress, act, and present themselves.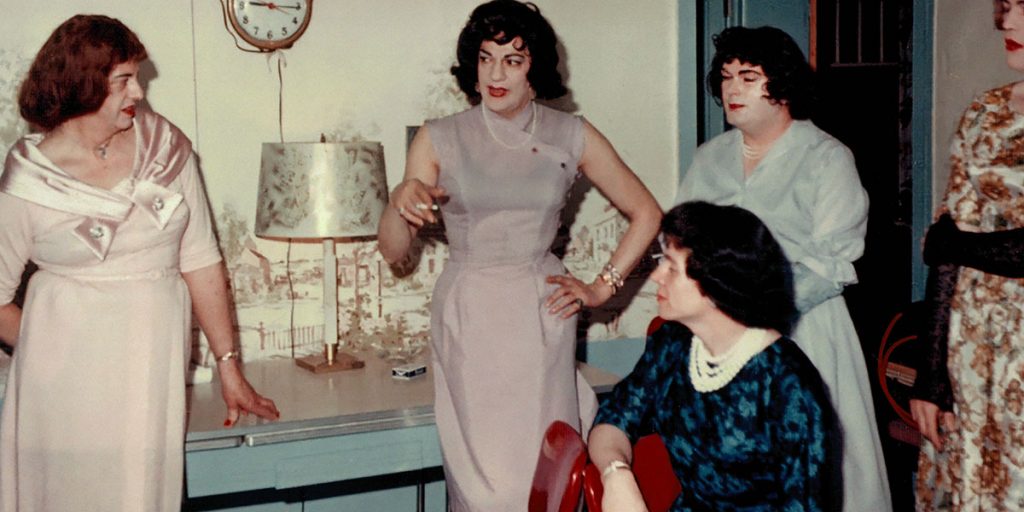 There is an interesting switch in the tense of the narration, from past to present, through the story of one of the interviewees, the daughter of a cross-dresser. She is presenting her life as well and the moment of realisation in her teens that her father was wearing women's clothes as she had seen him dressing up as his sister for a Halloween party and taking the costume "way too seriously" for what she was expecting. His wife knew all about Casa Susanna and they were going there over the summers together, as she wanted to support her husband in his hobby. However, their daughter never managed to feel true love for her father, as it seemed like he despised her so much that he always made terrible comments about her being his "female version", just as ugly as him. She resented him for this, but in the documentary, she is on her own journey of coming to terms with her strict father and starting to understand him better after he is gone. Her arch in this story intersects with the ones of Kate and Diana, who also meet with the relative of Susanna (also known as Tito) who is carrying the ashes of her and her wife, in order to scatter them together near the house, in their space of freedom.
The documentary is incredibly emotional and raw in its entirety, having made me cry in the cinema room. The lives of these women and cross-dressers were always at risk of criminal prosecution, they had to hide themselves and go through life-threatening illegal surgeries in order to become who they actually were on the inside. Despite it all, a lot of them still brought their wives to the house, and for most of them the moments spent at Casa Susanna were some of the only happy periods of their lives. The relationships depicted in the film are placed on an incredible spectrum and they really do make you believe in the love humans are capable of. They were anywhere from wives and cross-dressing husbands, wives of trans women becoming either separated but on good terms, or couples of lesbians, their love taking all sorts of forms, from lovers to old friends to a chosen family.
Now that I think about it, the whole film is centered around the idea of love and the various forms it can take, the way it can transform and be reshaped, or even the way it can have multiple meanings at the same time for one single person. It is heartbreaking to see how much pain this kind of love holds around it and how complicated it used to be (and sometimes still is) to simply live as your true self. I want people to open their hearts and minds and let themselves love without fear, understand others and accept the people around them as long as they are not doing harm to anyone. The simple act of being should never be questioned and this is not a right, but the fundamental cause for one's existence. 
Watch the trailer for Casa Susanna here: