BFI's London Film Festival is in town! The FilmSoc Blog is back for the 64th edition of one of Europe's largest film festivals, delivering a first look at the hits and misses of the 2020-21 season.
Kirese Narinesingh reviews Regina King's directorial debut: the story of some of the most influential figures of the Civil Rights Movement.
It's 1964. Mohammed Ali has defeated Sonny Liston and become heavyweight champion at the mere age of twenty-two. What happens next is equal parts enigmatic and beguiling: a celebratory meeting of some of the best minds of that generation – Malcolm X, Sam Cooke, Jim Brown and Ali himself. This is the premise of One Night in Miami, Regina King's directorial debut. The film is exactly what its title offers. It's a night stretched out in conversational musings and politically oriented dialogue between the most influential black men in history. As brief as it was, King makes the filmic interpretation as impactful as possible; it's a captivating treat whose purposeful brevity makes you want more.
Kemp Powers' script may be speculative, but he capitalizes on the alluring personas of each figure, as well as the potentialities that arise from such a meeting of minds. The first portion of the film is akin to a prelude. Each character is established distinctly. Kinsgley Ben-Adir's Malcolm X is charming as he is a stern intellectual, Aldis Hodge captures Sam Brown's poise, Leslie Odom Jr. is the calm but formidable Cooke and Elie Goree is the boisterous Ali. Much attention is given to their separate preoccupations, but the spirit of brotherhood never falters. They joke, they argue, they banter. They're larger than life icons of American history, but in the time-constrained space of the film, King ensures that they aren't caricatured. As human as any of us, these men are complex, their issues are nuanced and their relationships with each other complicated.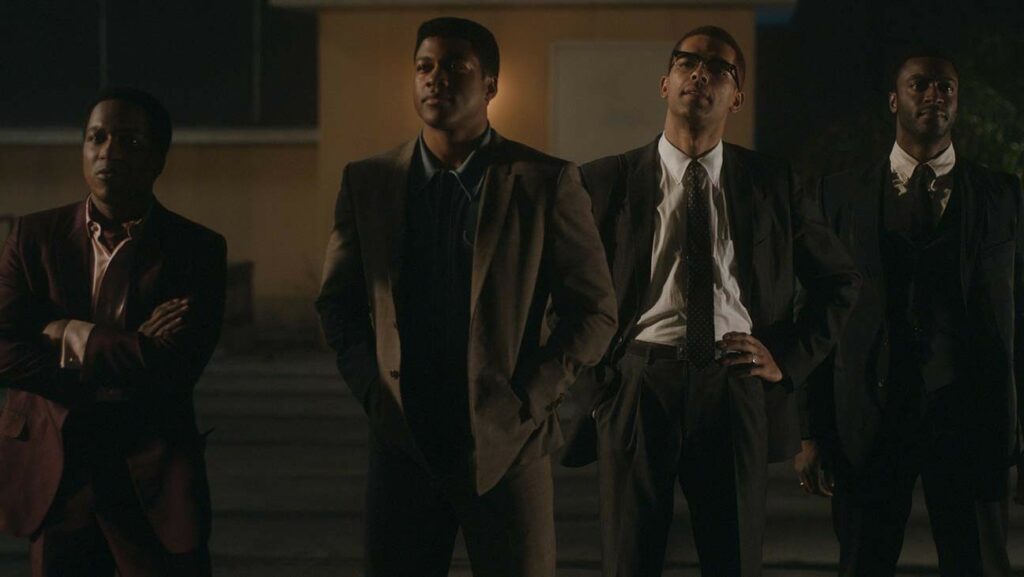 Most importantly, the film never falls flat. How could it, with hilarious dialogue, a lively pace and the energy of a cast who understands their characters? The film is an ever-changing conversation, from playful jokes to politically charged evocations about black liberation. Granted, the film's theatrical nature at times allows important questions raised during the film to be dropped in favour of the cast's thunderous performances. At first, the film struggles to get ahold of what it wants to be, as its narrative structure is a bit flimsy. And setting the film's events in one space, the hotel room, is a touch reminiscent of the theatrical version.
However, the film maximises the richness of the script when it registers the glaring relevance of its arguments about black power. It's obvious which part of this filmic conversation is the most interesting. The different ideas and approaches that each man has towards black liberation is a point of contention. Cooke and Malcolm are head-to-head, with Cooke defending himself from being denounced for pandering to white audiences. Ben-Adir's Malcolm is stern, with enough conviction to topple Cooke's argument about his version of black power, which comprises changing the system from the inside. But Malcolm's argument is supreme. African-Americans are being murdered. The political urgency is unmistakable: it's not enough for a handful of black people to be wealthy. As the characters empower one other, so too must the entire community be uplifted.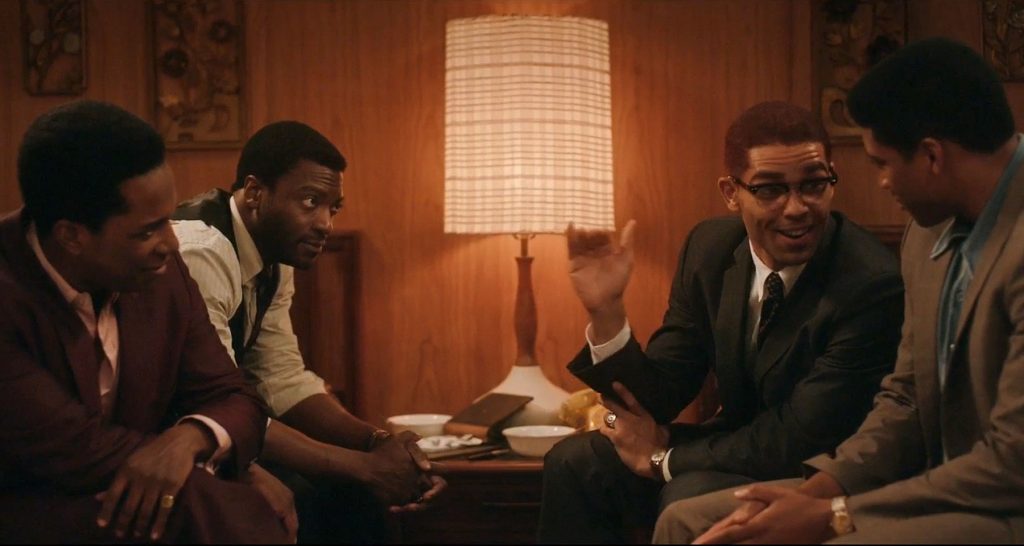 This is a moment in time. Yet it's so emotionally charged with all of the complications in their lives, whether it be Ali's perception of his fame as a black man, or Malcolm X's departure from the Nation of Islam. With the knowledge that before the end of the year, Cooke would be murdered and Malcolm X assassinated a year later, the loss of these brilliant minds is even more profound.
One Night in Miami overflows with engrossing conversations, sustained drama and terrific, genuine performances. It's a film that speaks about the entrance into fame, but also how each man felt and thought about the power that they wielded, and how that power could be used to help others. Most of the films I've watched at the BFI center themselves around the past. Ironically, they all were truly making comments about our present. They don't intend to sanctify the past or reject it. Films like One Night in Miami show that centuries old prejudices aren't broken down by new foundations, or one-man attempts to change the course of history. It takes the support of everyone.
One Night in Miami will have a limited release on December 25th, followed by a digital streaming release on Prime Video on January 15th. Watch a clip here: