BFI's London Film Festival is in town! The FilmSoc Blog is back for the 64th edition of one of Europe's largest film festivals, delivering a first look at the hits and misses of the 2020-21 season.
Luigi Barraza Cárdenas examines LFF's closing gala film, Francis Lee's historical drama Ammonite.
The BFI London Film Festival deftly selects a quiet story of loneliness and desire as the closing film in the shape of Ammonite. With his sophomore entry, writer and director Francis Lee (God's Own Country) solidifies his rising reputation as a remarkable voice in British cinema. Supported by a stellar cast, he continues to explore the nature of human connections with precision and skill through the delicate use of textures, attention to detail, and naturalism.
Ammonite draws its inspiration from real-life characters, but is a fundamentally fictional drama set in 19th century England that refreshingly focuses on the dynamics and relationships of women and approaches them with honesty. The film opens on the coast of Dorset, where we meet paleontologist Mary Anning (Kate Winslet). We observe the innate hardships of her daily work. The camera focuses intently on natural details and the grittier aspects of Mary's routine: the wind forcefully blowing on her face, the intrinsic physicality of her work, the mud on her hands, fingernails, and clothes. She leads a silent life with her mother (Gemma Jones), focused on her discoveries, and limited by the gender dynamics of her time.
Her routine existence is disrupted by the arrival of Mr. Murchinson (James McArdle) – a genuine enthusiast of her scientific work – and his unhappy wife Charlotte (Saoirse Ronan). Mary reluctantly agrees to take Charlotte as her beach companion to help her deal with what Mr. Murchison refers to as "a mild case of melancholia". The dynamics of social class and the willingness of people to accept worse treatment because of their status are present throughout the film. Prompted by proximity, a relationship between these two very different women blossoms to create an engaging tale of longing, desire, and disappointment.
Ammonite is beautifully filmed from start to finish. The filmmakers use light symbolically to highlight moments of intimacy; candlelit indoor scenes are gorgeously juxtaposed with the grey diffuse outdoors of the Dorset landscape. The film's naturalistic approach serves its themes well. Highlighting the environmental sounds and reducing the use of music to very punctual interventions manages to maximise the sensorial experience. One can almost smell the crisp sea air and feel momentarily transported by the sound of waves crashing on the seashore.
The film's more apparent weaknesses manifest in the form of the plot's predictability, aside from a mildly intriguing ending. I found its unwillingness to dig deeper into the more emotional aspects of the relationship somewhat frustrating. Resilient and patient, Ammonite takes its time observing and understanding its characters and motivations. Eventually, the approach pays-off in the film's second half, where the tensions boil and confrontations arise. These later scenes marvellously showcase the talented cast to fascinating results. Watching Mary's hope shatter while understanding the true challenges of the affair feels both realistic and profoundly sad.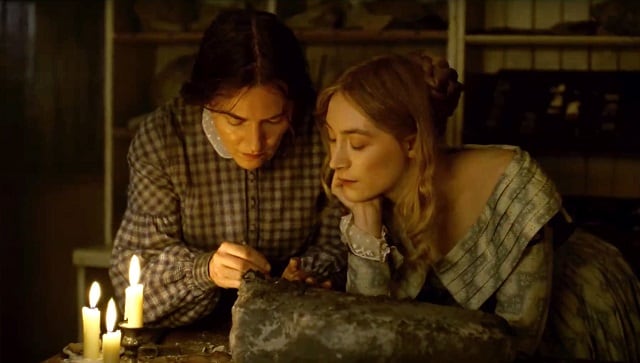 Ammonite's ability to remain engrossing from start to finish rests on the kinetic chemistry and strong central performances of its leads. Ronan is vulnerable, intelligent, and effectively brings sensuality to her scenes when required. Her layered transformation from a depressed spouse to an excited lover is fascinating to watch. Fiona Shaw (who seems to get better every day) also shines as a pivotal supporting character in the story. However, it is Winslet who delivers the most powerful performance, absorbing the audience scene after scene. The range of emotions that she conveys through small gestures around her lips and eyes is masterful, and the restrained way she delivers dialogue is mesmerising. Winslet is in complete control, expertly crafting her movements. She even uses her breathing as a nuanced yet affecting way of expressing her character's complex emotions.
Due to its coastal setting and similar subject matter, Ammonite will find it difficult to escape comparisons to last year's superior 'Portrait of a Lady on Fire' (one of 2019's most exquisite films, in my opinion). However, Francis Lee's layered explorations of loneliness, identity, and our perpetual human desire for connection deserve our attention for their own merit. There is something special about the way the writer/director understands and transmits the intimate feeling of bonding with another human in unfavourable circumstances and its effects on our psyche. The film empathetically dives into the intoxicating experience of breaking the cycle of loneliness and the excitement of meeting someone who might not see us as fully realised human beings, with all our complexities. Once the fire has burnt and the ashes have settled, reality sinks in, and it is crushing. I think that most people can relate to that.
Ultimately, Ammonite is not only a drama that develops around the concept of forbidden love, as the trailer and marketing will have you believe. It is a story about isolation, desire, and the heartbreaking ways in which humans project their needs when most vulnerable. And in reflecting that so effectively, the film deserves praise.
Ammonite will be released in UK cinemas in 2021. Watch the trailer here: