Isabel Milford reviews Eoin Macken's coming of age drama and analyses its theme of toxic masculinity as part of our Raindance 2020 coverage.
Power, control and the age-old ideals of societal masculinity are the forces that lure and plunge Kearney (Finn Cole), Matthew (Dean-Charles Chapman) and Rez (Ferdia Walsh-Peelo) into a coming-of-age journey steeped in toxicity. Eoin Macken's latest feature, an adaptation of Rob Doyle's 2014 novel, has its UK premiere at this year's Raindance Film Festival and introduces us to three lads in Dublin at the exact point that they leave their school days behind for good, exiting on a high of drugs, drink and property damage. Kearney, Matthew and Rez run through the city streets to the bulging sounds of Primal Scream's 'Loaded' in a Trainspotting-esque sequence, positively screaming with the vibrant energy of youth and hurling us straight into the events of Summer 2003.
Macken shines a spotlight onto the harsh side of societal gender roles to show us just how damaging some of our values can be when they manifest in young boys' heads. We're drawn into the world of developing masculinity through a variety of techniques, from mirror shots representing the duality of Matthew's evolving personality, to the imagined TV show stage that appears frequently throughout as a platform for Kearney's inner world. This TV show, run by an exaggerated American host sitting on his shoulder, is a place where Kearney bursts forth with bravado and misogyny. The tone of the imagined show is summed up in writing:
'WHAT DID JOE GET UP TO?
DRINK, DRUGS, SEX & AGGRESSION! THE MASCULINE DREAM.'
Alongside this deep dive into maturing masculinity, the film brings up some tough subject matters including violence, death, murder, depression, and rape. The dialogue cuts deeply and is partnered sensationally with gripping performances from each of the four main actors, bringing a raw depth to these subjects. One downside, however, is that the character of Rez sometimes feels pushed to the side, ousted in favour of Kearney and Matthew's problems.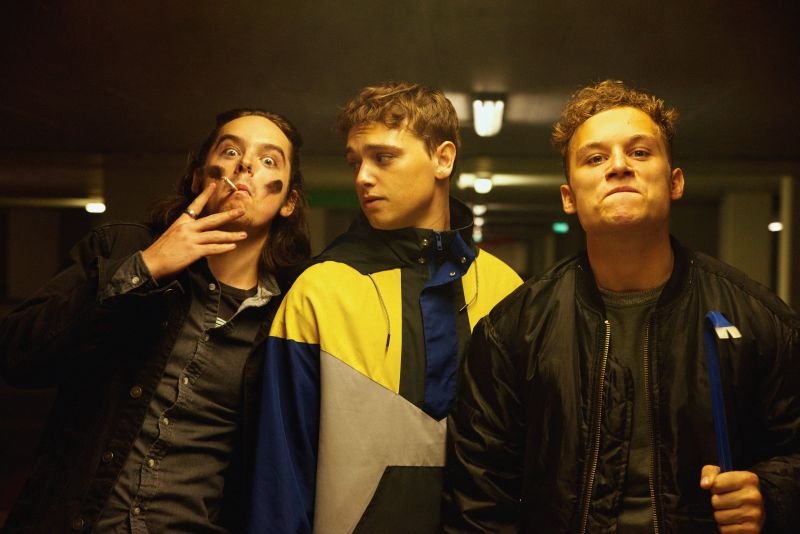 At first, the costumes didn't immediately sink me into the typical velour tracksuit nostalgia of the early 00s. I was, however, immediately transported by the bubble-gum pink sensory overload of Jen's (Anya Taylor-Joy) bedroom, thanks to Michael Moynihan's production design, which is aptly complete with a glittering lava lamp. Furthermore, in a clever move from the costume department, led by Aisling Wallace Byrne and Geri Doherty, Kearney is dressed in a tank top, khakis, and combat boots. What at first appears to be a simple boyish ensemble takes on the meaning of aggressive masculinity linked through a chain of imagery in the mise-en-scene; paired perfectly with the violent videogames and posters splashed over his bedroom walls showing warfare to the max. Kearney appears as a mundane soldier and this is topped off by his deep-rooted obsession with an idealised American lifestyle and becoming a 'real man' at the time that America invaded Iraq, which is even flashed up on the TV before Kearney's eyes, firmly setting the films roots down in 2003.
Amongst the hazy 00s 'Skins' vibes that this feature plasters on the screen though, are some slightly dated edits. This includes the moment the boys first encounter the theme of death, which occurs with a slow-motion zoom and a sudden blue hue, like a clip from a cheesy crime recreation on a TV show. Alongside this, Macken tries to ease us into the idea of the TV-stage world being mingled with reality by first incorporating Taylor-Joy with some strange adverts. However, this unusual TV world does start to work better as the film progresses and the style settles into itself. It becomes less forced and more cleverly integrated, such as the brilliant shot of a black and white Kearney staring out of the boxy 00s TV menacingly right behind Jen, who appears innocent and clouded in pink.
In Here Are the Young Men, we see teenage life through the blurry lens of drunken parties and dark nightclubs, smashed together with the bright streets of Dublin. Whilst the film can feel a little lost in its stylistic editing choices in the first half, it eventually grounds itself in raw performances and with its threads of speculation on over-bearing toxic masculinity leaves you questioning the society we have constructed.
Here are the Young Men is scheduled to close Raindance Film Festival. Watch a teaser here: