BFI's London Film Festival is in town! The FilmSoc Blog is back for the 64th edition of one of Europe's largest film festivals, delivering a first look at the hits and misses of the 2020-21 season.
Editor Lydia De Matos reviews this meditation on nomadic life in the American Midwest.
In 2017, Jessica Bruder published the book Nomadland: Surviving America in the Twenty-First Century, documenting the experiences of a selection of older Americans living on the road in the Midwest. Their lives were in a constant state of transience as they moved from place to place, picking up seasonal work where it could be found. Some had actively opted into this lifestyle, while others found it their only choice. Adrift, but not lost, their stories are reminiscent of those of itinerant workers from decades past, optimistically resilient in the face of an unforgiving economy.
Filmed over four months on location in Nebraska, Nevada, California, South Dakota, and Arizona, Chloé Zhao's Nomadland is a part-adaptation, part-reflection of the stories told in Bruder's book. Apart from Frances McDormand's Fern and David Strathairn's Dave, the cast is entirely made up of non-professional actors playing versions of themselves. Zhao is recreating the kind of docu-fiction seen in her previous features: Songs My Brother Taught Me and The Rider, neither of which made use of professional actors or entirely fictional stories. As such, Nomadland is not so much a film with a clear point, rather a simple exploration of a perspective rarely seen in the cinematic landscape.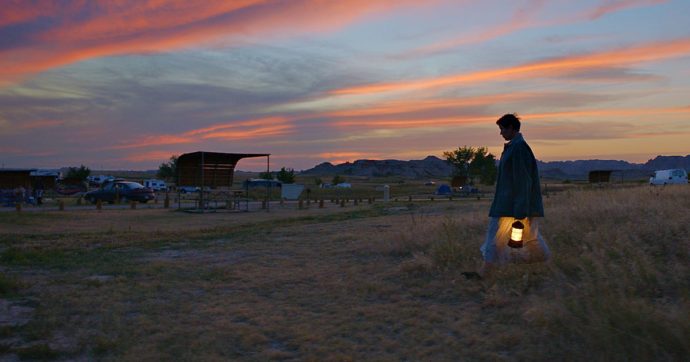 Widowed and struck adrift after the death of her husband and the closure of a gypsum mine around which her entire town was built, Fern is new to the nomad lifestyle. Fern's utility as an audience proxy, meeting people and learning about this subculture as we do, perhaps runs the risk of being too obvious. But McDormand's performance assuages any such worries. It was McDormand who actually optioned Bruder's book, and brought on Zhao to direct, rather than the other way around. Her connection to the material is evident, performing with a gravitas that is simultaneously optimistic and melancholy. Fern's amalgamated backstory is perhaps not quite as complex as the other characters', but it is far less simplistic than many of the proxies found in other films with a 'Based on a True Story' titlecard, and anything missing is made up tenfold by McDormand's remarkable presence.
Nomadland's unassuming poetic subtlety is reflected in its camerawork. Zhao's frequent collaborator Joshua James Richards avoids framing the grand open landscapes of the American Midwest as picturesque postcards, instead allowing their beauty to be a simple fact of life, a world inhabited rather than one gazed upon momentarily and then left behind. It's a landscape that evokes solitude and wonder, earthly connection and detachment all at once, a perfect externalisation of these characters' states of being.
I do wish the same could be said for the score. Rather than having a composer write a score for Nomadland, Zhao opted to choose tracks from several of Italian composer Ludovico Einaudi's old albums. While I'm not necessarily averse to the use of Einaudi's music in film — I take no issue with its presence in Nakache and Toledano's 2011 blockbuster Les Intouchables — it simply feels like far too much here. Zhao's filmmaking may be subtle but Einaudi is anything but, his compositions always far too obvious in their emotional intention that they eschew any notion of nuance. This not to mention that a number of tracks chosen here are so familiar to the famous 'Una Mattina' used in the aforementioned Les Intouchables, that I felt the need to check if the piece had actually been recycled. It is a shame. Nomadland is the kind of film that could have stood soundly without any soundtrack at all, and I find myself wishing that Zhao had chosen to do so, rather than nearly ruining a wonderful film.
Visually and poetically, Nomadland is a film of quiet beauty. It may meditate specifically on nomadic existence, but its reflections on human connection and the feeling of being set adrift inevitably resonate.
Nomadland won the Golden Lion at the 2020 Venice Film Festival, and is to be released in UK cinemas on January 1. Watch a teaser here: