Alexia Mihaila reviews a coming-of-age romance which explores French-Arab culture and boundaries of consent
A Tale of Love and Desire leads with the case of a true 'soft boy', Ahmed (Sex Education's Sami Outalbali); his newfound passion for his comparative literature classmate, Farrah (Zbeida Belhajamor), and the impact of his family's Algerian roots on his beliefs and social behaviour are the film's chief concerns. Being so used to the same format of coming-of-age romance, it's refreshing to see a story led by a Tunisian girl and an Algerian boy falling in love in the city of love, Paris, especially since the story feels so vulnerable and true. The pace fits the narrative well and gives the characters enough room to develop and ponder. Hopeless romantics will get a thrill from seeing such a realistic portrayal of themselves on the big screen, and everyone else will get an accurate view of exactly what it feels like to be a young, physically, and emotionally inexperienced romantic.
Ahmed is reluctant to love. He yearns from his core, whispering verses of erotic Arab poetry from his comparative literature course to himself, longing to be with Farrah. She seems tough, yet she's sensitive, and accepts Ahmed into her life with the hope that her own feelings will be reciprocated, despite him never wanting to publicly display affection due to his fear of bringing shame to his family. As an older brother, Ahmed tries to be a role model to his little sister, a self-imposed standard. His family hasn't even taught him how to speak Arabic, therefore I doubt that they would have been anything but happy for him to have a girlfriend.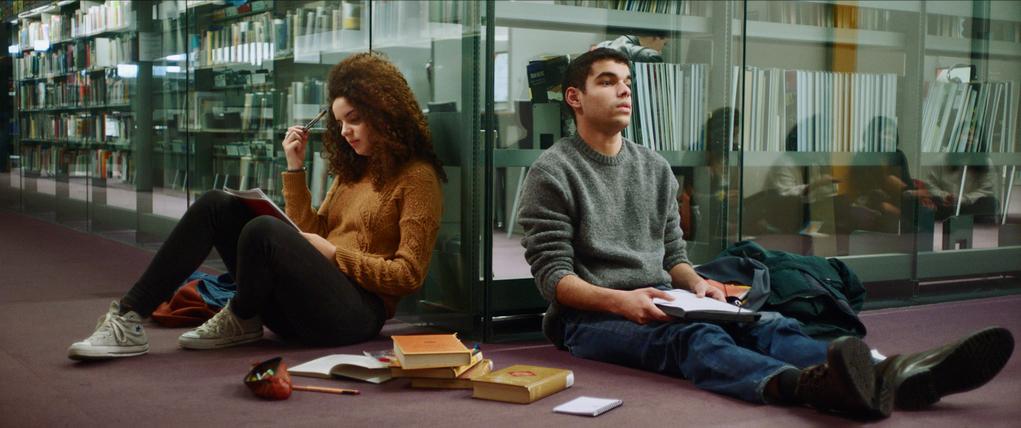 It feels unusual, in a coming-of-age film, to see a male character who is actually sensitive, who truly waits for 'the right time', since most in the genre usually follow body-over-mind attraction. Ahmed's shyness almost comes off as total lack of desire for Farrah at first. As a poet, there's also the afterthought question of whether or not he simply wanted to feel longing in order to have something to write about. Throughout, he explores his obsession with Farrah through writing, but he's always far too stuck in his head to actually take action. It takes a long time for the two to figure out their relationship status despite their sharing of a kiss and numerous hours in each other's company; Ahmed is always under peer pressure to put his family, cultural values, and male friends first.
Tunisian director Leyla Bouzid brings a lot of her cultural heritage to A Tale of Love and Desire. Starting in autumn and ending close to New Year's, the audience is exposed to numerous traditional Arab customs and celebrations. Ahmed is not the only one that shows his family's traditions to be a priority in his life, Farrah does it too, the two both teaching and learning from each other throughout. They learn to communicate, to understand consent, and most importantly to love. The boundary between platonic and amorous love is explored, each of the leads attempting to make each other fit their own personal 'tale of love and desire'. This is what I love about the film; it's a perfect mix of longing, communication, and lust.
A Tale of Love and Desire is a stellar example of how insightful and culturally-diverse romantic coming-of-age films could be if soul and effort was put into breaking stereotypical characters and tropes. It's not only that it manages to capture the contrast between the stark emotional turmoil and indecisiveness of falling in love at a young age and the relative triviality of life, but it also portrays its love story so well, that it's not only the leading couple who falls in love, but the viewers who leave spellbound too.

Watch the trailer for A Tale of Love and Desire here: