Ellie Lachs reviews Brazilian science fiction thriller exploring the most intimate human relationships.
Luli Gerbase's The Pink Cloud is so on the nose, it's almost disconcerting. It follows Giovana (Renata de Lélis) and Yugo (Eduardo Mendonça) as they wake up to the sound of sirens the morning after a one night stand. The sirens warn of a fatal pink cloud in the ether, and they are instructed to go inside and lock every door and window. Exposure to the cloud for more than ten seconds will result in death. As such, a form of lockdown — almost too resonant of our current circumstance — commences and lasts for far longer than expected. Strangely, this film was written in 2017, and shot in 2019, meaning that it predicted with eerie precision what a world in lockdown might look like, and does so while remaining within the confines of one apartment.
Whilst the notion of a looming pink cloud might cause some to assume a fantastical sci-fi spin, this is not the case. The pink cloud, as Gerbase states, was written into the story more as a means by which to circumvent the film industry's frequent reversions to war and ostensible tragedy as a space for drama. We are invited into this film upon the aesthetically pleasing, almost Michelangelo-style pink clouds and this immediately engenders the film's central irony whereby the thing that, from afar, seems to be the most beautiful and passive, is the single cause for internal chaos and demise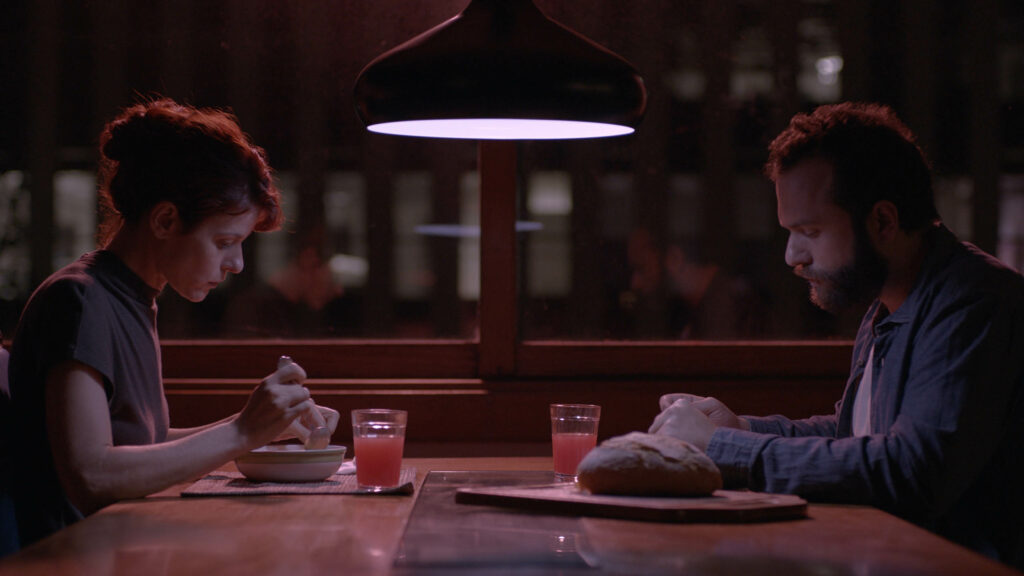 Trapped by the cloud, and separated from family and friends, Giovana and Yugo must quickly learn to live together. They start a new life, initially predicated on the anticipation of imminent freedom. They put aside their differences in order to make the most of a bad situation; "Whilst the cloud is here, let's live in peace". But as this bad situation slowly becomes the norm, boundaries begin to collapse. The cloud continuously teases and takes away selected freedoms, pushing the characters to their emotional limits.
Giovana and Yugo's relationship is a testing and complicated one. They were thrown together out of lust but made to stick together out of necessity. Despite the unity of location and a general sense of atemporality, The Pink Cloud is in a constant sense of flux. In the beginning, they argue about whether to have children, skip forward and Giovana is giving birth to their son, accompanied by a Zoom midwife, some headphone cords, and only Yugo present to help ease the pain. Their sexual desire for each other initially patches over the underlying mutual repulsion, but that repulsion slowly causes any attraction to dwindle. The importance of this aspect of their relationship is evident, the film largely demarcated by sex scenes illustrating the intoxicating nature and necessity of human touch.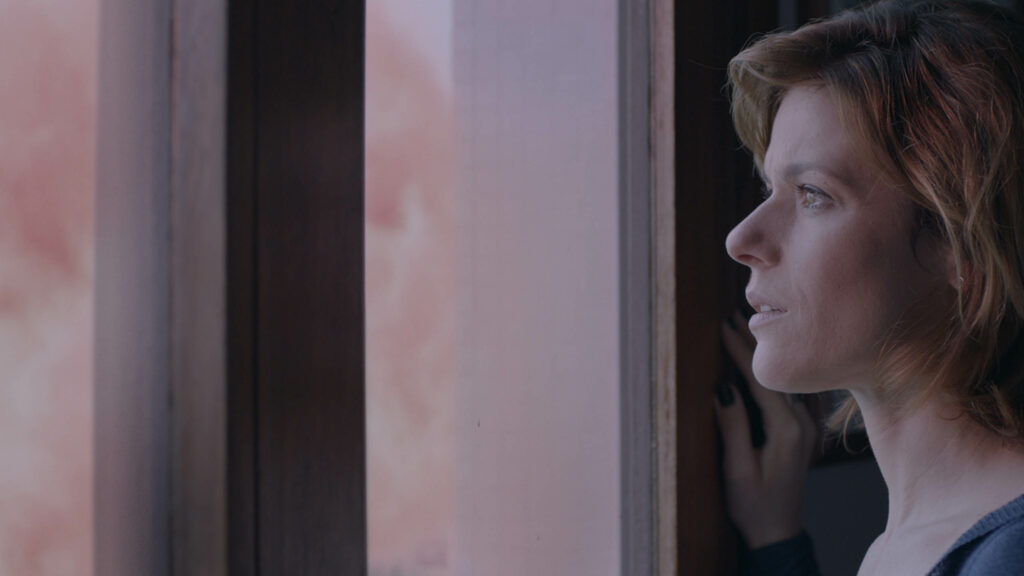 At times these scenes do feel somewhat gratuitous, but Gerbase twists this to her benefit as she begins to push the film's most titillating scenes into its most tragic ones. Pleasures become repeatedly truncated with the reality of Giovana and Yugo's circumstances, and in this there lies an interesting juxtaposition; the permanence of the cloud and its effect on their living conditions, versus the impermanence and futility of their mental states. Through this, Gerbase begins to deconstruct different coping mechanisms. In the beginning, over engages in the news, but is slowly driven mad by its anxiety-inducing morbidity, and retracts into a state of unreality as a result. Yugo, on the other hand, copes through what we might now call toxic positivity. He largely chooses what he wants to see, and as a result, manages to adapt more easily. Of course, where these different coping mechanisms occupy the space, they bring an excess of tension and unrest with them.
Despite being locked in this one setting, Gerbase overcomes myopicism by punctuating the lives of her protagonists with the experiences of other characters. Giovana's best friend gets locked down in her house alone and becomes chronically depressed as the cloud continues to dominate their world. With no human contact in reach she becomes a detracted shell of herself and eventually stops answering the phone. Meanwhile, Giovana's sister was locked in at her friend's house with three other girls and her friend's father. This descends into a murky scenario in which two of the girls become pregnant. On the other side, Yugo's father descends into a severe state of dementia to the point that Yugo stops calling him; finding it too heartbreaking to witness his father's inability to recognise him anymore. As these subplots play out, we begin to see just how affected every level of society becomes, and whilst these struggles might manifest in different ways for different age groups, their strife is equal; nobody gets off easy.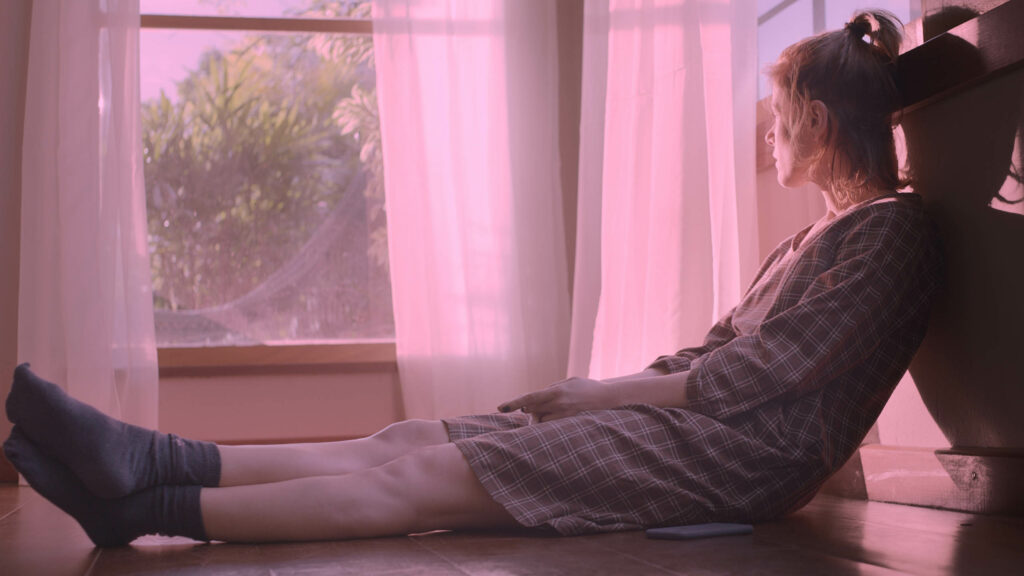 Plot aside, one of the film's most striking elements is, perhaps unsurprisingly, its pink hue. So much of the drama is cast over with this beautiful shade of rose, courtesy of the cloud outside, and the film takes on a sort of picturesque feeling. With cinematographer Bruno Polidoro lighting The Pink Cloud's 2:3 frame with a sunset-like, 'golden hour' pink, the film begins to feel like a sequence of portraits. This unwittingly slows down the film's tempo, to the point where we feel as if drama is no longer imposed upon the characters but created wholly by their inner lives and interactions with one other. On top of this, the pink hue pervades no matter what is happening on-screen; there are endless moments when the action and the cinematography do not meld conveniently together, and at this point, the pink becomes sickly and overbearing.
The cloud is a bringer of love and hate, hysterics and mundanity. Gerbase's film does not shy away from blurring the lines between hysterical crying and laughing, and it does not shy away from the unattractive and nasty sides of people. It is an astute observation of how humans cope and deal with the kind of trauma that is not imminent or violent, but slow and overbearing instead. Whilst The Pink Cloud might be a little too close to home for some at this moment in time; it is artfully on the nose, and dives deep into the human psyche — often without your even realising. My only ostensible criticism is that it doesn't require much afterthought, for the questions it provokes are too easily answered by the lives we are all currently living.
The Pink Cloud premiered at Sundance 2021. Watch the trailer here: