Shayeza Walid reviews the controversial blockbuster dominating online discourse
When the House of Gucci trailer was released earlier this year, the movie seemed to have all the calling cards of an instant cult classic; it looked seductive, dramatic, and full of lust, rage, greed, love, and fashion. However, as anyone who has witnessed the entire two hour and forty minute runtime will know, Ridley Scott's hopeful "crime drama" is an awkward dramedy at best, and otherwise a chaotic and unfortunately disorganized drama, with some great laughs and few notable acting moments.
Famously starring Lady Gaga, Adam Driver, Jared Leto, Al Pacino, and Jeremy Irons, House of Gucci was set up and popularly anticipated to be a hit. Based on the true events of Gucci family heir Maurizio's (Driver) murder by his ex-wife Patrizia Reggiani — fiercely played by Gaga — the film begins in a whimsical manner and struggles to find a more sombre grounding until its last quarter. The story follows an ambitious Patrizia who enters the Gucci family as an outsider from humble beginnings — almost comically seducing and seemingly mutually falling in love with Driver's goofy and hopeful lawyer-to-be Maurizio. This part of the film is perhaps the most shocking in its lack of clear setting up of the characters' identities and motivations, but also in the extent of its humor. From the gawkiness of Patrizia's attempt to seduce Maurizio at the club, the couple's near-adolescent sexual chemistry, to the brisk lead up to the couple's marriage of which Maurizio's father disapproves, and later the sheer stupidity of Paolo Gucci as played by Jared Leto, it would take a more than sincere effort to believe the film is building to a murder, instead feeling much like a clumsy romcom.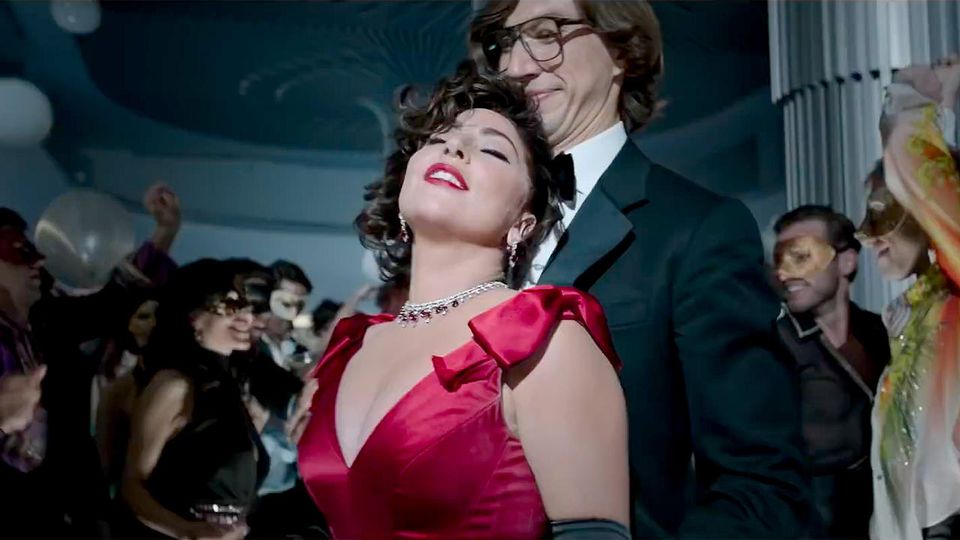 However, as family affairs begin to take hold of the narrative, and the newlyweds are invited to Maurizio's uncle Aldo Gucci's (Pacino) birthday party, a nuanced change of character is seen in Patrizia, her unbridled ambition beginning to unleash. Previously desiring to not have anything to do with the family, Maurizio, too, latently and slowly, but surely moves on to wanting to become a part of the family empire. Now, as the story proceeds, trouble ensues with the unraveling of the family's legacy, inheritance, and a move to New York. All this spirals into a reckless need for decadence, greed and power.
In the meantime, although Patrizia and Maurizio's relationship seems untouched, all of a sudden, that too changes, as the former's vision of success and power as a Gucci make her possessive. Berated by the change in her character and controlling nature, Maurizio is shown to almost abruptly distance himself and become antagonistic towards his wife. This is followed by Maurizio fleeing to Switzerland as the authorities begin an investigation on the lead couple for a case of forgery on inheritance documents after the death of Maurizio's father, Rodolfo (Irons). As the couple are physically apart, issues only worsen. Maurizio has an affair and the unfixable relationship between Maurizio and Patrizia (though the latter tries to save the marriage) ends in an ugly divorce. Although this is shown to justify Patrizia's turn to a psychotic and vengeful individual, it is largely problematic. The narrative paints Patrizia as hurt and thus manipulative, depicting her — an actual real-life murderer — in an oddly sympathetic light, as opposed to dark, evil and twisted. 
Moreover, and strangely so, the fact that Patrizia coincidentally turns to a clairvoyant for help in taking revenge and plotting Maurizio's downfall and murder is utterly ridiculous to say the least. Instead of feeling that we are reaching the gruesome climax of the film, what we feel is a sharp anti-climax, with Patrizia's peculiarly comedic half-attempt to kill her ex-husband (which works out)for fun and money appearing more like an attempt getting back at a kid who pushed you in school. Needless to say, it all ends up being rather ludicrously bizarre, and a testament to the absent, disorderly nature of the script, as the actual horror of the real-life events seems reduced to theatrics. Only in the moments of the actual bullets piercing Maurizio's chest multiple times do we feel — rightly so, that this was a murder story. 
Nonetheless, credit must be given where credit is due, so it is must go without saying that both Gaga and Driver give dynamic and fitting performances. Though hard to follow, their work is noticeably nuanced and perhaps even accurate. Meanwhile, a transformed Jared Leto, almost in an awards audition tape of his own, shines in parodic glory and convinces us he can do it all. Yet lastly, the performance of cast veterans Irons and Pacino, seem altogther a bit over the top but still dry. The two barely seem to attempt an Italian accent while surprisingly bringing all cards on deck when acting opposite Leto, reminding us of their extraordinary acting standards; if only they had followed that through for the totality of the film.
So, ultimately, mimicking Gaga and swearing "In the name of the father, son and House of Gucci", I can unfortunately confirm that with its disjointed script and unexpected comic curveballs, this film, unlike the designer label it is about, is neither a classic for the ages nor all that timelessly fashionable.
House of Gucci is currently showing in cinemas. You can watch the trailer here: