Aryan Tauqeer reviews Geetika Narang Abbasi's Urf, a documentary following the lives of three Bollywood-star look-alikes.
In 2016, the project that director Maneesh Sharma had intended to be his debut 10 years prior finally manifested. Fan had been long anticipated as SRK's return to the dual role, which characterized the most positively received of his oeuvre. From playing reincarnations in Om Shanti Om to acting on both sides of the law in Don, the theme of the fragmented self that he first tackled in Duplicate evolved into something of a constant in his filmography. His collaboration with Sharma acted as perhaps the most pessimistic iteration of this motif, incisively exploring the often maniacal obsession that drives his fans, and presenting it as evidence of a destructive symbiosis between himself and his innumerable admirers. It represented what may well be the natural endpoint of Bollywood's concerns with duality and doppelgangers, which existed across the continuum of scale, from pioneering experiments such as Kamal Hassan's Aalavandhan to the Dhoom franchise. The interchange of obsession between pieces of the fragmented self typically takes on a deleterious quality, with deliberations on the subject such as Fan presenting lookalikes and imitators as childishly naïve at best and dangerous at worst (and in the context of the film's events, such a presentation is not entirely unwarranted).
Mere months after the domestic release of Fan, another Hindi film heavily drawing from paratexts connected to its "stars" premiered. Amir Salman Shahrukh, which was partly a remake of the Amitabh Bachchan vehicle Amar Akbar Anthony, featured three lookalikes of India's famous (and often infamous) Khan triad. The sharing of onscreen space between the three has long existed as a flighty fancy unlikely to ever manifest, with Farah Khan proclaiming that "even God can't bring the three Khans together". Yet, the absence of decades of rivalry, both commercial and personal, that prevented the three Khans from coming together allowed Amir Salman Shahrukh to come into being. Geetika Narang Abbasi's intertextual documentary Urf (Hindi for "alias") explores the commercial and inner lives of these doppelgangers in both contemporary and pre-Y2K Bollywood. Though it often teeters upon the edge of becoming a love letter to the stars these doppelgangers imitate, it also approaches its subjects with a degree of reflectiveness that allows them to at least partially control their narratives, rather than being defined by the stars they resemble.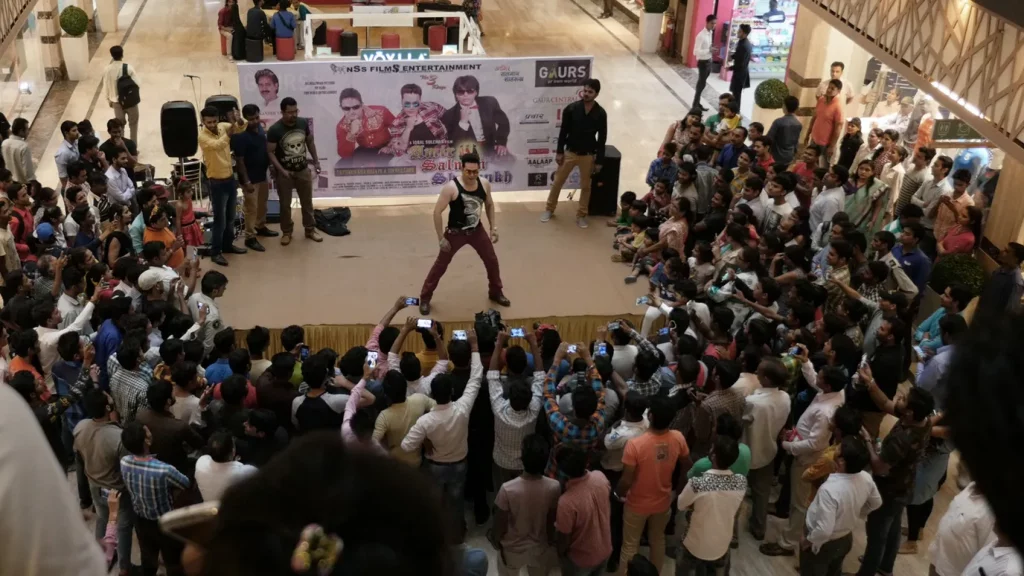 In its opening montage, Abbasi immediately demonstrates why the subject of the doppelganger is inseparable from the cinematic texts around it. Cutting between archival clips of Bachchan's Don, Dev Anand's Jewel Thief, SRK's Om Shanti Om and countless other onscreen representations of doppelgangers, the film sets a precedent for its exploration of performative identity as one rooted in the annals of Bollywood. The splicing of paratextual footage is a narrative technique that is often employed to either juxtapose star vehicles and their low-budget satirizations- at the same time, however, it is also employed to separate these performers from the images casting a long shadow over their lives. In introducing the first of four key subjects, Kishore Anand Bhanushali, there appears to be an acknowledgement of Dev Anand's influence on his career as a whole- Bhanushali even refers to himself as Dev Anand Jr, with the "Jr" title referring to performers known as "junior artists" who play minor and often uncredited roles in Bollywood. By introducing Bhanushali in Anand's signature outfit, composed of a flat cap, knotted scarf and raincoat, Abbasi grounds our first subject in the context of their profession. Through then allowing the camera to follow Bhanushali without the application of a critical eye, however, Abbasi establishes a platform via which Bhanushali discusses his identity without necessarily adhering to a performer's script. As Bhanushali recounts the course of his career, clips of his self-professed achievements (chiefly the Aaamir Khan-starring Dil) are spliced in juxtaposition with his self-professed regrets. In recalling his work in the infamous Ramgarh ke Sholay, a parody of Sholay, Bhanushali's comedic facade is disrupted by a sudden vulnerability, perhaps owing to the documentary's very existence as a conduit for these performers to reflect on their decades-long careers. As he guides us through photo albums documenting his life on film sets, Urf metamorphoses into a documentary not of parodies or imitations but of performers- after all, one of Bhanushali's most consistent refrains throughout the film is that his resemblance to Dev Anand prevented him from pursuing a career as an actor in his own right, instead anchoring him to typecasting.
In addition to allowing for a less guarded expression of emotion from her subjects, Abbasi's tendency to restrain her involvement to merely that of an observant eye also allows for a more nuanced narrative arc, in that these performers do not regard their roles as lookalikes in the same light, nor do they engage in these performances with similar intent. The most striking element of Amitabh Bachchan Jr's introduction as Feroz Khan is that he bears little to no resemblance to Bachchan, something he stresses upon when digressing upon his career. Like Bhanushali, Feroz appears to have mastered a mimicry of Bachchan's body language, vocal modulations and facial tics. Where Bhanushali views his career as somewhat opportunistic, having begun when a classmate remarked upon his uncanny resemblance to Anand, Feroz views his career as being incepted by obsession. Proudly proclaiming to have watched Sholay 240 times, Feroz clearly harbours immense admiration for Bachchan as a performer, especially as the "angry young man" in films like Zanjeer and Deewar. Here, Abbasi demonstrates a comprehensive understanding of not just these performances but their sociocultural contexts, evident in how the film alludes to figures like Anand and Bachchan as objects of romantic desire, and how this inevitably impacts the careers of their lookalikes. As the camera observes Feroz in the midst of transforming into Bachchan, there is a jump cut to Feroz against a stark white wall, staring into distance as an image of Bachchan is projected onto him. It is a didactic and somewhat clumsy technique, but it is effective in suggesting that Feroze's identity as a performer is dominated by his inextricable bond to Bachchan. Moreover, though the film only passingly alludes to the impact of bureaucratic malfeasance in Bollywood on these performers, it is nevertheless alluded to when Feroz describes how a daytime TV performance as Bachchan was shelved and never aired after Bachchan's PR office requested its cancellation. Thus, Urf metamorphoses yet again, this time into the eternal tale of creatives wrestling with an industry which suffocates creative impulses that are not guaranteed box-office draws.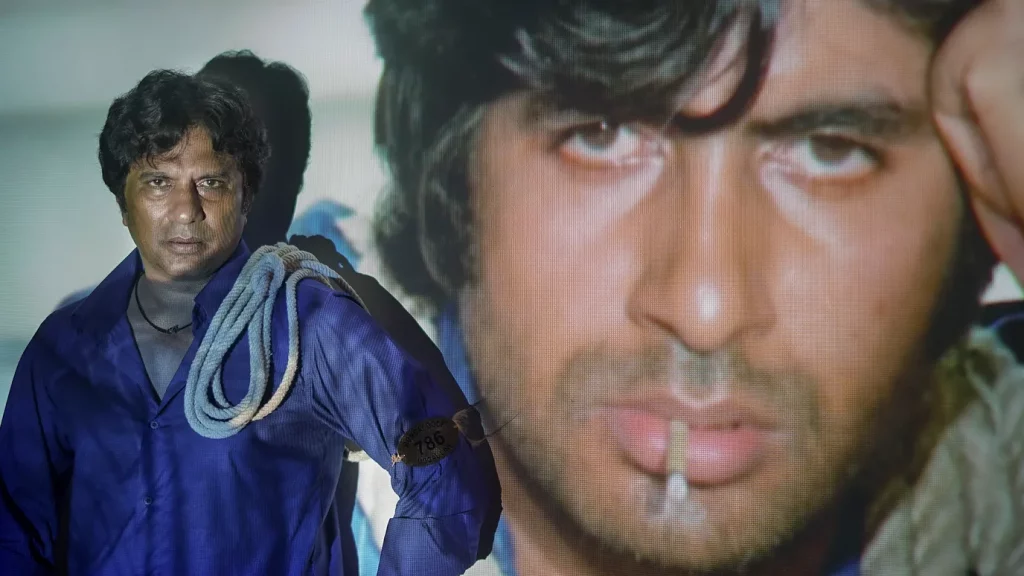 The third key subject of the film, Prashant Walde urf Shah Rukh Khan Jr, is where Urf veers away from exhausted clichés of self-discovery to an a critical examination of what being a junior artist and a lookalike entails. Prashant has the closest ties out of any of the film's performers to those whom they resemble, having maintained a 15-year long professional relationship with Khan as a stunt double on the sets of Om Shanti Om, Don 2, Chennai Express and Fan. In interviewing both Walde and his wife, Abbasi juxtaposes two differing critiques on a career- his wife is critical of Prashant's sublimation within Khan's identity and urges him to break the mould, whilst Prashant takes a more pragmatic view, terming his resemblance to Khan his "bread-and-butter". The psychological weight of this obligation makes itself evident in a clip from a reality TV show where Prashant, re-enacting a scene from Dilwale Dulhania Le Jayenge, is mocked by a panel of judges and a packed house, including Farah Khan. In Prashant, the audience finds a disillusioned veteran, forever reaching towards his ambitions as a choreographer that were abandoned in the streets of Bombay. Prashant, of course, is not alone in this dilemma between success and satisfaction- Bhanushali, despite having had a considerable career as a performer in his own right, is observed moonlighting as a singer at weddings, where it is less what people hear that is important than it is what they see: a doppelganger of 60s icon Dev Anand. Even Feroze, whose performances rest upon a foundation of admiration for Big B, seems to struggle with what being a "lookalike" implies, though in ethical terms instead of economic ones. The last thing he would want to do as a performer, he remarks, is make a mockery out of the star whose guise he dons, which is something that all 3 performers view as something they fall victim to more often than not- once the footage is in the hands of the editor, what may be an impassioned tribute to a Bollywood icon is refashioned into an embittered parody.
Despite relying all too often upon recreating the cinematic conventions it draws from (which results in its formal construction clashing with its subjects disillusion towards the industry), Urf provides a rare insight into the professional and personal lives of performers often concealed underneath the towering images they replicate. Through initially rooting its subjects in the thematic history of doppelgangers in Hindi cinema, and then proceeding to situate them in a contemporary landscape where globalization brings audiences closer to stars than ever before, the film raises the question of whether the lookalike performer has a place in a world where their existence is under threat. At the same time, the third act's documentation of their detours towards fulfilling personal ambitions suggests that it is not their resemblances (or, as in Feroze's case, ability to resemble) to Bollywood stars that guides their careers- it is, as for any other performer, talent and relentless commitment that allows Feroz Khan to mimic Amitabh Bachchan in Sholay despite looking nothing like him without a team of makeup technicians. These performances, as Feroze notes whilst recording TikToks of his new identity as Feroze Khan, rely upon not just that of the original stars but upon their own modifications. As Bhanushali slyly remarks towards the film's end, you can pull off an imitation of Dev Anand, but you can't pull off imitating Dev Anand's imitator.
Urf'sUK release date is yet to be announced, but you can watch the trailer here: