BFI's London Film Festival is in town! The FilmSoc Blog is back for the 65th edition of the city's largest film festival, delivering a look at the hits and misses of the 2021-22 season.
Alexia Mihaila reviews Julia Ducournau's Cannes' Palme d'Or winning body horror flick about a car-fetishing, serial killer named Alexia.
I am not a fan of horror, but I am a fan of psychological thrillers and most times I am not moved by gore so therefore, I really wanted to see a film that follows a character named Alexia, just like me, since that rarely happens on the big screens.
Titane depicts the nauseating story of a car fetishizing serial killer, Alexia (Agathe Rousselle in her massive acting debut) that goes through dramatic bodily changes while being pregnant with her favorite car from the adult garage she works at. That is definitely the standout memorable storyline: a woman gets impregnated by a car, bleeds engine oil and the audience is startled by what the progenitor might look like. That being said, Titane expands itself on multiple layers of grief and a saddening mix of psychological and physical trauma.
Akin to Eternal Sunshine of the Spotless Mind, where every new chapter of Kate Winslet's Clemetine is marked through new hair dyes, every head-shave in Titane represents a new state in Alexia's life. First, she is a small ruthless warrior for surviving her dad's car crash and having implemented a titanium plate in her skull; then she is wanted by the police and hence cuts her hair and shaves her eyebrows to resemble anyone else but herself. She steals a missing boy's identity,  'Adrien', and so she gets a badly shaven head by 'his' father who wants to integrate 'him' into the firefighters team he is in charge of. All of that to become a person compliant with identity theft and her pregnancy with a car, by fully shaving her head herself representing a state of acceptance.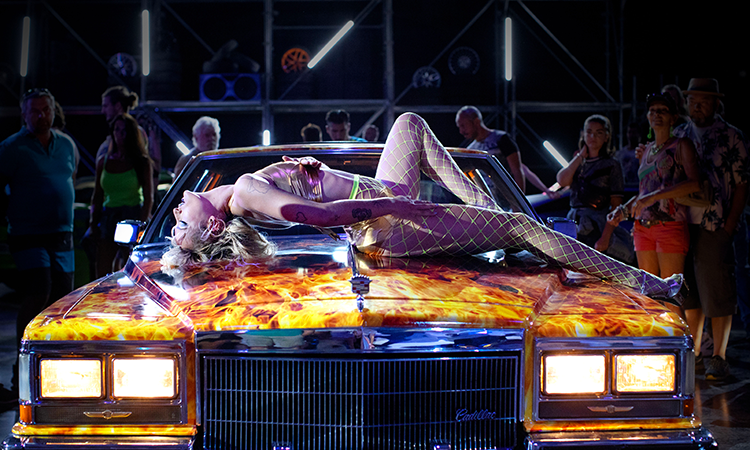 As a secondary story line, Titane focuses on different types of responses to emotional trauma: emotional response and lack thereof, both leading to desperate actions. Alexia is an intentional, unmotivated, merciless murderer who shelters herself from everyone that wants to get close to her by killing them. She keeps building walls around her car show clients, her father, her potential girlfriend, and the list goes on, which leads to her comically murdering them in gruesome ways such as by shoving a chair down on someone's throat and then sitting on it. However, Alexia's favorite killing method is piercing the ear canal of her prey with a sharp metal hair stick, which could relate to her titanium plate being centered around her ear; she feels protected and powerful for having it. Even taking into consideration her childhood trauma during and after the car accident, her murders still feel unreasonable and it is eerie how little she cares about her victims or sometimes even herself.
On the other far side of the spectrum, is Vincent Legrand (Vincent Lindon) as a jocky firefighter whose son, Adrien, got lost, whose wife left him and is struggling with accepting that he's getting old. He acts tough but on the inside he's soft, hurting and alone; that's why he takes in Alexia as his son although he cannot be that oblivious to how she is not the real Adrien, let alone a man.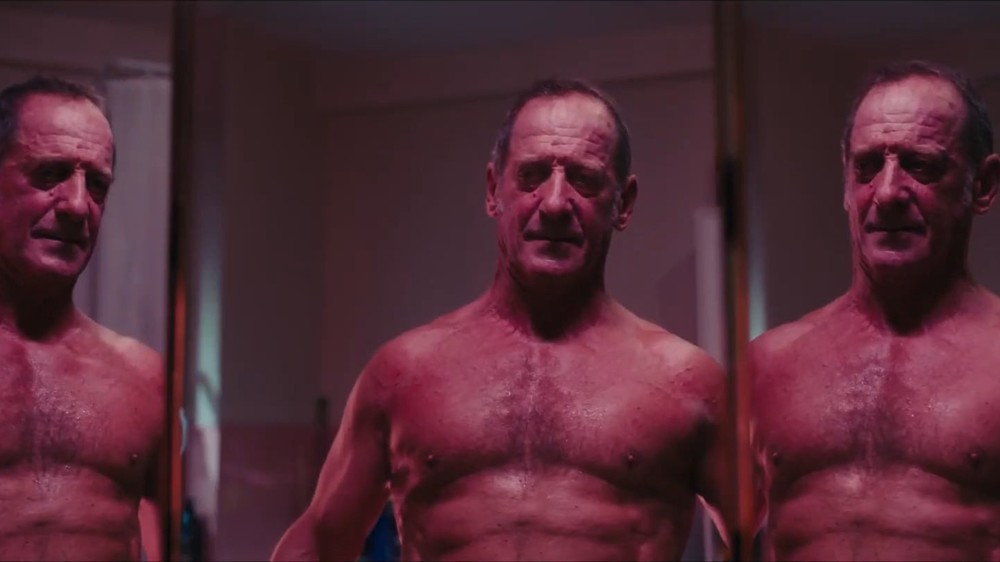 He forces himself to believe he is not alone and that he found his son again and foolishly, strong-willingly rejects and punishes everyone in his life that tries to tear his conviction down. He doesn't care if she's the real Adrien or not, he just wants a son to be proud of that could help him revive emotionally.
Alexia, on the other hand, keeps struggling throughout the film with her dubious pregnancy, body dysmorphia and her sexual confusion from hurting her girlfriend while making out to killing her, to trying to have intercourse with Vincent who was her father figure and her alleged real father while she took the role of Adrien. The film manages to discomfort the audience psychologically, but most importantly physically, thus also being called body horror.
The story unleashes beautifully into catharsis and acceptance for both leads: Vincent finally has a connection with someone- Alexia- and will continue to take care of her child after her death, therefore being a dad again, but also for Alexia who deserved to be punished for her unmotivated crimes and who, for once, didn't hurt the person that truly cared about her, but instead gave life to a stronger version of herself.
Overall, Titane is worth watching, but as a disclaimer, it can be a very gruesome, shocking and thought provoking body horror you have to prepare yourself emotionally to take in.
Titane out on 31 December 2021: