BFI's London Film Festival is in town! The FilmSoc Blog is back for the 64th edition of one of Europe's largest film festivals, delivering a first look at the hits and misses of the 2020-21 season.
Kirese Narinesingh reviews another of Steve McQueen's films in his Small Axe anthology, a celebration of Caribbean music and community.
Lovers Rock is less about characters than it is about the relationship between a community and its music. Lovers rock is an offshoot of reggae music that reached its cultural apogee in 1970s London. Despite being influenced by reggae, it was a musical style that did not originate in Jamaica. It originated in London. Lovers Rock is the part of Steve McQueen's 'Small Axe' anthology that shows the evolution of the West Indian community, which now comprises the children of West Indian migrants. Spanning a mere seventy minutes, it's a slow-burner that never reaches dramatic heights, because it's not meant to. Lovers Rock is the equivalent of the musical genre – it remains cool and grounded.
Courttia Newland & Steve McQueen's script is sparse. It doesn't really have an established narrative, because it's not so much focused on action than it is on experience. The characters are code-switching, second-generation migrants, born and raised in London. At that time, as black people weren't allowed in the clubs frequented by white people, they had to create their own cultural spaces. The protagonist, Martha (Amarah-Jae St. Aubyn) and her friend, Patty (Shaniqua Okwok) escape into this space where the film's narrative is primarily set. What's interesting is that McQueen lets the characters develop the story and through their interactions with each other, different story pathways develop. Patty leaves the party relatively early, perhaps out of frustration, or loneliness. Martha, on the other hand, encounters Franklyn (Michael Ward), whose cool, respectful demeanor allows for a budding romance.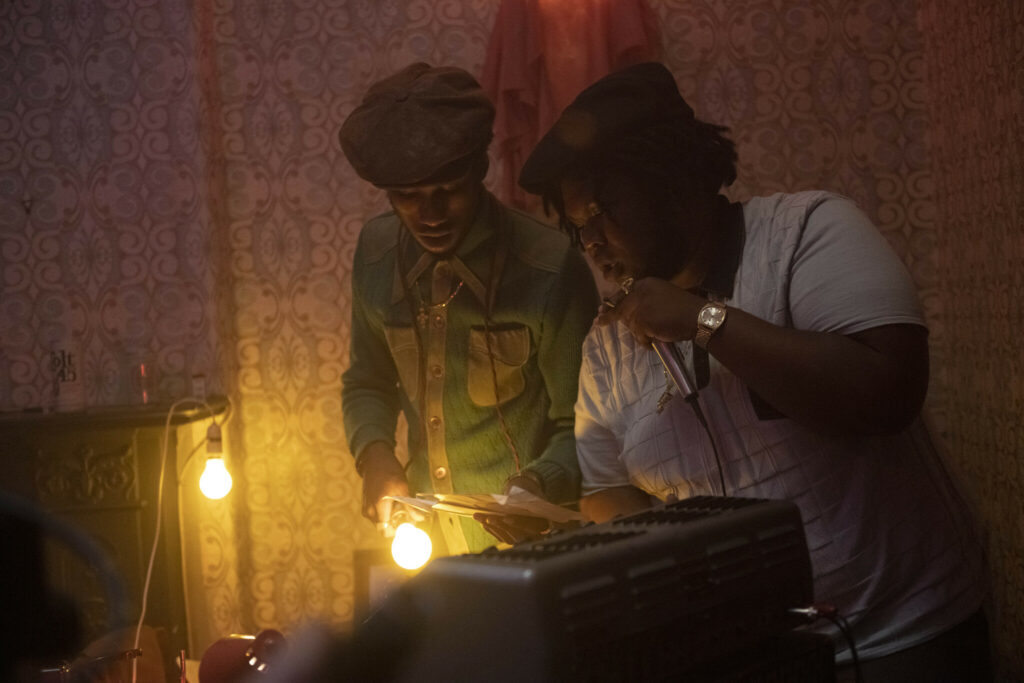 Compared with Mangrove, Lovers Rock is a vastly different feature. It's like watching a concert. Whereas Mangrove's music was part of the characters and their world but adjacent to it, in Lovers Rock the world itself is musical. The characters are intoxicated by it, revelling in their own world, as brief as the illusion may be. McQueen subtly shows that there is a tangent of darkness behind the simmering sexuality and joys of newfound attraction. While Martha luckily rejects the smooth-talking but dangerous Bammy (Daniel Francis-Swaby) who alarmingly doesn't take no for an answer, Cindy, (Ellis George) the "birthday girl" is entranced by him, unaware of his intentions. Not to mention the peripheral presence of white men, who approach Martha with apparent ominous intent after she briefly exits the party. And even Franklyn, who takes Martha to his workspace, is belittled by his white employer, for whom he puts on an English accent.
McQueen shows us a cultural space that's prone to threats, but still manages to hold its own in spite of nefarious undercurrents. Lovers Rock is a film that prioritises tone. The night's highs and lows are always entertaining to watch, but the film's narrative isn't its strongest element. It's the atmosphere, the music, the vibe. It's the resilience of its characters like the rasta Doorman, who saves Martha from the threat of racist harassment. It's the feelings of escape and relief that the characters feel when dancing, whether it's to the beat of 'Kung fu fighting' or the slow wine riddim that Martha and Franklyn dance to. It's the feeling that the night will soon be over, and before you know it, your mother shouts, "get up, time fi church."
Lovers Rock takes a while to get going, and the anticipation of drama is nullified by the lack of a concrete plot. But what saves Lovers Rock from banality is its personality. It's sleeker, more subtle and personal than Mangrove, even if it's not as affecting. It's admittedly unfair to compare the two, which were made with different purposes, but it's very hard not to acknowledge McQueen's stylistic range in his ode to the West Indian community. After all, Small Axe is a love letter, and Lovers Rock is that touch in a love letter that's meant to be enjoyed for its slowness, that easy rockabye way of falling in love.
Lovers Rock will premiere on BBC One and iPlayer on November 15th.