BFI's London Film Festival is in town! The FilmSoc Blog is back for the 64th edition of one of Europe's largest film festivals, delivering a first look at the hits and misses of the 2020-21 season.
Lydia De Matos reviews Spike Lee's concert film celebrating the music of David Byrne and The Talking Heads.
How can one review David Byrne's American Utopia without also discussing Stop Making Sense? On one hand, it seems unfair to compare the two simply because they share a frontman, especially when the latter is often hailed as one of the greatest concert films of all time — an opinion this writer shares. On the other however, it feels almost as though Byrne, with his trove of not-so-sly references, is daring me to bring up that infamous 1984 concert film. Who am I not to accept the challenge? 
David Byrne's American Utopia is the Spike Lee-directed record of the Broadway show of the same name. Despite being on Broadway, this certainly isn't a musical, but nor is it a concert — it inhabits a space somewhere between the two. The show is primarily music, to be sure; the performed tracks span Byrne's career. From his most recent album American Utopia to his time with the Talking Heads. However, it also has a certain overt theatricality, present in Annie-B Parson's choreography and the matching suits worn by those on stage, that makes me hesitant to call it a concert. Stop Making Sense did itself make allusions to the theatrical, but it was less precise, less noticeable, to a point where despite obvious rehearsal, it felt explosively spontaneous. This is far more purposeful, building itself into a glorious, towering ode to musicianship as the performers slowly join Byrne on stage, either singly or in small groups, mirroring the incremental musical assembly seen in Stop Making Sense. Here however, the performers are untethered, their cordless instruments allowing for free roam of the stage.
Byrne's theatricality is one of uniformity. All the performers are barefoot, and wear the same grey fitted suit, customised in such a way that they are able to move freely. The style and shade of the suits inevitably invite comparisons to That Infamous Big Suit worn by Byrne for a portion of Stop Making Sense. There, he requested that all other members of the band wear grey athletic garb, creating uniformity amongst them whilst ensuring that only he stuck out. One wonders if his self-inclusion in the uniformity of this new show comes from a lack of want to be in the spotlight anymore. Perhaps not. After all, this is still David Byrne's American Utopia. Perhaps he simply knows that he no longer needs the Big Suit to stand out, those who know of its existence are reminded of it by just the mention of his name. The uniformity is reflected in the choreography too. Annie-B Parson has managed to create movement so fluidly energetic that the performers seem like a single organism.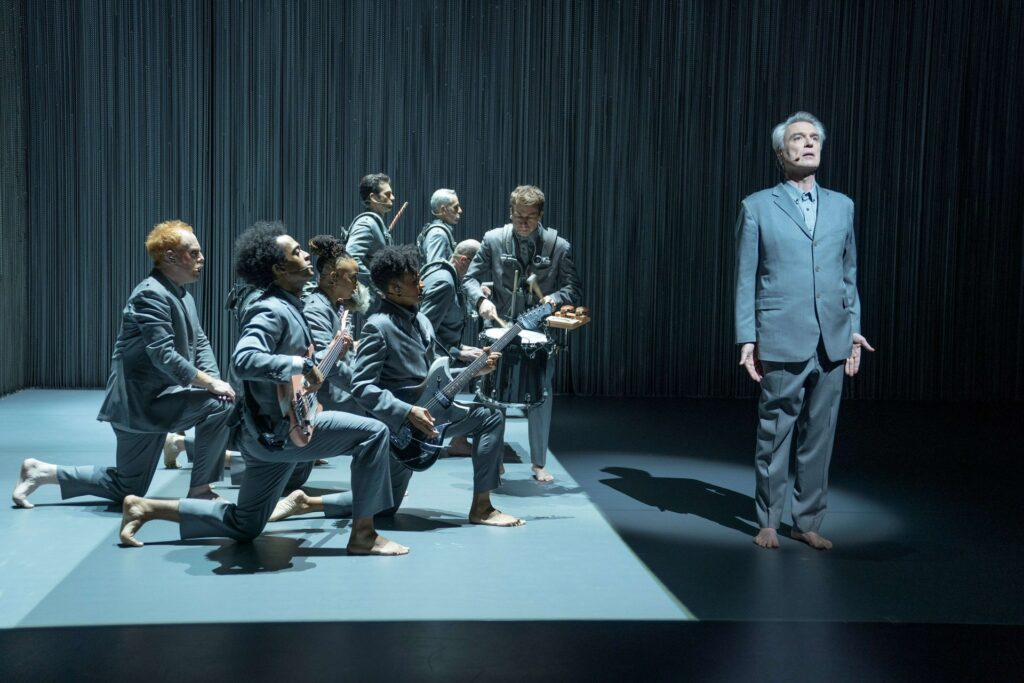 Uniformity has never been the enemy of creativity, but often its conduit. Creativity is what slips through the cracks of the confines we are set, or that we set for ourselves. The base uniformity of the performers' appearances forces us to focus on the finer details; percussionist Jacqueline Acevedo's platinum bob and bright makeup, the glittering eyes of dancer-singer Chris Giarmo, or guitarist Angie Swan's shining earrings. This extends to the choreography also — the perfectly rehearsed routines may make the performers appear as one, but nobody gets lost in the crowd. They are at once a singular organism and a group of individuals, performing in perfect harmony. Right before launching into 'This Must Be The Place (Naive Melody)', the first Talking Heads classic to appear in David Byrne's American Utopia, Byrne states:
Objectively I could never figure out why looking at a person should be any more interesting than looking at any other thing. Like say, a bicycle, or a beautiful sunset, or a nice bag of potato chips. But yeah, looking at people? That's the best.
This is the show's ethos in a nutshell. While its structure may be an ode to musicianship, it functions also as a musing on the wonder of human connection, and a plea for more of it by celebrating music as a means of forming those connections. Lee's direction, with the help of one of his long-time collaborators, cinematographer Ellen Kuras, reflects this. A show with this much style demands wides, but much like Stop Making Sense, this show is at its best when the camera gets up close, focusing on the faces of the people that make it happen. It's a confirmation of Byrne's words — looking at people truly is the best. His decision to jump into 'This Must Be The Place (Naive Melody)' immediately at the end of this interlude is one that inevitably sparks delight. Who wouldn't break into a grin at hearing those famously lovely opening notes after the expression of such a heartwarming sentiment? However, it's a decision that has thematic resonance also. The song is perhaps one of the most sincere in the Talking Heads' catalogue, and here one line stands out in particular: "Out of all those kinds of people/You've got a face with a view/I'm just an animal looking for a home/And to share the same space for a minute or two."
American Utopia doesn't keep astray of the political implications of this ethos, instead embracing them. After all, how can you advocate the importance of human connection and not acknowledge how necessary that connection is in a political era so dominated by division and infighting? At a time overwhelmed by pain and grief? Towards the end of the show, Byrne and co. perform a cover of Janelle Monáe's protest anthem 'Hell You Talmbout?'. It is here that Lee's direction makes itself most felt, as he intercuts the recording of the performance with images of Eric Garner, Atatiana Jefferson, Trayvon Martin, and others referenced by the song. Less powerful is a moment earlier in the show, where, midway through 'I Should Watch TV', all the performers kneel with a fist in the air while an image of Colin Kaepernick doing the same is projected onto the chain link curtain that lines three sides of the stage. It feels oddly forced, more like a display of self-congratulatory liberalism than a moment of true solidarity. Something reinforced by the overwhelming middle-class whiteness of the audience. Undoubtedly most of them are here because they grew up listening to Talking Heads — Byrne is inevitably preaching to the choir.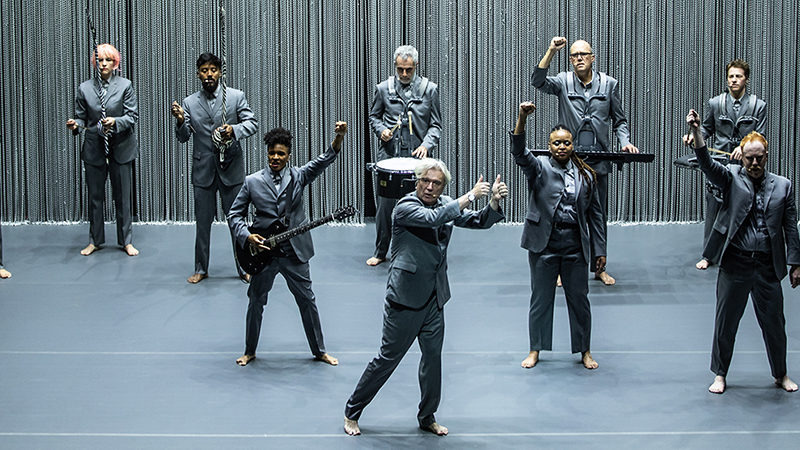 Perhaps surprisingly, the show's defining moment is its encore. Thirty-six years later, we find Byrne yet again all alone on a bare stage. For a moment it seems as though the show will end like this, just as Stop Making Sense started, a final bookend. The show finishes. And then 'Road to Nowhere' starts, Byrne and the performers illuminating themselves with small lights as they stand in a circle centrestage. It's a song of joyous unknowing, an optimistic march into oblivion founded firmly in the first person plural.
During that solo performance of 'Psycho Killer' all those years ago, Byrne tripped over the notes, barely keeping his hands on his guitar as he would fall, as though he couldn't quite handle the music on his own. Now, as the stage lights come up, he is surrounded by others and much more sure-footed, weaving his way between his fellow musicians as they move across the stage. And then something totally unexpected happens. Byrne and co. march into the audience, snaking through the aisles until they find themselves right in front of the stage. A bright yellow smiley face balloon, seemingly brought into existence from thin air, floats above the crowd. Just as the song ends, Byrne makes eye contact with one of the audience members in front of him and breaks into a real smile. A moment of real human connection. His greatest strength as a showman has always been his ability to inspire pure, unadulterated joy in those who watch him, and nowhere in American Utopia is this truer than during this final song. I would watch the show a thousand times over just to witness it again.
David Byrne's American Utopia was released on HBO Max on October 17th. Watch the trailer here: