BFI's London Film Festival is in town! The FilmSoc Journal is back for the 66th edition of the city's largest film festival, delivering a look at the hits and misses of the 2022-23 season.
Alexia Mihaila, co-editor in chief of the Journal, offers insights into the captivating documentary chronicling the life of Jonas Mekas, revered globally as the "godfather" of avant-garde cinema. From his arrival in New York City in 1949 to his passing in 2019, the film offers an intimate portrait of his journey.
Mekas's films often resemble vivid recollections of everyday life, that evoke a spark within us that mirrors his own restless passion for film. He manages to burn his footage into our memories and makes us feel deeply what we haven't authentically experienced, which countless have aspired to emulate, yet none have managed to attain with the same level of impact. While his other works grant us the privilege of seeing the world through his eyes, this biopic assumes a more conversational tone, as if we're engaged in a direct dialogue with the filmmaker himself.
The biographical film traces the journey of the Lithuanian director and his sibling as they immigrate to the United States, precisely to Brooklyn, NY. It portrays how starting from scratch, he put his initial earnings into purchasing a Bolex 16mm camera, which later on was the basis of his effectiveness in constructing a foundation for independent filmmakers to come. The narrative guides us through an exploration of his thought processes, accomplishments, and milestones, all accompanied by interviews with friends and partners such as Martin Scorsese. The film is also crutched by previous footage of his daily life from the first days when he put together the US version of Sight and Sound, Film Culture, to his last years as an elder talking to us through his closest confidant, the camera.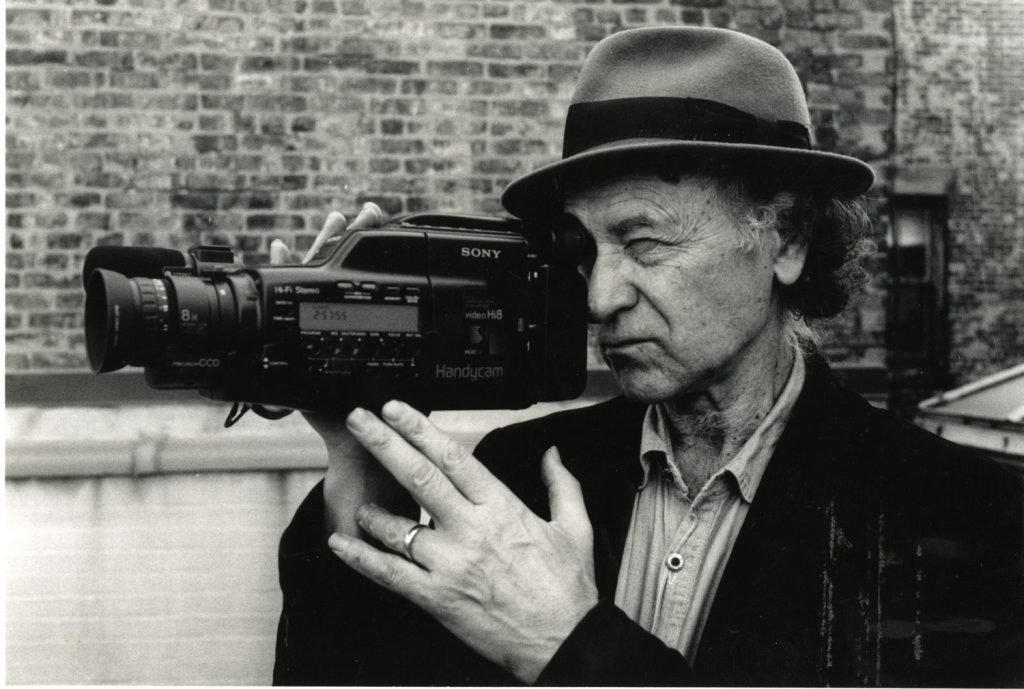 While the film itself grapples with the profound exploration of the question "What is me?" that an elderly Mekas poses to the camera, it doesn't quite attain a complete resolution. This theme resonates hauntingly in numerous of his works, such as Lost, Lost, Lost (1976) and the 2000s piece As I Was Moving Ahead Occasionally I Saw Brief Glimpses of Beauty, where he acknowledges his inability to pinpoint the commencement or culmination of his life. In the documentary, in one of the previously unreleased tapes, he even puts a playful twist on his existence, referring to himself as a "displaced person, a DP". The core essence of the documentary lies, in highlighting how he was intrinsically his craft. He was a perpetual presence with a camera, and the captured footage is the embodiment of his life.
His previously unpublished tapes and audio recordings offer intimate glimpses into the director's personal life. Most importantly how he was just open to experiencing life, going "with the wave", not knowing what the future holds and sharing each step of the way through his idependent work. This ultimately give his films a genuine soul. Moreover, while Mekas may have remained uncertain about his self-actualisation, to quote: 
 "My heart is somewhere here. I am here, myself. Where is my essence? What defines me? Is there time left to shape my life? I truly cannot tell."

Jonas Mekas (2005)
, he recognized that his identity was intertwined with his art. The director even substituted Descartes' renowned "I think, therefore I am" axiom with "I create films, therefore I exist" in his previously unreleased footage. The biopic is a tasteful reflection on his legacy, that at its core encapsulates his profound adoration for the art of filmmaking and how he shaped the subsequent generations of cinematographers to come. 
This cinematic offering serves as an exceptional introduction into the realm of one of independent cinema's pioneers, Jonas Mekas, making it equally engaging for people unfamiliar with his work, as well as, devoted fans. Additionally, the inclusion of previously unreleased later works within this documentary adds a poignant touch, leaving us with a simple yet impactful farewell from the late maestro.
You can watch the trailer for Fragments of Paradise here: