Emma Davis considers Molly Dineen's documentary about the Brixton neighbourhood icon ahead of its premiere on BBC2 tonight.
In Molly Dineen's latest documentary Being Blacker, Brixton is the undercurrent to the life and philosophy of Blacker Dread. There is plenty inspiration to take from London's people, places and its spirit. Even UCL's own student productions of Brick Lane in Flux and Heimweh tackled the social consequences of Britain's cultural and economic behemoth. It was easy to assume that this would be about Brixton's changing identity – gentrification is a hot topic to discuss. But when Dineen focuses on Blacker, some more universal themes such as love, family, death, and masculinity come to light.
So, who is Blacker Dread? Most people in the audience at the March 5th BFI screening would know the answer to this, many being from Brixton. From his records shopfront, he would invite the community in any reason. People have fond memories of searching for their favourite reggae record, watching (and celebrating) Usain Bolt's Olympic achievements, or accepting his offer to keep an eye on the youth when they encountered police. He is a cultural and social figurehead for the London district, with achievements in the reggae industry, and even met Nelson Mandela on his 1996 visit to Britain. Being Blacker, however, approaches our mythical hero by humanising him. 
We meet Blacker's oldest friend, Napthali, and his family, who are all affected by the loss of their matriarch in Blacker's mother. However, as the events unfold, the intimacy and bond between individuals is unforgettable. The documentary has a home-movie feel. That is how the film began in its practical origins – Blacker had asked for a recording of his mother's funeral from Dineen, a home-video that establishes the film's core themes and catalyses the narrative course. After that, Dineen follows Blacker around his home and his shop, but she falls into the background easily, allowing the audience to get absorbed into the stakes of Blacker and those around him. At times, it is a little difficult to piece together the particular chronological point in film's linear structure. Even so, Dineen's flow is still smooth.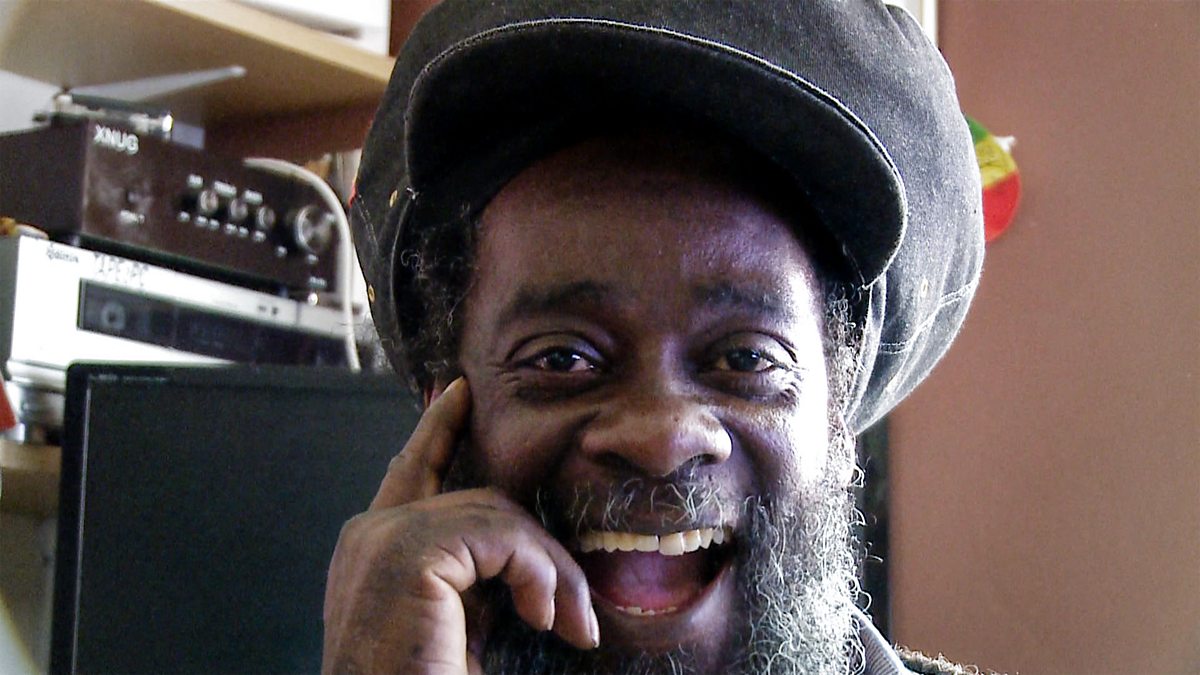 Unlike my own expectations, politics was not the forefront. When an audience member in the Q&A session asked if Blacker would pursue politics, he replied by indicating that he is more interested in mentoring and cultivating talent. Love is key to understanding Blacker – not only does it come from his belief in Rastafari, but how also in how he treats others. He is certain about who he cares for and it's shown what he does for them. Blacker sacrifices for his own, and they do so in return. He is quite a character, but he has quite the heart as well.
And most bluntly, there is a challenge to the idea of happy immigration. His family attest to how he has a stronger affinity with Jamaica. From his own experience to his youngest son, life in Britain is not an opportunity, but a hindrance. The focus on Blacker and his son, and then some moments with Napthali, bring issues of masculinity to light. His son lives in Jamaica, thriving socially and academically, unlike in the UK where he was deemed a disruption. Napthali struggles to find employment with his criminal record and reflects on providing for his family. Blacker talks of 'failure' when people fall into crime: with family, with the state, or somewhere else. He denounces education as pillar for success (traditionally, what immigrants would rely on for social mobility) or political correctness to help form identity, but doesn't refuse these for others. This intersection, between masculine success and Britain's post-colonial legacy, is powerful.
Dineen's last films were ten years ago, and her return to filmmaking is coupled with a return to her student film days when she made her first film about Blacker and his involvement with the reggae sound system culture of the 1980s. When an audience member called for a filmmaker like Dineen to make more films about underrepresented social topics, her response cites her responsibility as a parent. While the BFI so keenly promoted the support and purchasing of the work by female filmmakers before the screening started, there is still progress for female-made films to have a chance. There are obstacles in these films being made, not just for their distribution and consumption.  
But certainly, the honest and intimate filmmaking of Being Blacker shines many truths. There are uncomfortable moments. The start is an actual funeral, and the privilege of Dineen attending the family affair is extended to the audience. Blacker and Naphtali experience their own difficulties in the years after, trying to make the best despite a society and its institutions stacked against them. There is some whiplash when confronted with current British youth. After being lulled in the experience and wisdom of older people like Blacker, Napthali and his family; there is a reminder of the institutional and physical violence against young Black British men now.
Whether or not you are an ethnic minority in the UK, it is quite easy to see that there are parts of Britain missing from mainstream exposure. Dineen revealed that it was difficult to release the documentary, as an executive said portraying Black British people as being involved with crime and violence was generalisation. This is hypocritical. If there were more content out there, there would be more instances for audience to reduce for their generalisations. As such, it is important to watch this observation of British life. Keep in mind, that it is a single British life — the experience of a singular Jamaican British man, very localised to the Brixton context. Such specificity doesn't demean its importance, but rather elevates it, and there is still something universal to be found. 
Being Blacker airs on BBC2 on March 12th at 9pm.