A month ago, we covered award season buzz and nominations on the podcast. Last week, you cast your votes in a few of the Academy Awards categories!
Well, with the ceremony last Sunday evening, the official results are in. Here's a side-by-side of the FilmSoc poll results compared to the real thing, plus commentary by Pihla Pekkarinen.
Best Picture
FilmSoc Pick: Three Billboards Outside Ebbing, Missouri
Official Result: The Shape of Water
https://www.youtube.com/watch?v=VpuY5T_2ViM
These two films were firm favourites to snag this year's Best Picture title, competing neck in neck during the awards season. Three Billboards had been in the lead, grabbing the BAFTA, Golden Globe and Satellite Award, so it was our favourite to win – but The Shape of Water came through and nabbed the biggest title of the year. The two films are so different, however, that it really comes down to personal taste (or maybe some controversy?). They also did similarly at the box office.
Best Director
FilmSoc Pick: Guillermo del Toro (The Shape of Water)
Official Result: Guillermo del Toro (The Shape of Water)
The Shape of Water was the fully thought out, cohesive, beautifully executed work of a visionary. Every single element, from the score to the cast to the production design to the cinematography is meticulously crafted under del Toro's watchful eye. And while would have been nice to have Greta Gerwig help to diversify the Best Director winner list from 99% to 98% male, or witness Jordan Peele become the first black director to win the award, del Toro's victory is undoubtedly deserved. And, we should take a moment to appreciate the fact that, thanks to del Toro, the current decade has been the first in which white directors have been the MINORITY in this category (3 out of 8 wins).
Leading Actress
FilmSoc Pick: Frances McDormand (Three Billboards)
Official Result: Frances McDormand (Three Billboards)
I can confidently say, staying up until 5am watching the Oscars was worth it just to experience McDormand's speech in real time. The moment when all female nominees in the hall stood ("Meryl, if you do it, everybody else will") was inspiring and empowering, but also highlighted how much work there is still left to do. The gender proportion of male and female nominees was nowhere near equal. McDormand's encouragement to adopt the "inclusion rider" clause in filmmaking contracts was a reminder of the hope that someday the Awards could reflect today's diverse America.
Leading Actor
FilmSoc Pick: Gary Oldman (Darkest Hour)
Official Result: Gary Oldman (Darkest Hour)
Oldman is one of the most established faces of British cinema, and he won his Oscar in a film about British history playing a British wartime hero (or villain, however you see it). Even his speech, asking his mother to "put the kettle on", was so quintessentially British one couldn't help but laugh. It felt cathartic to see Oldman get his Oscar after years of hard work in the industry.
Supporting Actor
FilmSoc Pick: Sam Rockwell (Three Billboards)
Official Result: Sam Rockwell (Three Billboards)
Rockwell's performance in Three Billboards was received with universal acclaim, so this win came as no surprise. It is also worth noting that this category was the only nomination for one of the more "experimental" big films of 2017, The Florida Project. Many saw this Oscars snub as a surprise, whereas others viewed it as another demonstration of the overwhelming hesitation by the Academy to reward more radical or controversial filmmaking. Other similar snubs this year include The Killing of a Sacred Deer and mother!.
Supporting Actress
FilmSoc Pick: Allison Janney (I, Tonya)
Official Result: Allison Janney (I, Tonya)
Janney's turn as Tonya's off-kilter mother (a role written specifically for her) earned her not only the Oscar, but also the Golden Globe, the SAG, the BAFTA, and the Critics' Choice awards for Best Supporting Actress. This win has pretty much been in the bag since the release of the film. Her Oscar was dedicated to her brother, who lost his battle with addiction and mental illness.
Original Screenplay
FilmSoc Pick: Get Out (Jordan Peele)
Official Result: Get Out (Jordan Peele)
The Academy may have seen rewarding Get Out the coveted Best Picture and Best Director titles as too much of a risk, but Peele's win is nevertheless historic. Peele is the first black man to win an Original Screenplay Oscar, and not just with any story, with a story that is about racism in today's America. With such a major win on his first feature, it will be thrilling to see where his directing and writing careers take him next.
Adapted Screenplay
FilmSoc Pick: Call Me By Your Name (James Ivory)
Official Result: Call Me By Your Name (James Ivory)
This was the only win for one of the most successful independent films of the year. James Ivory became the oldest competitive Oscar winner at age 89. Recently, Guadagnino has been dropping hints about a sequel to this awards hit, set against the backdrop of the 1990s AIDS crisis.
Animated Feature
FilmSoc Pick: Coco (Lee Unkrich, Darla K. Anderson)
Official Result: Coco (Lee Unkrich, Darla K. Anderson)
The Boss Baby is now an Oscar-nominated film. Slim pickings for the Academy in 2018. Though disappointed that Loving Vincent flew under the radar this awards season, Coco was a clear favourite and once more, a predictable but deserving winner.
Cinematography
FilmSoc Pick: Blade Runner 2049 (Roger Deakins)
Official Result: Blade Runner 2049 (Roger Deakins)
With a track record of a staggering fourteen nominations, Deakins' first win couldn't be sweeter. It's been a long time coming. Blade Runner 2049 is some of his best work, with a mix of breathtaking long shots and thrilling action sequences, and overall one of the most beautiful films of 2017. This year also saw the first female cinematography nominee, Rachel Morrison for Mudbound.
Production Design
FilmSoc Pick: The Shape of Water (Paul D. Austerberry, Jeffrey A. Melvin, Shane Vieau)
Official Result: The Shape of Water (Paul D. Austerberry, Jeffrey A. Melvin, Shane Vieau)
There was really no contest for this award. Every single set in The Shape of Water was thought out down to the most minute detail, and the designers' and dressers' work here is nothing less than extraordinary.
Original Score
FilmSoc Pick: Phantom Thread (Jonny Greenwood)
Official Result: The Shape of Water (Alexandre Desplat)
Desplat's score for The Shape of Water is ethereal, haunting, hopeful – everything you would want from a score. The use of wind instruments over the ever-so-popular strings is wonderfully refreshing. However, I can't help but yearn to know what Jonny Greenwood's Oscar speech would have been. Maybe next year.
Original Song
FilmSoc Pick: 'Mystery of Love' from Call Me By Your Name (Sufjan Stevens)
Official Result: 'Remember Me' from Coco (Kristen Anderson-Lopez, Robert Lopez)
The category of Best Original Song is probably the least adventurous in the whole ceremony – and that is saying something. Oscars aren't exactly known for stepping outside the box. "Remember Me" is  exactly the kind of song the award usually commemorates. There is nothing wrong with it, but it's not particularly memorable, either. But who knows, maybe Kendrick will be in the running next year for his turn in Black Panther.
OTHER CATEGORIES
Documentary Feature
Icarus (Bryan Fogel, Dan Cogan)
This was the first Academy Award win for Netflix, who are quickly becoming a big name in film distribution. This is a major benchmark in the shift from traditional cinema-centered distribution into streaming. Mudbound, another Netflix feature, received four nominations this year but won none. With a target of 80 new films to be released in 2018, this is a major step forward for Netflix in becoming a recognisable force not only at the box office, but also on the red carpet.
Foreign Language Film
A Fantastic Woman (Chile: Sebastián Lelio)
A favourite to win, A Fantastic Woman is a daring film about the struggles of a transgender woman inspired by the film's lead actress, Daniela Vega. This film was the first feature to win an Oscar with an openly transgender lead and main character, and Vega was also the first openly transgender person to present on the stage at the Academy Awards. Check out our writer Diego on the Curzon podcast with the director!
Makeup and Hairstyling
Darkest Hour (Kazuhiro Tsuji, David Malinowski, Lucy Sibbick)
Gary Oldman mentioned in an interview with Vanity Fair that he wore the makeup for Winston Churchill 61 times, spending over 200 hours total in a makeup chair being transformed into the spitting image of the World War II PM. Impressive, to say the least.
Costume Design
Phantom Thread (Mark Bridges)
A film about a dressmaker which doesn't win the Oscar for Costume Design? Unlikely. Special shoutout goes to Jacqueline Durran, though, for two nominations in one season for Beauty and the Beast and Darkest Hour!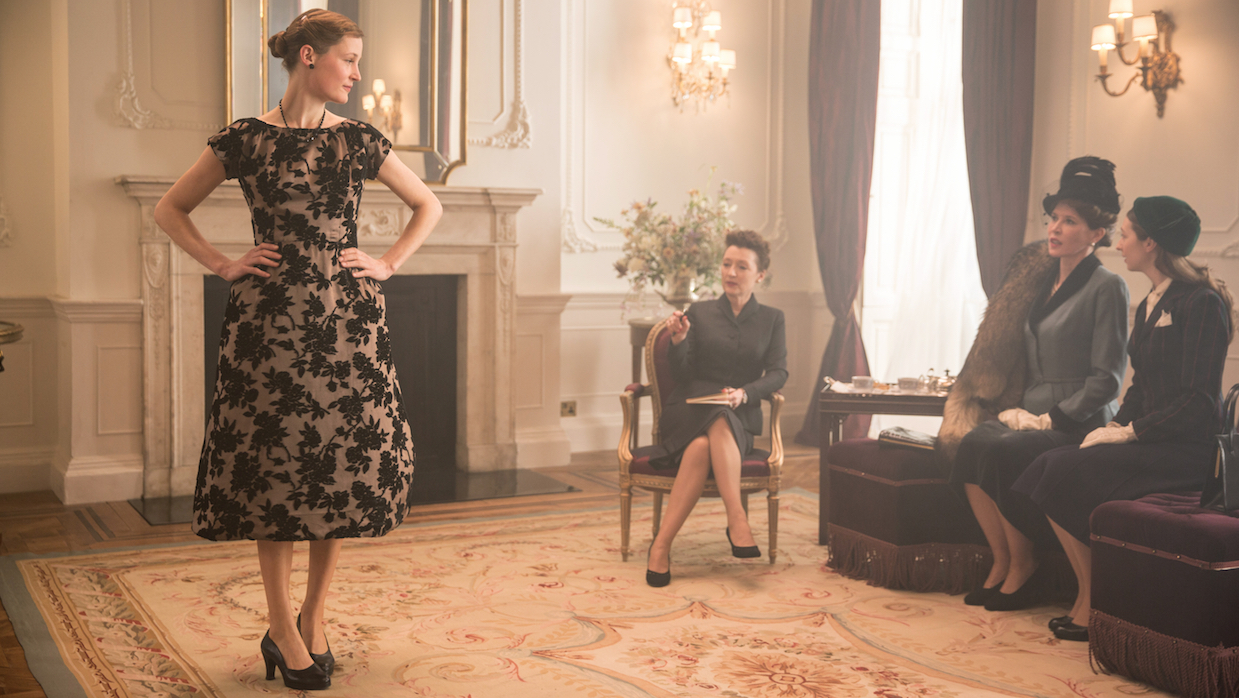 Film Editing
Dunkirk (Lee Smith)
Sound Editing
Dunkirk (Mark Weingarten, Gregg Landaker, Gary A. Rizzo)
Sound Mixing
Dunkirk (Alex Gibson, Richard King)
Dunkirk scooping up three out of the four major technical awards towards the beginning of the night likely proved disappointing to any Nolanphiles watching – rule of thumb being that usually winning technical awards means missing out on the Big Five. Baby Driver was unfortunately overlooked in these categories, disappointing to many of us at Film Soc.
Visual Effects
Blade Runner 2049 (John Nelson, Paul Lambert, Richard R. Hoover, Gerd Nefzer)
Documentary Short Subject
Heaven Is a Traffic Jam on the 405 (Frank Stiefel)
This short centers around Mindy Alper, a heavily mentally ill artist who channels their emotions into passionate art and sculpture. After a successful festival run, it was another favourite to win.
Live Action Short
The Silent Child (Rachel Shenton, Chris Overton)
In one of the most moving moments of the night, Rachel Shenton signed her speech for her 6-year-old star's benefit, and thanked the Academy for bringing a story of disability to a "mainstream audience". Among his thanks, Chris Overton mentioned the supporters of their IndieGogo campaign, an inspiring moment for low-budget filmmakers. (Speaking of, one of our very own affiliate projects, Jenny, is still looking for funding! Campaign is open for 5 more days at: indiegogo.com/projects/jenny-music-film)
Animated Short
Dear Basketball (Glen Keane, Kobe Bryant)
---
Can we all please revel in the fact that not only are we now living in a world where Suicide Squad is an Oscar winner, we are also living in a time where Kobe Bryant is one too. Who's next?
Overall, there were no big surprises; the Academy, as usual, played it safe. However, these Oscars were the most diverse we have ever had, with women, people of colour, and stories about LGBTQ+ and disabled people being brought to the forefront for the first time. Unlike at other awards ceremonies this season, there was no official #MeToo dress code, but the movement's presence was nevertheless palpable. Not for the first time, the minorities in the film industry have raised their voices to say "enough" – but for the first time, they are being listened to.
Check out our pre-Oscars awards seasons discussion + Oscar nominations podcast episodes!