London Korean Film Festival has returned for its 17th edition. From new releases to hits from renowned Korean directors, the FilmSoc Journal reviews a selection of films showing at this season's festival.
Angelina Lim reviews Davy Chou's melancholy odyssey of cultural metamorphosis Return to Seoul, starring Park Ji-min.
More than a story about reconnecting with one's culture, Return to Seoul – originally titled All the People I'll Never Be – is a tale about soul-searching. The premise is simple: Frédérique Benoît (Park Ji-min), nicknamed "Freddie", is on a journey to find her biological parents in Korea. Armed with her playful smirk and natural charisma, she ropes in hotel receptionist Tena (Guka Han) to become her companion/translator. At a restaurant, she is introduced to Tena's friend Dongwan (Son Seung-Beom). When he explains that pouring your own drink is considered insulting in Korea, Freddie looks him in the eye and fills her cup with soju anyway. Making no effort to assimilate into Korean culture, we quickly get the sense that Freddie does what she wants when she wants – her life is on her own terms.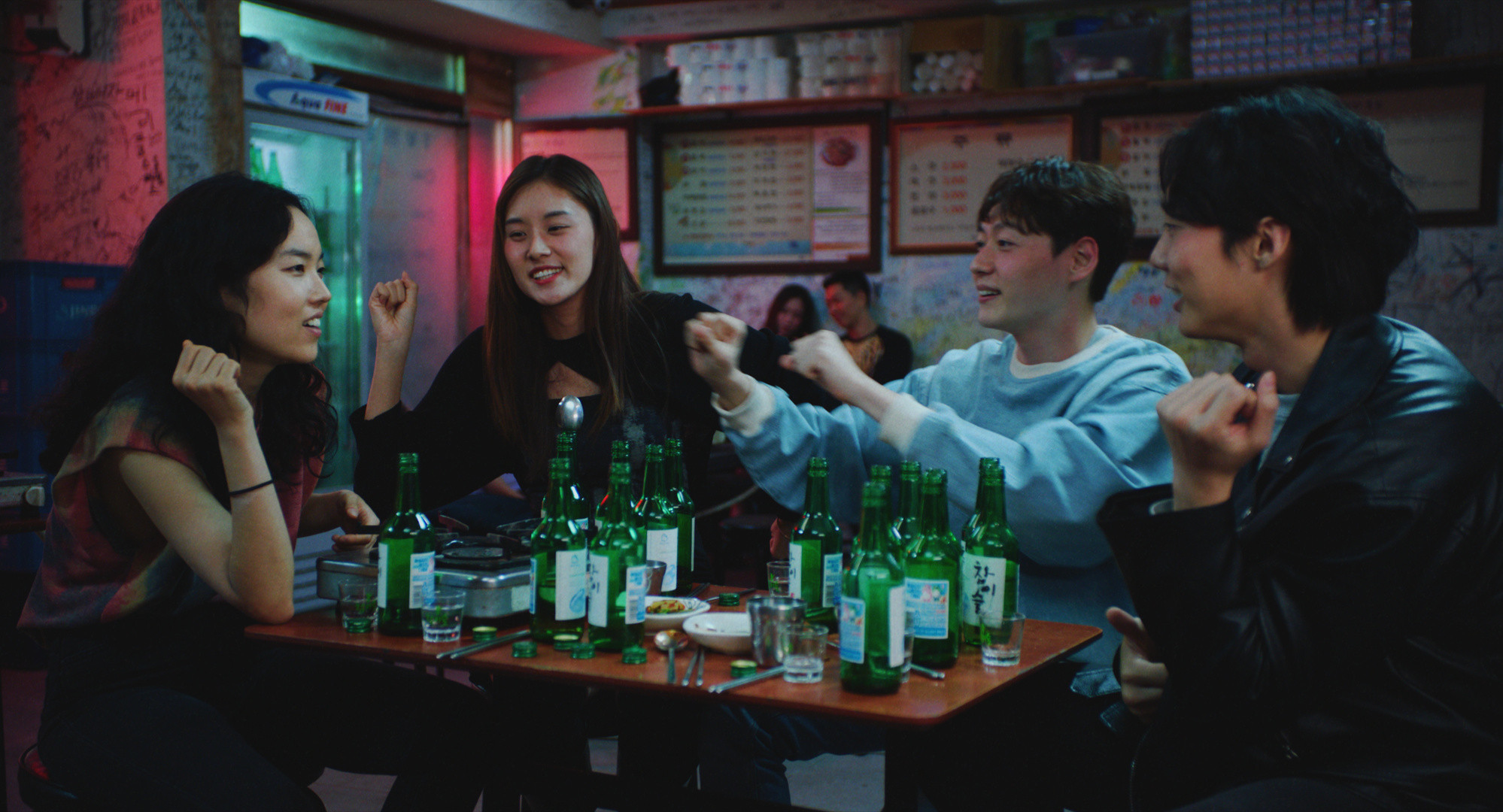 As the movie unravels, we get to know Freddie, and her complexities, better. She likens her philosophy in life to sight-reading – "analyse the music in one glance, evaluate the danger, and jump in." Her Korean birth name is Yeon Hee, meaning docile and joyful (two things she is not). Even after sending multiple telegrams, her biological mother is unwilling to meet her. When her alcoholic guilt-stricken father (Oh Kwang-rok) tries to make amends, she storms off into a dark alleyway. Speaking an awkward mix of English and Korean with a French accent, and dancing alone in the middle of a casual speakeasy, the mercurial Freddie sticks out like a sore thumb in conventional Korea. With her "typical Korean face" and French patriotism, Freddie is neither fully Korean nor French. The challenge of dealing with abandonment and two contrasting identities defines Freddie and her return to Seoul.
Around the halfway mark, the film jumps five years ahead. Now 30, Freddie enters the frame wearing a bold red lip and slicked-back hair. After a blind date with arms dealer André (Louis-Do de Lencquesaing), she leaves her consulting career to join the trade. Fast forward another two years and it appears Freddie has finally settled down. But when her new boyfriend (Yoann Zimmer) consoles her after meeting her paternal family, she wipes him from her life with a snap of her finger. It's clear that no matter how many times Freddie tries to reinvent herself, old habits die hard. Every time she runs from her past trauma, she will leave collateral damage in her wake.
Having to portray a character with such complex inner turmoil is no easy task. However, first-time actress Park Ji-Min brings her character to life with ease. Even during scenes of solitude and silence, our eyes are drawn to Freddie, anticipating her next move. In Freddie's conversation with her adoptive mother, Park skillfully negotiates between her stifled frustration and an outward display of respect. When Mrs Benoît expresses her disappointment at not being invited to Freddie's trip to Korea, Park's nuanced performance reveals glimpses of uncertainty as she defends her decision. When Tena snaps and calls Freddie a "sad person", the audience feels both annoyance at Freddie's behaviour and empathy for the person within. She may be a loose cannon, but Park makes Freddie a joy to watch. 
Park's gripping execution of her demanding role is no doubt also thanks to other elements of the film that coalesce to support her performance. Chou's choice of time skips allows us to witness Freddie's transformations, as she moves through different phases of life. In a similar vein, Thomas Favel's cinematography is visually striking and creates a poignant backdrop for events to unfold. Park's role in bringing an Asian female gaze to Director Davy Chou's original script is evident from the mature handling of Freddie's character and interactions with the men around her. The themes of self and rejection are weighty, but the film wrestles with them beautifully.
Though some might criticise the film for never providing closure, I would argue that Freddie's story was never meant to be concluded. Chou's flawed protagonist never succeeds in finding happiness, constantly making mistakes and approaching issues with naivety and spontaneity. Yet, it is this authenticity that makes the film special. Freddie is still trying to find herself, and we are witness to only part of the journey. Whether she manages to finish sight-reading the score and avoid the danger ahead remains unseen, but Chou's storytelling ensures that the audience leaves rooting for her.
Watch the trailer for Return to Seoul here: