BFI's London Film Festival is in town! The FilmSoc Blog is back for the 66th edition of the city's largest film festival, delivering a look at the hits and misses of the 2022-23 season.
◯ Warning: this review contains spoilers.
Mara Dinu reviews Georgia Oakley's directorial debut featuring a powerful late 80s coming out story.
Blue lights and blue feelings. An old touch on the lens. There is something particularly warm about Blue Jean, the quiet and delicate directorial debut of Georgia Oakley. Set in 1988, the story follows Jean, a PE teacher in her struggles with the system that portrays the LGBTQ+ community as a group of pedophiles and sex-addicted people who serve as bad influences on children. The film's subject is a reality that completely infuriates me, but these harsh news fables are topped with a normalised view of queer relationships, as we get to follow Jean and her partner Viv simply existing and being in love.
Shot on 16 mm, the film really manages to take on essential 80s film references, especially in its imagery. Grey–blue shades orbit the colour palette, adding an important note to the overall disappointment depicted in the story, growing with the hostility with which queer couples are treated. It's as if not just the characters, but the audience and even the production crew are trapped in hopelessness in front of the political views of queer people of the 80s. Jean, for one, is faced with a situation in which the fear of a new student outing her at school gets too high to handle and makes her act erroneously to save her reputation and hide herself even deeper between the rigid walls of the closet. Even if the world was cruel and not understanding, Jean still manages to come to terms with her sexuality and being proud of it.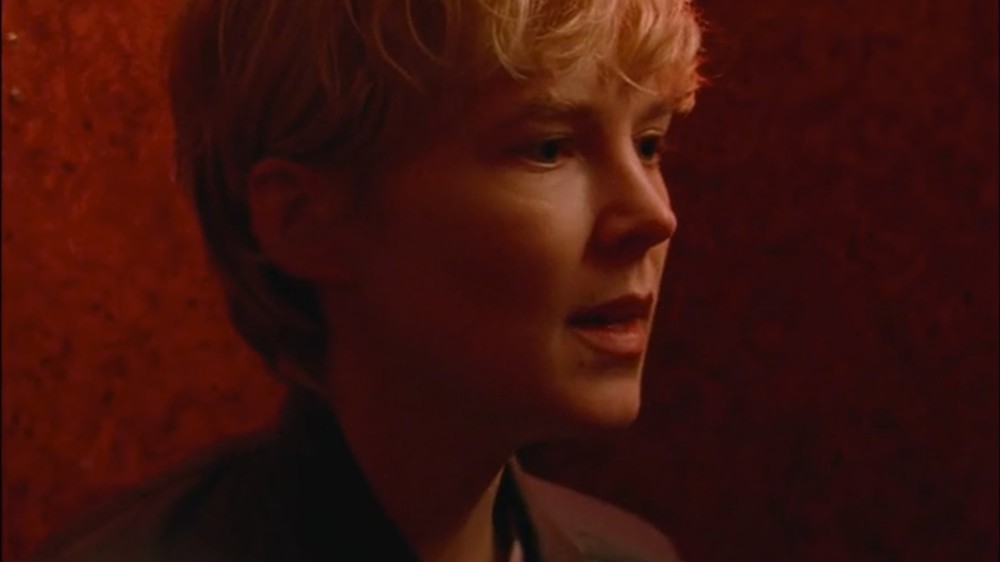 Blue Jean features one of my favourite coming-out scenes. Through an utterly brave and personal act, an ironic dialogue arises at a party between Jean – who was clearly fed up with men – and two straight men joking about divorces and making not-so-subtle advances towards her. She ends the conversation abruptly with an "I'm a lesbian" and a kiss on her brother-in-law's cheek while leaving home, bursting into laughter, which quickly turns into crying out of pure liberation of joy, fear, humour, desperation, and cathartic relief.
Georgia, the director, actually told me how she instantly had a strong connection with Rosy McEwen's audition tape and saw her in the role of Jean immediately, because of her reserved energy, which matched the one of the character's perfectly. The whole cast brings the script to life through subtle traces of constant doubt and fears they managed to depict through their mannerisms. Every single aspect of this film is in place, everything about it has a specific tidiness and delicacy which allows the raw emotion to grow on its own and tell a whole different story developing on the inside of all the characters. My hope is for this beautiful film to reach an older audience as well, perhaps as an attempt to educate parents of LQBTQ+ children and to show them a different perspective, of both a teacher and a student. Blue Jean is a raw portrait of the harmful and misunderstanding acts of the outside world on innocent queer people.
We definitely need more films like this. It had a specific closeness and intimacy that you rarely feel, especially if you're in a room full of people. I understood the general emotion of the film and related to the characters so much, but the most beautiful thing was how close to the characters' personal life the script managed to get. It's incredible how words were not necessary to describe most of the interactions between these women, all struggling with their position in society. 
Blue Jean will be released February 10th, 2023. Watch the trailer here: