BFI's London Film Festival is in town! The FilmSoc Blog is back for the 65th edition of the city's largest film festival, delivering a look at the hits and misses of the 2021-22 season.
Dominic Ko reviews Oscar-nominated director, Mamoru Hosoda's, new teen fantasy Japanese anime! Now premiering at the BFI London Film Festival.
With the release of Belle (竜とそばかすの姫 Ryū to Sobakasu no Hime, literally "The Dragon and Freckled Princess"), director Mamoru Hosoda has cemented his position as a legend in the world of animation. His previous film, Mirai (2018) received an Academy Award nomination for Best Animated Feature, and his past films include, The Girl Who Leapt Through Time, Wolf Children, Summer Wars, and The Boy and the Beast. All of which have received worldwide critical acclaim and have frequently been cited as some of the best Japanese animated movies made thus far.
Belle is far from being Hosoda's best work in terms of his screenplays, but it delivers some of the best visuals and cinematic experiences amongst his illustrious portfolio. Fusing crisp, delicate 2D animation and computer graphics, Belle is a feast for the eyes.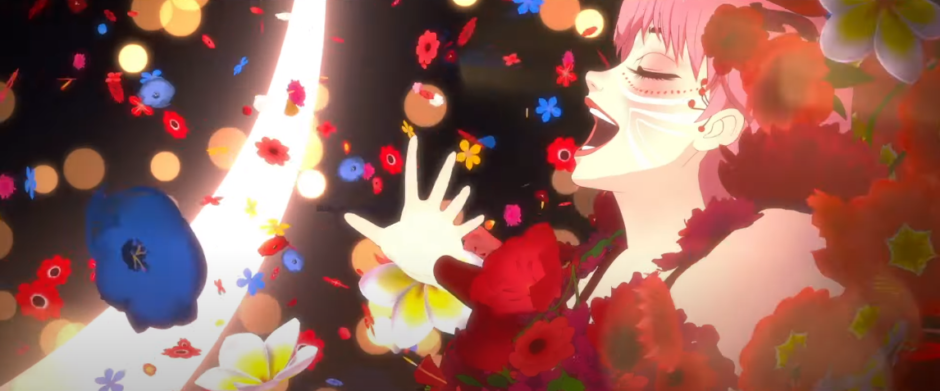 The movie begins with us diving right into the virtual world, 'U' filled with virtual avatars generated with a user's biometric data from a futuristic phone application. As the movie starts its exposition, we are introduced to Suzu (voiced by low-profile but extremely talented singer, Kaho Nakamura) – a teenage high school girl, who lives in the countryside of Kochi Prefecture. Just like her voice actress, Suzu is an accomplished singer, having grown up practicing singing with her mother. However, after her mother lost her life trying to save a stranger's child, Suzu lost the ability to sing, and the distance between her well-meaning father and her grew. When her friend introduces her to the virtual reality of 'U', Suzu discovers that she manages to regain her voice with her alter-ego, the pink-haired beauty, Belle.
Her performances on 'U' go viral and before she knows it, she becomes a popstar sensation with billions of fans around the world, all of which are users of the application. Suzu relishes her newfound confidence on the virtual platform and slowly emerges from her reclusive shell she once hid in to handle her grief. At the bottom of the school's social hierarchy, none of her schoolmates, save for her close confidantes, know of her virtual identity. Yet online, Suzu's Belle commands the attention of billions with her voice. Her virtual concerts are euphoric, sensational experiences, both audibly and visually, and director, Hosada does a fantastic job showing it on screen. However, at the height of Belle's fame, Suzu's biggest concert gets interrupted by a mysterious, dragon avatar "The Beast" (voiced by renowned Japanese heartthrob, Takeru Satoh). The Beast wreaks havoc and his many appearances around 'U' draws Suzu closer and closer into his world. Determined to understand the source of the Beast's scars and his origin, her investigation puts her in the crosshairs of 'U''s self-proclaimed moderators, threatening to reveal her real-life identity.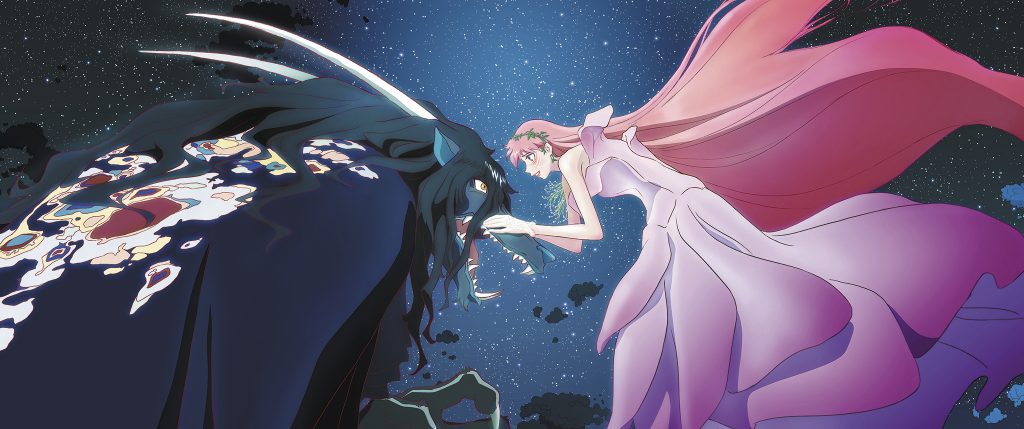 This supercharged visual spectacle feels very familiar as it parallels the digital worlds showcased in Hosada's previous films Summer Wars and Digimon Adventure. Many aspects of the movie also draw reference from the classic fairytale, Beauty and the Beast – the movie is essentially a modern spin on it with some very bold creative differences. Hosada is very ambitious in this movie, juggling various subplots in both the real world and the virtual reality one – there's the topic of Suzu's grief, her relationship with her deceased mother, and her estranged relationship with her father, a love triangle with her childhood friend, her virtual fame, and finally, the mystery of the Beast. All against the backdrop of themes Hosada wants to explore – the power of the internet, cyber-bullying, youth and technology, misinformation, a criticism of Japan's social welfare, and a strong critique of Japanese online behaviour. As you can tell, there's really a lot to unpack here and not all of Hosada's ideas manage to live up to expectations. Some are glossed over so casually that you wished that they were not included at all in the first place. The plot threads are a little messy at times, and one of my gripes is that not much time is invested for the audience to witness how a genuine romantic relationship between Belle and the Beast might arise.
Nevertheless, the film trades narrative cohesiveness for a visual and audio spectacle. Watching Belle in theatres was a sensational experience, akin to attending a live concert. My hair rose whenever Kaho Nakamura's voice reverberated from the speakers. Even after the film has long concluded, my mind still takes me back to the music of the film and its visuals. The animation and music of Belle cannot be praised enough.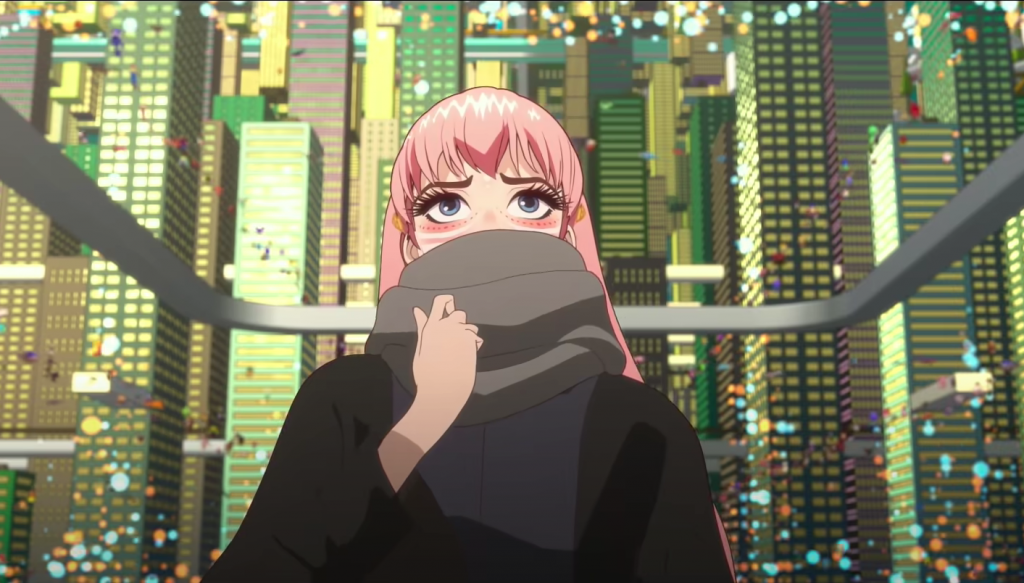 Indeed, although Belle's screenplay is a mishmash of ideas and subplots, one strong idea that stood out was its critique of the Japanese online behaviour and the movie's commentary on cyber-bullying. Cyber-bullying is endemic in Japan and despite growing calls over the years for implementation of stricter measures, the issue remains largely rampant online. One recent consequence was the suicide of the 22-year-old Japanese reality TV star, Hana Kimura from Netflix's Terrace House. With her legion of fans online, Suzu's Belle also attracts her share of spiteful haters, and the movie explores how she handles criticism and highlights how irrational mobs can be on the internet. I appreciated Hosada's strong views on this matter and welcomed his influential contribution to this issue with this movie.
To me, Belle is a very relevant fairy tale story with modern, digital sensibilities. A movie about the internet for generations that grew up on it and subsequent generations that will be growing up on it, it presents an optimistic perspective of relationships over cyberspace. Hosada was trying to shed the internet's dark image by showcasing how it can be an outlet for pain, a place for empowerment, and when used with empathy, it can allow us to hear the softest voices and faintest cries. Furthermore, Belle subverts typical fairy tale tropes by presenting a complex, flawed yet resolute female protagonist. In an interview regarding Belle, Hosada mentioned that he was not a fan of how young female protagonists in animated movies were often venerated and considered paragons of virtue and innocence. Many seem to interpret his comments as a jab at Miyazaki's Studio Ghibli films. And I can see why as the movie's protagonist patently tries to distinguish herself from other Studio Ghibli heroines – as a fallible and imperfect schoolgirl.
Imperfect as the film may also be, Belle remains a soaring, uplifting animated feature. With powerful ballads to carry the film emotionally, your heart will sing as Hosada takes you on a colourful journey down a dazzling kaleidoscope of eye-popping visuals.
Belle out in cinemas January 14th, 2022: