BFI's London Film Festival is in town! The FilmSoc Blog is back for the 66th edition of the city's largest film festival, delivering a look at the hits and misses of the 2022-23 season.
◯ Warning: this review contains spoilers.
Dominic Ko reviews Oliver Hermanus' Living, a remake of Kurosawa's classic Ikiru, starring Bill Nighy.
"If you had six months left to live, what would you do?" asked Living, the latest British drama film directed by Oliver Hermanus, with a screenplay by Sir Kazuo Ishiguro, the beloved Nobel Prize-winning writer.
Living is a remake of Akira Kurosawa's classic, Ikiru (1952), which in turn was inspired by a Russian novella, Leo Tolstoy's The Death of Ivan llyich (1886). Ikiru has been included in numerous 'Greatest Movies of All Time' lists and is considered one of Kurosawa's strongest pictures. This sets a high bar for Living to clear, considering Kurosawa's reputation as one of the most influential filmmakers in cinematic history. Viewed on its own, away from the shadow of the source material, Living is a superb, atmospheric movie. But understandably, fans who worship Kurosawa's original may argue that Ikiru remains the superior rendition. Having seen both movies, I preferred Living's truncated screenplay, with a punchier runtime of 1 hour and 42 minutes, as opposed to Ikiru's 2 hour 23 minutes.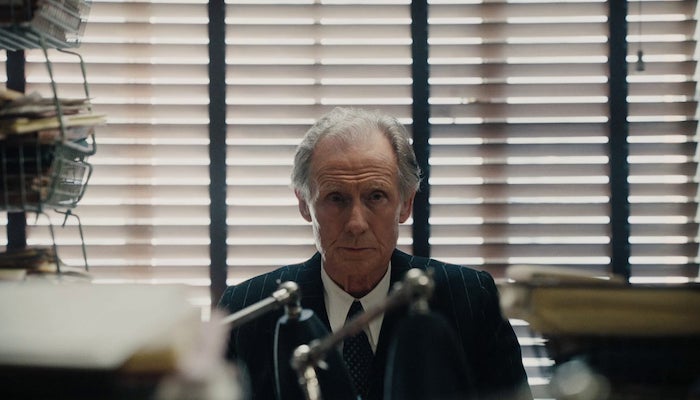 With its Japanese sensibilities, it is no easy feat to adapt Ikiru for the Western audience but Ishiguro does so with ease, having already written critically acclaimed novels exploring Japanese values. In an effort to distinguish Living from Ikiru, Ishiguro introduces numerous changes to the script, such as introducing a new character, Mr. Wakeling (Alex Sharp), whose eyes as a new hire serves as vehicle for the audience to learn about Mr. Williams (Bill Nighy). I found his inclusion very refreshing as opposed to the use of a narrator in Ikiru. As a surrogate for the audience, his presence as the optimistic, untainted civil servant serves as a foil and window to Mr. Williams personality changes.
The film begins with Mr. Wakeling beginning his first day of work at the London County Council's Public Works Department. His frosty superior is Mr. Williams, who dedicates decades of his life aimlessly warming the chair at his desk, with his uneventful civil service. Caught in an endless spiral of paperwork, bureaucracy, and buck passing, Mr. Williams is unambitious and directionless, dallying his days by sweeping public petitions under the carpet. That is until he discovers he has been diagnosed with terminal stomach cancer with approximately six months left to live.
Widowed and estranged from his grown-up son and his daughter-in-law, Mr. Williams winces at his loneliness and embarks on a journey to 'live a little' with the remaining time left. However, when he escapes from London to an English coastal town, he confesses to a stranger in a diner, Mr. Sutherland (Tom Burke) that he does not know how. Together, they indulge in the pleasures of the flesh with a brief montage of drinking and the company of women. But as Mr. Williams learns at the end of the evening, life's purpose cannot be found in these earthly pleasures.
It is upon his return, when he crosses paths with his bubbly subordinate, Margaret (Aimee Lou Wood), that he discovers what true joy entails. Youthful and exuberant, Margaret wishes to quit her mundane job at the County Council to work in a café. Granting her his permission and a positive reference, they bond over Margaret's candid feedback of her brief tenure in his department. Oppressed by the banal work, Margaret amuses herself by granting nicknames to each of her colleagues, including her boss, Mr. Williams, who she christens as 'Mr. Zombie'. This revelation has Mr. Williams reflect on his lifeless existence and their endearing platonic relationship sparks a renewed sense of purpose in his civil service. Reinvigorated, Mr. Williams pushes for the construction of a children's playground based on a petition filed earlier in the movie by a group of mothers. Faithful to Kurosawa's Ikiru, Mr. Williams dies before the third act of the film, and the remaining thirty minutes of the film relies on his colleagues' flashbacks to review Mr. Williams final crusade to build the playground. Tear-jerking moments abound and the film ends on a bittersweet but uplifting note on how only a life lived for others is a life worthwhile.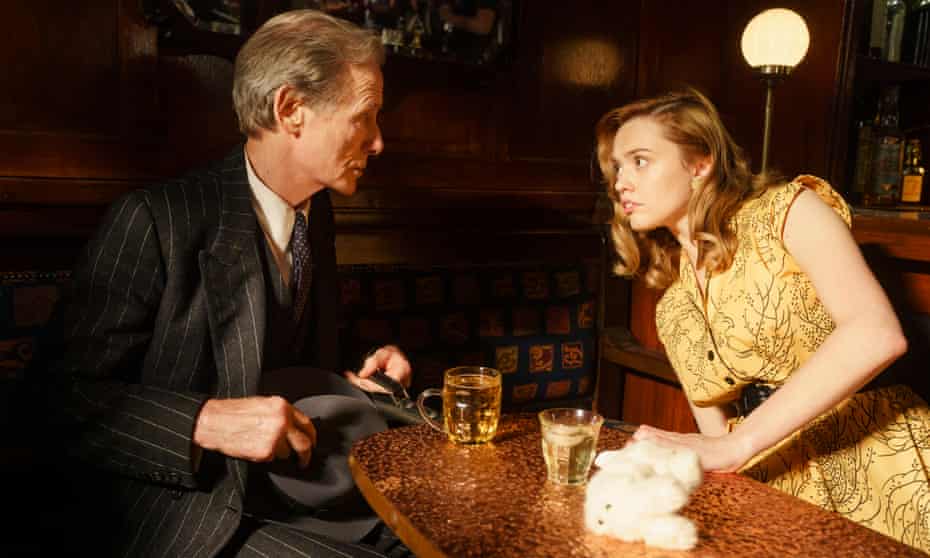 Apart from the inclusion of Mr. Wakeling, there were many other novel departures from Ikiru. One compelling improvement was how Ishiguro uses the playground as a symbol of our brief 'playtime' on Earth. In a heartfelt confession to Margaret, Mr. Williams confesses that he fears being one of those children who sit by the corner and hopelessly wait for their 'maker' – the mother, to call them home and end their playtime. With poignant metaphors like these, Ishiguro improves on the original script with his masterful prose and lines. Ikiru was set in its contemporary era, post-war Japan in the 1950s. Thus, I found it fascinating that Ishiguro chose to transpose this iteration to post-war 1950s Britain as well, as opposed to adapting it to our contemporary era. This was arguably the better decision as the period setting adds to the poignancy of the film. The soft, grainy cinematography elevates the sentimentalism of this film. With the soft focus and delicate lighting set-ups, the film plays out like an Ishiguro novel on screen, gliding with a transient gentle sadness. The score by French pianist Emilie Levienaise-Farrouch warrants praise as well as it injects further pathos into the overall production. All these touches unite to present a film that epitomises the Japanese expression, mono no aware, an appreciation for the impermanence.
Nevertheless, as with our lives, Living is not a perfect masterpiece, and struggles to escape the shadow of Ikiru. Critics may consider Living to be an abbreviated version of Ikiru as it prunes some layers of the social critique and darker elements in Ikiru. There is less criticism on government bureaucracy and the decay of modern family life. Instead, Living is written with a more optimistic and wholesome perspective, and it concludes on an inspirational call to make a positive difference, no matter how small. I personally preferred Ishiguro's screenplay more as those elements trimmed may not have been as relevant in the context of the West.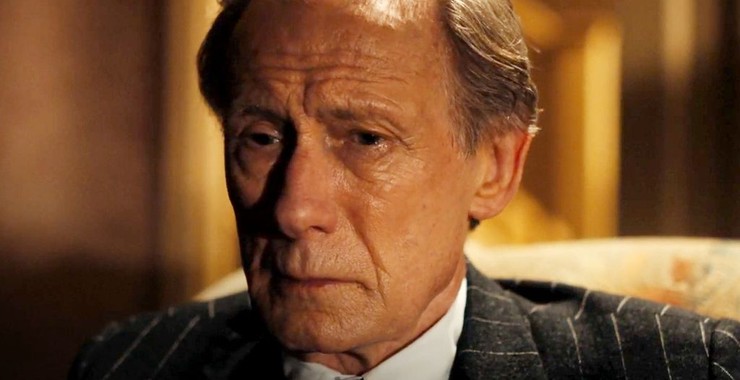 Furthermore, I favoured Bill Nighy's portrayal as the lead, Mr. Williams over Takashi Shimura's take as Mr. Watanabe. Bill Nighy's tender, genial performance is easily one of his long and illustrious career's best. Supressing his charisma and wit for the lighter moments, Bill Nighy plays his character with so much restraint and control. Asserting himself with poise and upright dignity as a quintessential English gentleman, Bill Nighy seeks to further distinguish Living from Ikiru, which had Takashi Shimura perpetually hunched over as a deeply respectful Japanese salaryman. The impressive performance by Bill Nighy made me consider his inevitable departure too, as I was moved to believe the septuagenarian was considering his own mortality as well when he was on set.
With Bill Nighy as the lead, and a masterful script by Sir Kazuo Ishiguro, this ode to life is unmissable. Even as fans of the original, I believe you would still be modestly satisfied by the timeless quality of the story and its necessary and inspirational reminder that our life is but a series of fleeting moments. The enchanting cinematography and warm colour grading should bring fresh light to this poignant cautionary tale.
Living will be released in cinemas on November 4th, 2022. You can watch the trailer here: