BFI's London Film Festival is in town! The FilmSoc Blog is back for the 66th edition of the city's largest film festival, delivering a look at the hits and misses of the 2022-23 season.
Mara Dinu reviews So Yun Um's documntary about the history of family-owned Korean liquor stores and their connection to the BLM movement.
Through a unique perspective on documentary filmmaking, So Yun Um directed her debut feature about the story of Korean-owned liquor stores in America. Based in Los Angeles and filmed during the pandemic, Liquor store dreams is one of my personal favourite screenings from this year's BFI LFF selection and one of the best documentaries I am yet to see.
The story is focused on So and her college friend Danny, as they live their "liquor store babies" lives. While the many layers of the story interchange and overlap, the narration takes a global turn when So starts mentioning the conflicts between Korean liquor store owners and the black community in Los Angeles. The 1991 shooting and murder of Latasha Harlins in a Korean convenience store started a whole revolution, with these small businesses being vandalised. A very interesting take on the generational gap is also discussed through the protests, the film ending with more recent shots from BLM protests, where Koreans joined to show solidarity and had the power to stand up for the black community, leaving the past behind. When I talked to her, she mentioned how specific and niche the subject of her film was, having been a bit worried that not so many people would resonate with it worldwide. I never thought about it this way, documentaries are often meant to show a specific issue to an audience and give a new voice to people from certain communities. Therefore, for me, this story was at least something incredibly interesting I got to find out about, and the film gave me a lot of hope in terms of filmmaking.
The documentary starts with So introducing herself, as she also takes on the role of the narrator. Throughout the film, we also get an insight into her process of filmmaking and her film techniques, as if the art of filmmaking isn't some hidden, unknown set of skills only accessible to a very small group of people. She, in fact, encouraged me to apply for funding and mentorships in order to make my own ideas come to life, just like she did. From the moment the short came out in 2018, there was a period of a few years, between 2019 and 2022 when So worked with her team on the feature documentary and decided to start filming in July 2019. The pre-production process took about 6 months, with shots being captured on So's personal Sony A7S.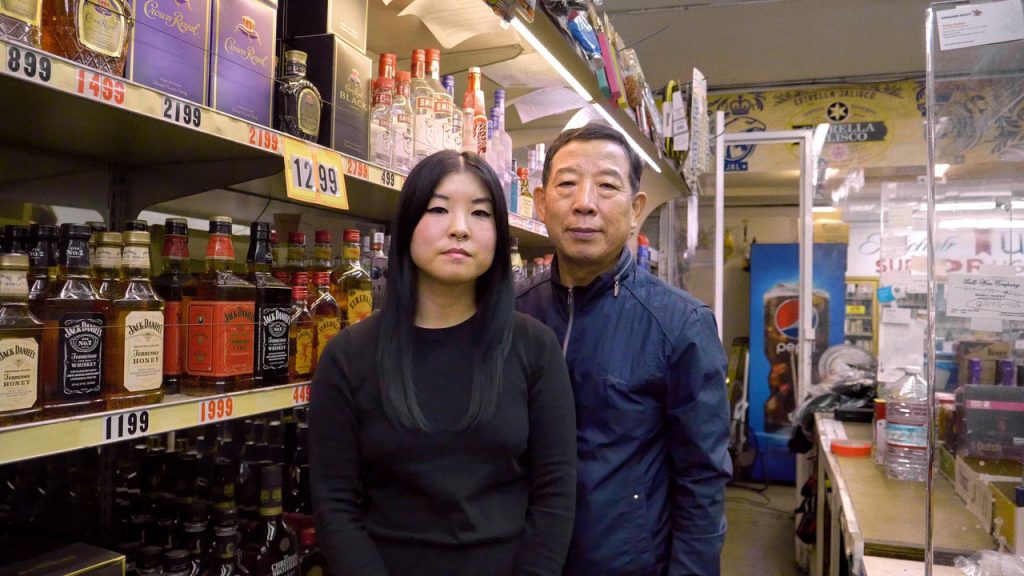 The documentary is interview-based, and parts of the past tense narrative were documented with archives of news from the original LA protests and the early BLM protests. There is a subtle autobiographical note to the whole story and she even participated in some of the interview close-up scenes, where she was there to ask and sometimes answer questions about growing up around the liquor store business owned by her family. So told me she was surprised at how people were so open to telling their stories and she ended up learning more about them and the issue of liquor stores. A B&W filter was put over the parts of the documentary depicting a darker truth to the lives of "liquor store babies", that of crimes that can take place in such shops.
The transition from So Yun Um's personal life story to the broader issue that the whole Korean community in America faces was done seamlessly and the narration got concentrated on the socio-political side of the stores. This documentary feels like a collage almost, an amazing combination of past tense and present tense narration over a valuable selection of archive videos, So's own story, and photos.
Being so close to the audience and resonating even with people who are not part of the target audience, Liquor Store Dreams manages to explore a very complex issue with all sorts of racial implications and immigrant problems through a case study of some unique and truly charming characters. Again, since this is now one of my favourite documentaries, I will always recommend it to anyone interested in hearing about the incredible journey of So's family, starting with her father arriving to the US with only $100 dollars on him and ending up with him having owned this family business for about twenty years.
Watch the trailer here: