BFI's London Film Festival is in town! The FilmSoc Blog is back for the 66th edition of the city's largest film festival, delivering a look at the hits and misses of the 2022-23 season.
◯ Warning: this review contains spoilers.
Madeline Choi reviews Luca Guadagnino's newest collaboration with Timothée Chalamet in a blood driven cannibalistic Young Adult feature film.
Luca Guadagnino's 2022 cannibal-meets-cannibal love story, Bones and All, gave me whiplash- the highs being extremely high and the lows being extremely low. The stylish film sees an eighteen-year-old embarking on a very Paris, Texas (1984)-esque road trip as she collects encounters with cannibals, discovers the method to satisfying her cannibalistic desires, and finds a home in her lover, all whilst trying to find her birth-mother who shares the same cannibalistic tendencies as her. The performances by Taylor Russell and Timothée Chalamet are magnetic, with both of them giving raw portrayals of a love story that grips on your heartstrings. Cannibalism aside, Guadagnino's latest film is a fuzzy yet bittersweet coming-of-age story that leaves traces of immense heartbreak as the audience becomes invested in Maren (Russell) and Lee (Chalamet)'s Bonnie and Clyde-like duo. The problem is, Bones and All is a film about cannibalism. A film centred around cannibalism that sometimes forgets about the intricacies of the psychology behind cannibalism, sub-plots, and side characters as it puts too much of its focus on the star-crossed, YA-trope-ridden leading couple.
There's something about the magnetism of the film's cinematography by Arseni Khachaturan that seamlessly blends its range of genres together. The film never tries to be one thing: it's equal parts grotesque and equal parts sensual and equal parts sensual and romantic. The road-trip aspect of the plot works in the film's favour as it allows the film to feel like a journey for Maren and Lee, as individuals and as a couple. We see Maren at the start of the film being shoe-boxed into a claustrophobic container-like home, oppressing her desires which ultimately culminate in the most unapologetic finger-biting-off scene I have seen on the big screen. The film, however, reaches a point where Maren and Lee oversee the radiant sunset at the top of a hill, alone together on the vast horizon but with the genuine comfort of one another. 
The film is, without a doubt, gorgeous – very Guadagnino indeed. There's a scene in this film that convincingly cements not only the film's sensitive, fragile portrayal of such a violent compulsion but Chalamet's phenomenal performance, as Lee physically breaks down in front of a serene sunset. Not once did we see Lee break down in front of a pool of blood or in the presence of unhinged cannibal-wannabes (yes, the film includes a non-cannibal police officer trying to convert to cannibalism) or in front of his younger sister – that seems to mean the world to him but we see him breaking down during one of the most peaceful scenes of the film. His desperation to escape from his trauma and his pent-up guilt towards his sister are heartbreaking to watch. All while we see the couple intimately cradling one another with the backdrop of intense quietude.
However, the charismatic B-plot of the film isn't enough to distract from its unconvincing A-plot. Whilst the film nails its coming-of-age YA aspects, it has the effect of undermining and being undermined by its contrapuntal cannibal story. The film expects the audience to follow Maren as she stubbornly traces the roots of her compulsions in her birth mother. We hear her father's confession tape, re-telling the horrors of Maren as a child cannibal that he tries to sweep under the rug, and the sleepover scene (which I believe will live on to be an iconic scene in the horror genre), but we never seem to dig deeper than the surface. How did Maren feel when she had to live a mundane closeted life as a cannibal? How did her mindset change when she discovered how to properly feast? What does she want to ask her mother? These are questions that I had expected the film to touch on.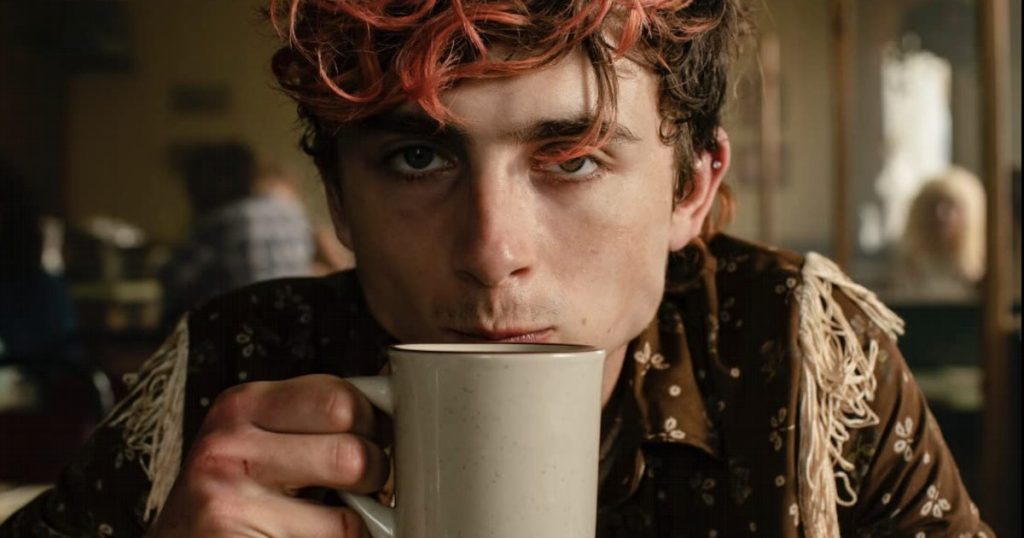 With the film being adapted from YA literary material (by Camille DeAngelis), it's no surprise that a focus was put on certain aspects of the film. But with the film displaying some of the most grotesque portrayals of violence and primal desires I have ever seen, I couldn't help but think it served no purpose other than for shock-value. As invested and on the edge of my seat I was for Maren and Lee to get a happy ending, I wasn't phased by the revelation that her mother was self-admitted to a mental institute. And for the cherry on top, I found it oddly goofy that after all that build-up, the only scene we get to see between Maren and her mother is when her mother tries to claw at her during their first meeting. And speaking of underdeveloped characters, it's a shame that the film wasted its most humorous, charming character, Sully (Mark Rylance). He's the first cannibal that Maren meets and the film seems to develop an eerie, stalker-like relationship between the two that is presented as a disgusting father-daughter yet predatory relationship.
A review about this film could not be complete or even partial without spoiling the ending. The film's title comes full circle. Despite its random, unnecessary side plots and heavily underdeveloped characters, the final few moments of the film are somewhat reminiscent of Chalamet and Guadagnino's earlier collaboration, Call Me By Your Name (2017). As much as I want to joke about the ironic connection between the two films, Bones and All is a film full of heart. With Russell and Chalamet's chemistry and nauseating portrayal of the love that two cannibals have for one another, Bones and All is a film that will fail to escape your mind, regardless of how you feel about it.
Bones and All will be released in cinemas on November 23rd, 2022. Watch the trailer here: