The FilmSoc Journal is back for the 75th edition of the largest film festival in France, delivering a look at the hits and misses of the 2022-23 season.
Read Dominc Ko's guide to attending the reputed Cannes Film Festival and how to obtain festival accreditation.
Founded in 1946, the Cannes Film Festival is arguably the most important international film festival. As an annual invitation-only festival, it seems extremely challenging to be privy to such a long-standing prestigious event. However, unbeknownst to many, there are numerous opportunities for a student or cinephile to get access.
This guide aims to illuminate the opportunities you, a UCL Film & TV Society student, can seize. Ex Filmsoc President Diego Collado and I had the privilege to attend this year's edition and this guide will draw from our memorable experiences navigating the festival. This year was the 75th edition of the Cannes Film Festival. After two pandemic-disrupted years, it was the first time the festival returned to its full spectator capacity. While all information in this guide is accurate at the time of writing, please take into consideration how the pandemic has irrevocably changed things, and the feedback received this year may mean certain processes may be updated for subsequent iterations of the festival.
Nevertheless, let us begin sharing how you can attend the world's most exciting film festival and how to make the most of your time there.
1. Getting A Pass
The Cannes Film Festival is reserved to only film industry professionals. That means, every participant must be granted accreditation to take part in the festival.
Listed below are the various accreditation available, in order of hierarchy:
Film Professionals' Accreditation
Marché du Film ('Film Market') Accreditation
Press Accreditation
"Three Days in Cannes" Accreditation
Cinephiles Accreditation
In this guide, we will focus on attaining the "Three Days in Cannes" ('TDiC') Accreditation, which is a specialised scheme reserved for film enthusiasts between the age of eighteen to twenty-eight years old.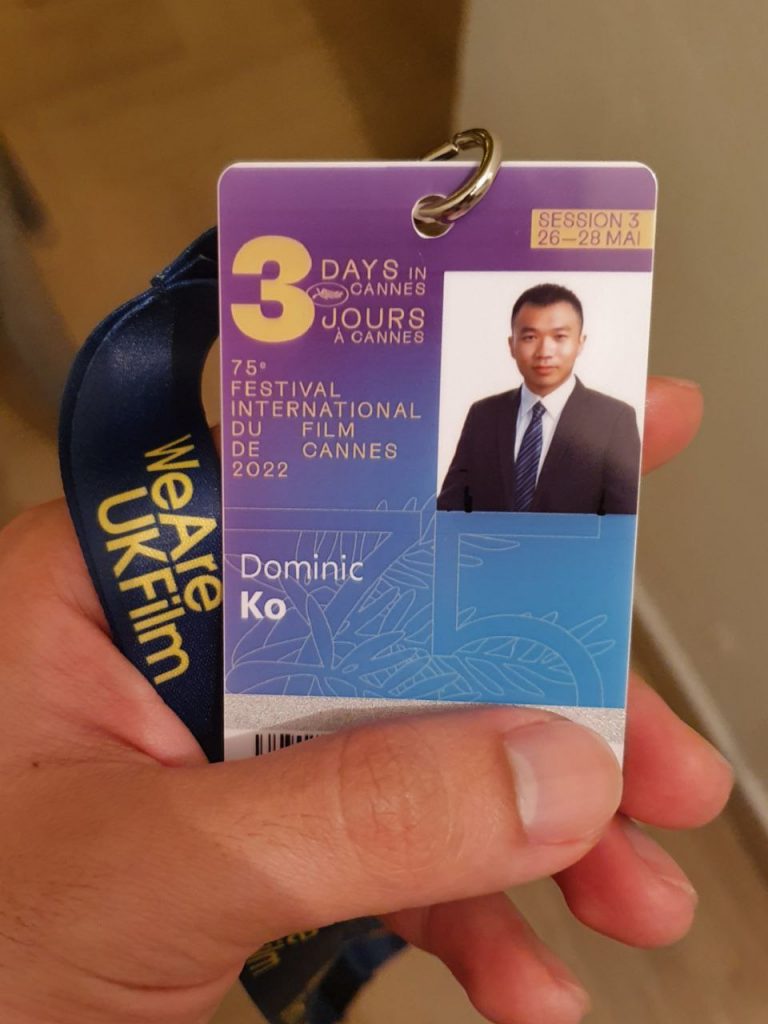 As the name suggests, the TDiC Accreditation is only valid for three days. Although the Cinephiles Accreditation has no date restrictions, there is limited access to the festival. A Cinephiles Accreditation only allows you to watch movies and attend programmes that are marked for Cinephiles pass holders. You are not even allowed to enter the Palais des Festivals, the convention centre where the festival is held. Conversely, a TDiC Accreditation allows you as much access to the festival, as if you are a film professional, but only over a span of three days. As a TDiC pass holder, there are also dedicated cinemas and programmes arranged by the Cannes Film Festival. But of course, a Press Accreditation is more powerful as it allows full access to all days of the festival and gives the pass holder priority entry into the press conferences for the films. Considering the reputation of our society's blog, I would highly encourage the Editors-In-Chief of our society to apply on behalf of our members for Press Accreditation for these benefits.
In any manner, the TDiC Accreditation is powerful enough and I would highly recommend this route to access the Cannes Film Festival. This year there were three slots available for you to use your three-day pass – at the start of the festival, in the middle, and the last three days of the festival.
Three Day Period
Advantages
Disadvantages
Start of the Festival
– Big Premieres
– Most exciting period for Marché du Film
– Peak of the Festival
– Attending the Opening Ceremony
– Can be extremely crowded
– Troubleshooting in the festival tends to take place in the beginning, with processes being smoother only near the end of the festival
– Dates may not coincide with films you want to see
Middle of the Festival
– Less crowded
– Dates may not coincide with films you want to see
End of the Festival
– All Competition films will be screened again during the last few days
– Attending the Award & Closing Ceremonies
– Less likelihood of technical difficulties
– Less crowded
– More relaxed
– If networking is your primary concern, a large proportion of film professionals would have left the festival by then
– Marché du Film may be closed or closing
As depicted in the table above, there are various advantages and disadvantages to the three different time periods. After gathering feedback from friends who have gone to the other periods and from my own personal experience, I would recommend the last three days of the festival. Although still crowded, the festival is less overwhelming than the other periods and I think one strong merit of it is that you have the ability to watch all the films 'in competition'.
To apply, all you need to do is visit the Cannes Film Festival Application Portal to submit your ID, a letter of motivation, a photo of yourself and pay €20 (which would be refunded if your application is not successful).
2. Pre-Festival Tips
The Cannes Film Festival typically takes place in May, so it is important to get the accreditation done by April of the year. Once your attendance is confirmed, it is highly recommended you book your transport and accommodation as early as possible for the best rates.
Join Facebook and WhatsApp Groups
If you are looking for other youths and students to split accommodation with, you can join the official '3 Jours à Cannes' Facebook group to network and meet-up. There tend to be various WhatsApp groups created in this Facebook chat for the different 3-day sessions, so feel free to rely on those as well. There are other Facebook groups created for TDiC attendees, but I found the official group the most useful in exchanging information. With that being said, I would still like to encourage all students to exercise caution when interacting with anybody on these Facebook groups and WhatsApp chats. There are some scam artists lurking in these groups, and I would like to remind students that there should absolutely be no need to pay any money to see the films at Cannes. Once accredited, your TDiC pass allows you to watch any film at the festival for free.
This year, when Diego and I attended the Cannes Film Festival, we thoroughly enjoyed meeting up with the various TDiC attendees who are all similar in age. Coming from all corners of the world, they consisted of aspiring filmmakers, film students, writers, actors, and anyone passionate about cinema. If you are interested in a career in the film industry and networking with these youths and other industry professionals, I highly recommend creating a name card that you can exchange when socialising. Diego and I had one each and they were extremely useful in connecting with adult industry professionals and leaving a positive impression.
Pack for summer, but prepare for black tie dress code
At the French Riviera, expect lots of sun by the sea. Definitely pack a swimsuit if you wish to enjoy the famously glamorous beaches. When watching movies during the day, the dress code is fairly informal. Dresses, shorts and t-shirts are fine, but covered shoes are required. I would not recommend flip-flops but I have seen sandals allowed.
However, for evening screenings, if you are watching a film at the main building, the Palais des Festivals, you are expected to dress for black tie. For men, this entails a blazer, shirt and a bow-tie. For women, an evening dress is required, with appropriate footwear. Heels are not necessary, but sneakers are strictly not allowed. For non-binary individuals, it is up to you to interpret the black tie dress code. Please bear in mind the Cannes Film Festival is notorious for enforcing the strict dress code, so definitely pack a bow tie or dress before you arrive.
Apart from a premiere for a film we attended, Diego and I largely avoided the need to dress up, by choosing to watch our evening films in other theatres. That is a potential strategy if you wish to avoid going back to your accommodation to change or if you do not wish to explore the festival in a suit for the entire day.
Arrive at least a day earlier before your three-day period starts
The three-day period is barely enough to see all the films you want to see and explore all the festival has to offer, so it is highly recommended you arrive at least a day earlier to collect your physical pass from the Accreditation Office.
Furthermore, as security is tight, you are unable to enjoy any of the official festivities without the pass around your neck. Thus, I highly recommend you pick up the pass as soon as you arrive in Cannes. There tends to be queue at the office, so expect a wait.
There are opening hours to the Accreditation Office. However, if you are arriving the evening before the three-day period starts, there are 24-hour machines that you can collect your badge from. Please check if this system is still in place before committing to this badge collection method.
3. Things to do at Cannes Film Festival
A. Watching Movies
*This is written from our experiences in the 2022 Cannes Film Festival. Booking methods are subject to change.
There is a dazzling array of films to be seen at the Cannes Film Festival, all curated based on artistic merit and hailing from all corners of the world. Apart from the main competition films, there are the Un Certain Regard films, which are presented to showcase arthouse stories from less commercially known filmmakers. Some directors from the Un Certain Regard selection have gone on to be internationally recognised, such as Greece's Yorgos Lanthimos and America's Ryan Coogler. Apart from these two main selections, there are various out of competition films, documentaries, film classics, short films that are shown. Even watching 3-4 films a day would not cover half of what Cannes Film Festival has to offer as there is simply too much to enjoy and relish.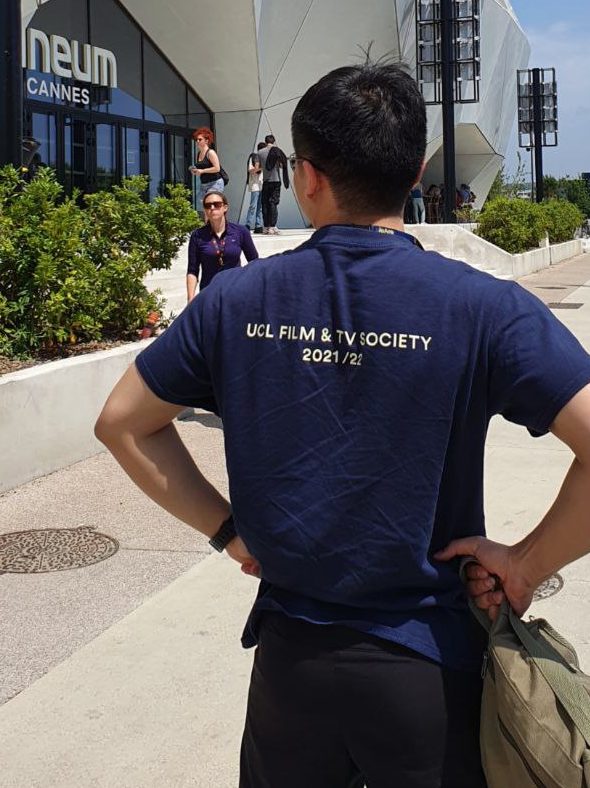 With the TDiC accreditation, you have access to the festival's bookings portal, where you can book a ticket to a film of your choice. For this year, we could only book movies four days before the day of the screening. The portal will only grant you access to movies shown four days later. The portal opens at 8 am CEST, so it is vital you are at your laptop by 7.50 am BST to join the booking frenzy. Tickets are allocated based on who has the fastest fingers to click and book, and this year, many were disappointed they were unable to book a ticket for the more popular titles. In response to this, the organisers released more tickets, a day before the screenings for the last three days of the festival. Furthermore, there were special theatres that were reserved just for TDiC accredited attendees. There were also theatres that did not allow a pre-booked ticket and only in-person queues. These tend to be at the Cineum Cannes, a 12-screen cinema, located a 30 minutes bus ride from the Palais des Festivals. Bus rides are complementary for accredited passengers. Simply flash your badge or scan your QR code upon boarding. There is also a last-minute queue for all screenings for any accredited attendee to try their luck. However, success is subject to the limited available places and sometimes it may not be worth investing time to queue. Depending on the size of the theatre, if there are around 50 people ahead of you in the last-minute queue, your odds of getting in are extremely slim. In any case, you can also trade tickets with any other accredited Cannes Film Festival attendee, and this was largely what transpired in the various WhatsApp group chats. It is extremely vital that the ticket you have booked gets used by you or any other party. Two missed attendance would result in the cancellation of your accreditation. The QR code of the ticket has to be scanned by the usher before entry. You may also cancel your e-tickets two hours before the screening time, without penalty. This would return your ticket into the digital pool for others to book.
As the digital portal showing the various screening times may sometimes crash due to the high online traffic, I would highly recommend attendees pick up a physical 'Screenings for the Day' pamphlet from the Palais des Festivals at the beginning of each day. While booking or queuing to watch your movies may seem dauting, I would like to reassure all attendees that there is nothing much to worry about. Despite the initial challenges booking online, the last minute queue system, ticket trading and specially designated theatres allowed Diego and I to see every film we wanted to have. On average, the both of us saw three to four films a day, and that was more than enough. If you can manage to schedule five films a day, by all means, go ahead, but I think you would be extremely mentally exhausted by the end of each day. Nevertheless, make the most out of your accredited pass and see as many films as you can!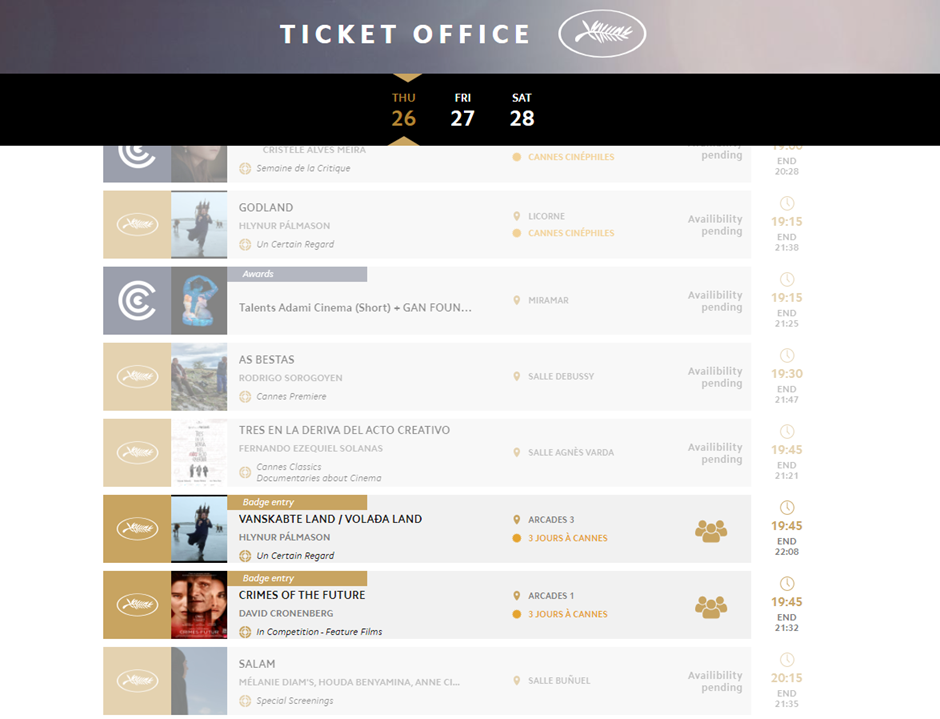 B. Attending Premieres
Many new films have their premieres at Cannes. This year, huge Hollywood films such as Baz Luhrmann's Elvis, and George Miller's Three Thousand Years of Longing had major world premieres. Even Tom Cruise's Top Gun: Maverick was given a special red carpet screening. All competition films will have a red carpet premiere and I highly recommend attending at least one during your time at Cannes. It will be an unforgettable experience sitting among celebrities and industry professionals. Diego and I attended the premiere of Kore-eda's Broker and we were sitting among some of South Korea's top celebrities and Bella Hadid.
As described earlier, you can book a premiere ticket on the festival's online booking portal. However, due to its high demand, it is incredibly challenging to get. Your best chance at attending a film premiere is by queuing for the last minute queue. For a film that premieres at 7pm, you typically need to begin queueing at 12 noon. Some highly anticipated titles may require you to show up even earlier for a realistic chance of entering the premiere. Bring an umbrella, sunblock, a book and plenty of water to survive the heat. What I highly recommend is forming a team to queue, so that you can take shifts to rest, eat your meals, use the toilet and watch movies. A full seven hour wait under the sun is extremely exhausting so splitting up the wait in shifts would help tremendously. Furthermore, it would be a shame to sacrifice time you could spend watching a Cannes film to be waiting in a queue. Thus, forming a team with your friends or other people attending the festival is a great way to apportion the strenuous wait.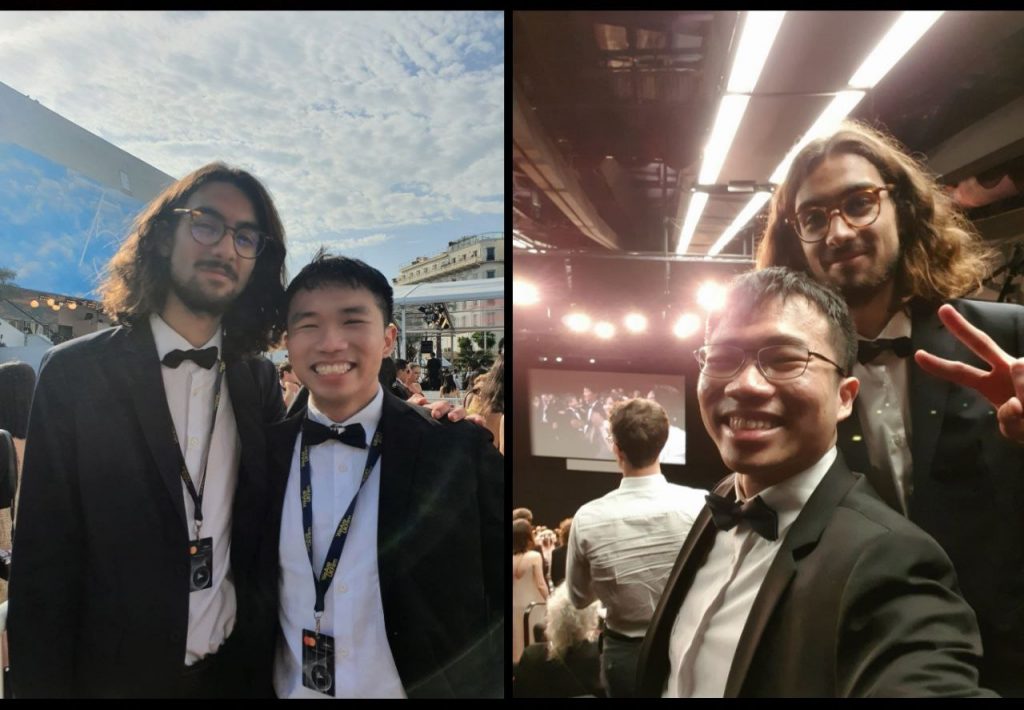 When attending the red carpet premiere, please also bear in mind the strict black tie dress code. As you will be walking the red carpet, it is highly recommended you do not bring any bulky bags, or sling any cameras around your outfit. The last thing you wish to happen is for your entry to be denied after an entire day of queueing. Selfies are also strictly forbidden on the red carpet. There will be professional photographers who will be taking pictures along the red carpet. The protocol is to approach them after they have taken your photo for their name card, and you can buy their photos at the end of the premiere. The average cost for the photo is around €50.00 or more, but I think it is money well spent for a memory of a lifetime.
The Grand Théâtre Lumière where the screenings will be held is incredibly packed. Once seated, it is extremely challenging to get out. Hence, a bathroom trip before going to your seats is highly recommended.
Until you experience it yourself, a standing ovation over five minutes is incredibly awkward. I do not understand how people can clap for ten minutes straight, but I hope you will get the opportunity to try. Diego and I experienced a 12-minute standing ovation and took breaks in between.
Upon exiting the theatre, there will be numerous press teams waiting outside for interviews. If you are confident enough, feel free to approach them to share your thoughts on the film. Diego and I were interviewed by KBS, South Korea's national public broadcaster, and our interview made it onto national television. All in all, a red carpet premiere is one of the highlights any TDiC attendee should aim for and I hope these tips serve to help you.
C. Attending Press Conferences
If you are interested in finding out more about the director's intentions, stories concerning the production and the actor's thoughts, a press conference is typically held a day after the premiere of the film.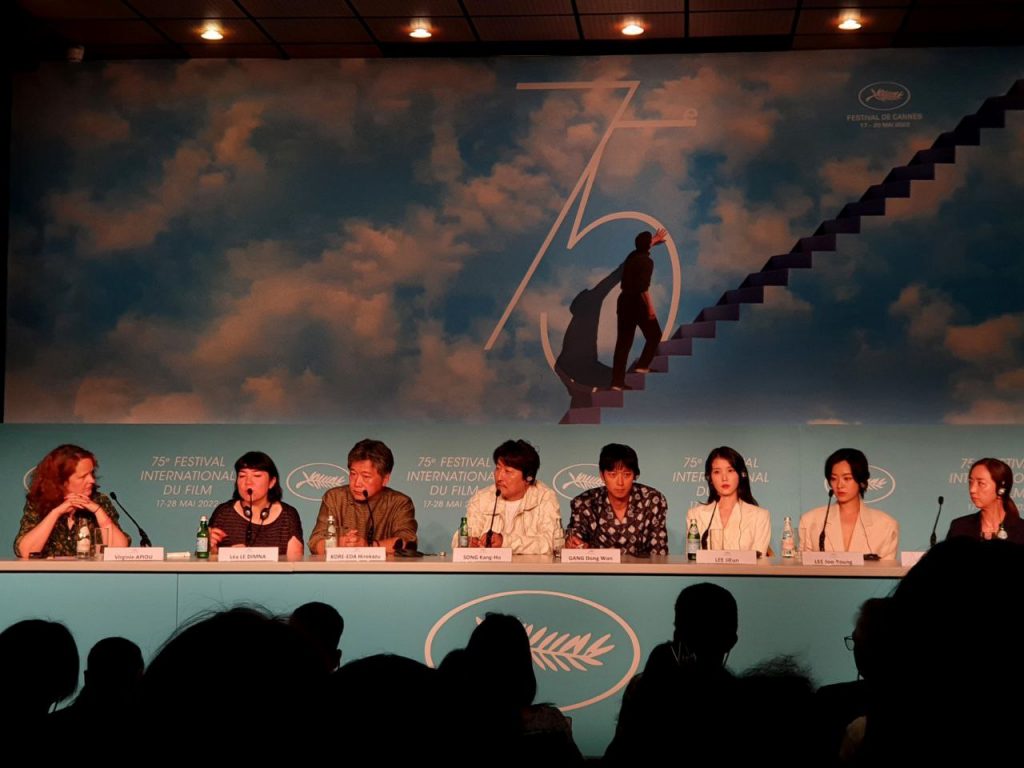 A TDiC accreditation allows you access to the press conferences, which are held in the Palais des Festivals. However, people with press accreditation are given priority for these press conferences. The remaining spaces are given to the lucky few people in front of the TDiC queue. Thus, arrive early to queue if you wish to see your favourite celebrities and directors up close and personal at a press conference. I had the privilege of attending the press conference for Broker, and it was a dream come true seeing top Korean celebrities such as Song Kang-Ho, Gang Dong-Won and Lee Ji-Eun ('IU') up close and personal. Hearing the director, Kore-eda speak at length about the film was also extremely insightful. Headsets with translators can be found at the side of the press conference room, so feel free to make use of them if the cast and crew happen to be speaking in a language you do not understand.
D. Visiting Marché du Film
The Marché du Film ('Film Market') is the business aspect of the Cannes Film Festival and is one of the largest film markets in the world. As a key annual rendezvous point for professionals in the global film industry, it is definitely something any aspiring filmmaker or film student should aim to experience. Producers, writers, distributors, critics, buyers, cinema operators, investors, directors and many other professionals gather here to buy, sell, pitch, connect and make deals.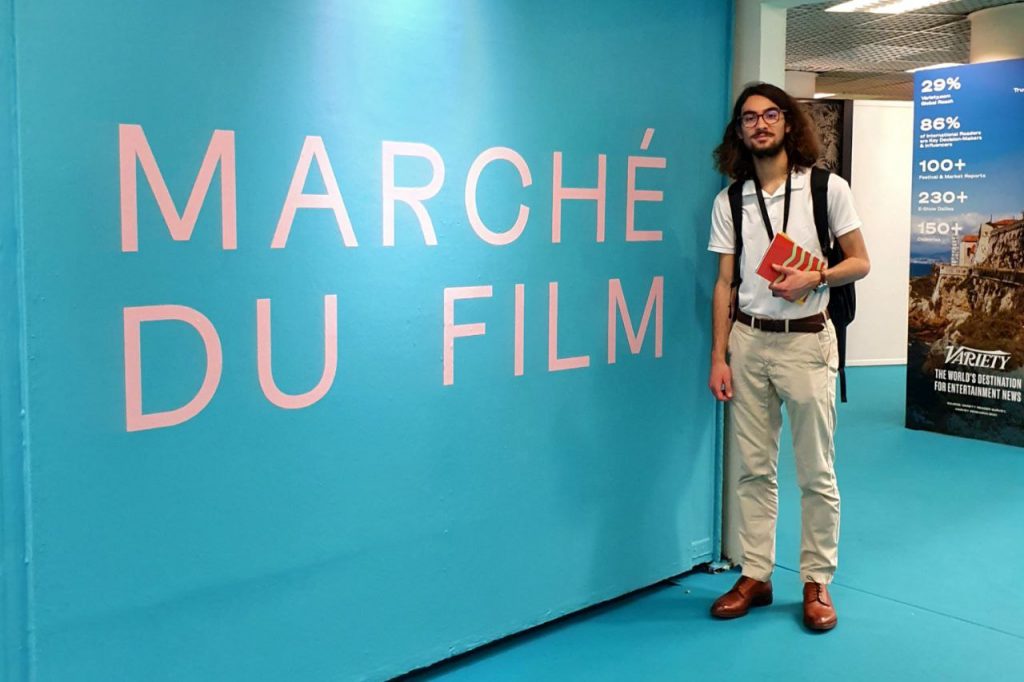 There are numerous screenings, workshops and mixers organised for the benefit of professionals to sell their film or network with other people in the industry. One key part of the Marché du Film is the Village International pavilions which feature booths from more than 80 countries around the world. These pavilions serve as mini embassies for these countries to promote their country's films and encourage filmmakers to shoot films at their locations. Diego and I had such an enriching time learning about filmmaking in our home countries and other countries around the world. Many name cards were exchanged and we connected with directors, actors and film commission professionals.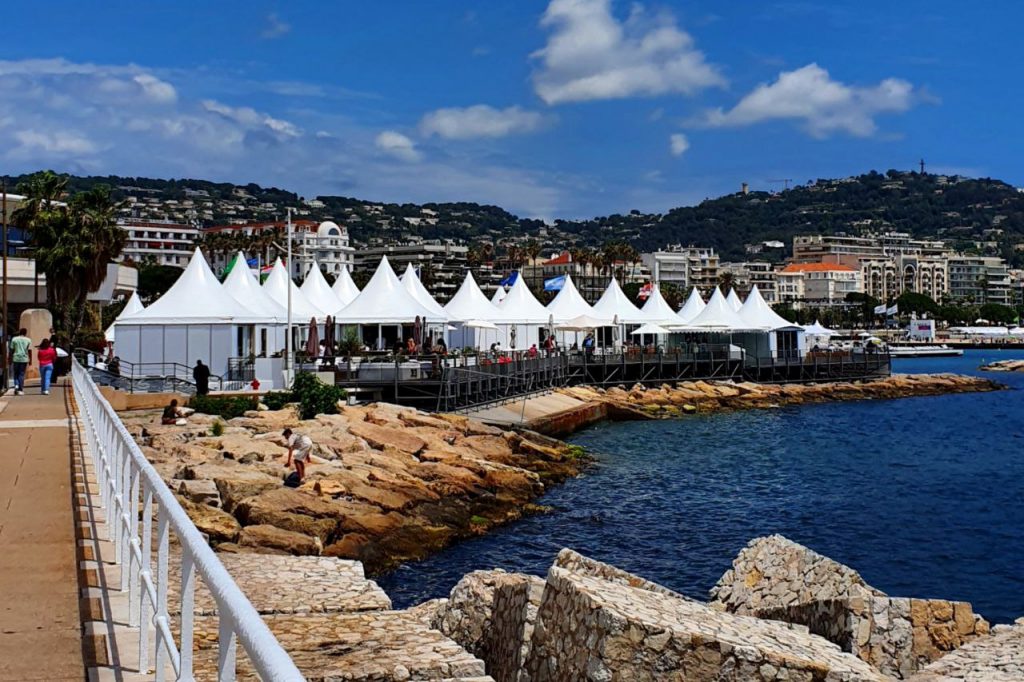 The Marché du Film concludes earlier than the Cannes Film Festival, so watch if the last three days of the festival coincides with the Marché du Film. Diego and I arrived in Cannes two days before our three-day period commenced, so we were able to catch the Marché du Film on its last day.
The entrance to the Marché du Film is from the basement of the Palais des Festivals. Strictly speaking, access is only reserved for press, film professionals and Marché accredited attendees. However, when we visited, it was the last day of the market and we were able to walk around without restraint. Due to how insightful and enlightening the experience is, I would highly recommend talking to various people and finding an opportunity to visit. A large part of the Cannes Film Festival entails 'faking it 'til you make it', and I would encourage students to be bold and maximise your learning journey there.
E. Attending Parties
On that note, there are numerous parties to attend at the Cannes Film Festival. Some are for film premieres, some are for fashion and lifestyle magazines, while some are for networking etc. Essentially, there are multiple parties every single night of the festival that you can attend. While some are open to public (which are quite rare), most are by invitation only. As you will learn in Cannes, there are many things that are discretionary, and as long as you successfully 'fake it 'til you make it', or made sufficient connections, all doors will open to you.
There are some WhatsApp group chats that give inside knowledge on the ongoing parties at Cannes Film Festival, but the information provided can be sparse. As dedicated cinephiles who aim to watch 3-4 movies each day, Diego and I preferred to go home for a good night's rest so that we can give the movies we see the next day our utmost attention. But by all means, go ahead and party responsibly. Enjoy the opulence of the festival and make as many friends as you can. The Cannes Film Festival can be more than just movies.

Final Tips for the Festival!
Some final tips for the festival in no particular order of importance.
The Cannes Film Festival features open-air screenings by the beach every evening for all to enjoy. Definitely something worth checking out if you have the time. They usually show fan classics.
Food options are very limited past 11pm. The McDonald's closes at 1am, and there are not many 24 hour supermarkets like Tesco Express where you can pick up a ready meal if you have the late night munchies. However, one late night joint we would recommend is Marley's Hot Dogs which opens until the morning. Alternatively, there are some kebab shops that open past midnight but they are also rare. We highly recommend you eat something first if your movie is expected to end at 11pm or midnight.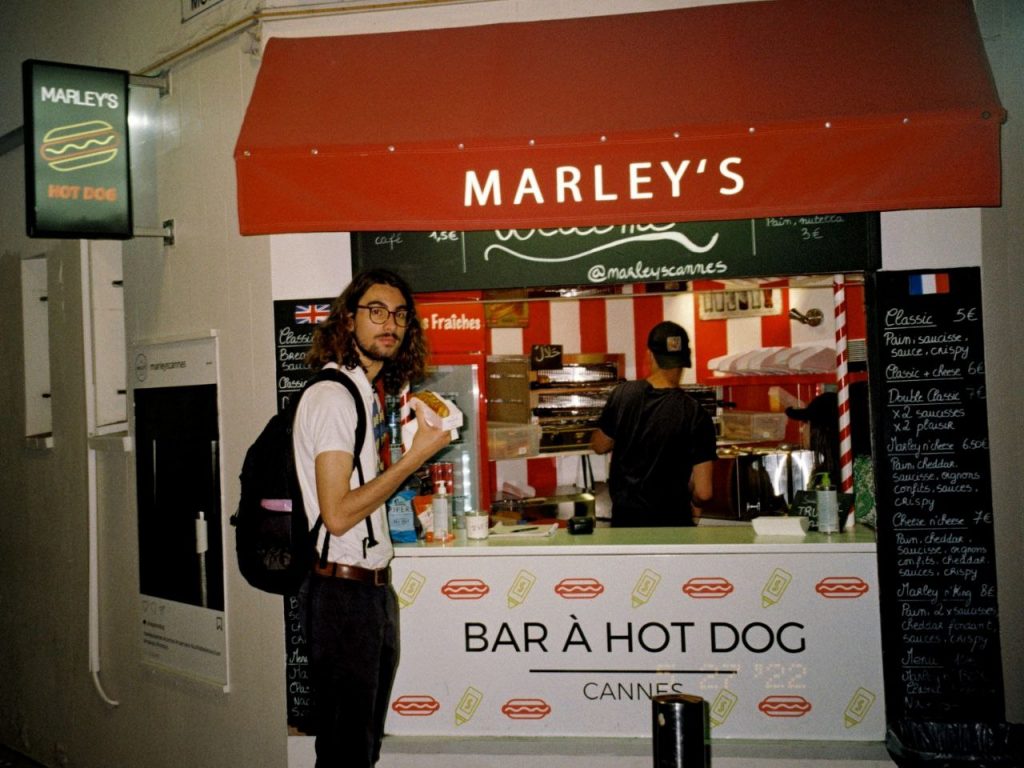 While making the most out of the festival is important, please do not neglect your health and get sufficient rest, food and water. The summer heat can be unbearable so it is important to stay hydrated and rested. I have personally attended to someone who fainted after queuing and watching movies for an entire day without food and water. Getting hospitalised from a heatstroke is the last thing you would want to get out of the Cannes Film Festival.
Make as many friends as you can! As the Cannes Film Festival brings together cinephiles from around the world, it is the perfect spot to network and make new friends from diverse backgrounds. Diego and I were grateful to befriend some kind souls who we are still in active contact with.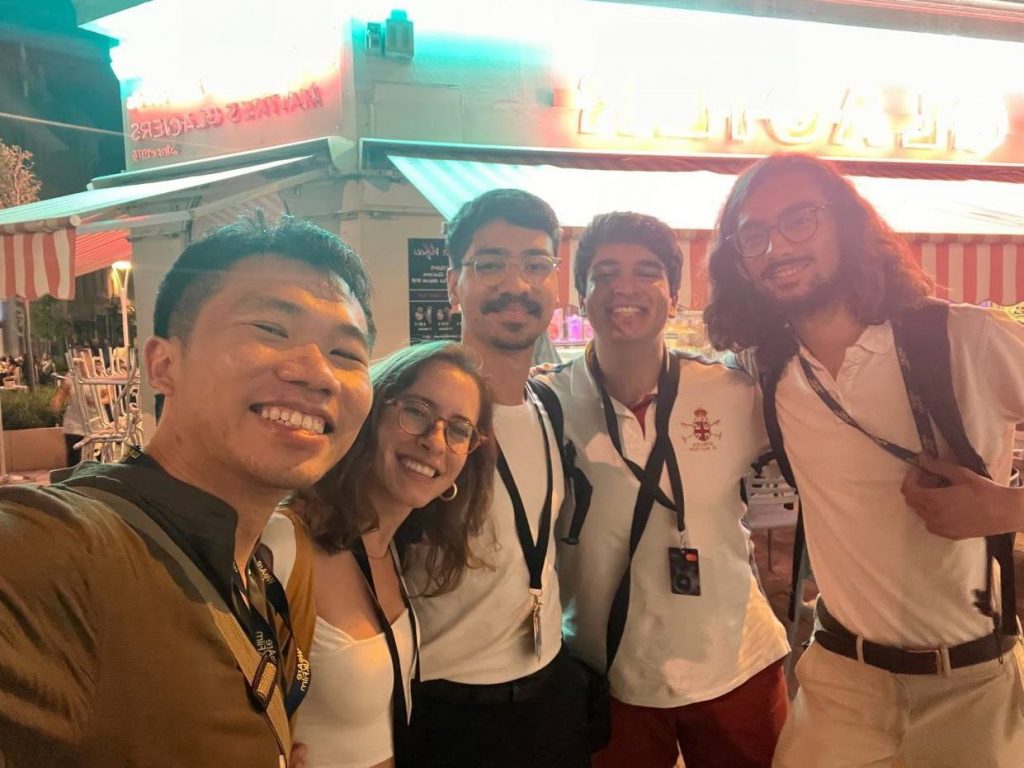 If time allows, explore the rest of Cannes, apart from the main glitz and glamourous zones. The Old Town ('Le Suquet') is walking distance away from the Palais des Festivals, and the Église Notre-Dame d'Espérance church provides a lovely panoramic view of the coast and the festival from a hill.
If you can, stay a few more days in Cannes, Nice or the surrounding coastal towns by the French Riviera. The towns along the French Riviera are a 15-30 minute train ride from one another, and are affordable to visit.
If you are visiting the Cannes Film Festival on the last three days, I would recommend a visit to Monaco. The film festival tends to coincide with the Monaco F1 Grand Prix so if you can, definitely seize the chance to enjoy two of the world's most exclusive events on the French Riviera. The Rock of Monaco where the Prince's Palace of Monaco is on, provides a great panoramic hill view of the race you can enjoy for free.
May these tips be useful in your planning and preparation! We hope you can enjoy this opportunity of a lifetime as much as we did! Let us know in the comments if you have any questions concerning your visit! See you at the movies!