Isabel Milford reviews the high-energy Netflix release celebrating explorations of identity and diversity at High School.
'Thanks for the advice, but I'm gunna keep my head up, high.'
Moxie, Lucy

'That girl, she holds her head up so high,
I think I wanna be her best friend, yeah.'
Rebel Girl, Bikini Kill
Humans are storytelling beings, and the coming-of-age story is one of the most important of all. The bildungsroman genre comforts us at a time in our lives characterised by constant change. We see stories of love, friendship, and laughter, mixed with the turbulence of anger, confusion, and heartbreak. The swinging emotions of being a teenager flood the stories we tell and let us know that we are not alone at a vulnerable time in our lives. But this time is especially vulnerable for young victims of misogyny.
For us, this period of our lives (as well as other times further down the road) is often clouded over by a sense of fear and anxiety related to our socialisation and changing bodies. We are sexualised and objectified, and subjected to sexism on a rolling basis – from men shouting out of vans as you walk home in your school uniform, to snarky comments in the corridors and classrooms at school, not to mention the fear of being taken advantage of when you start to drink, and in the worst cases, being a victim of violence and rape. These occurrences lead you to adapt your behaviour, feel ashamed, prepare yourself for danger, and live with the constant buzz of anxiety of not-knowing which men to be scared of and when something could happen to you. This is why I'm so glad that the latest coming-of-age tale, Moxie, makes it clear that it is men's behaviour that needs to change.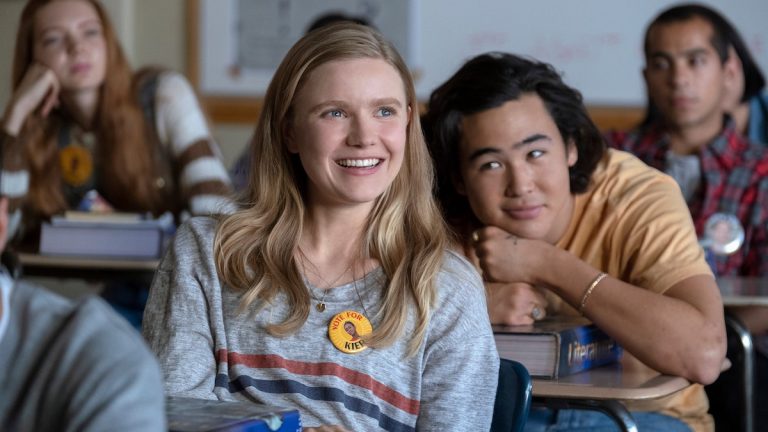 Moxie, directed by Amy Poehler and based on Jennifer Mathieu's novel, follows Vivian (Hadley Robinson) as she starts an anonymous, riot grrrl-inspired zine that calls out the deeply rooted sexism at her high school. The zine brings together a group of young women who form a bond through their distinct experiences. There is Claudia (Lauren Tsai), a young Asian-American woman who becomes Vivian's best friend; Lucy (Alycia Pascual-Peña), a young Afro-Latina woman who is new in town; Keira (Sydney Park) and Amaya (Anjelika Washington), two young black women from the talented girls' soccer team; CJ (Josie Totah), who is facing transphobia; and Caitlin (Sabrina Haskett), who is unfairly punished under the dress code for her body type and objectified by her peers. The group of characters join together, their unity highlighting the fact that intersectionality is key to feminism.
The film opens by painting a picture of the school environment. An annual list is to be published imminently, deeming which girl is, for example, 'MOST BANGABLE', 'DESIGNATED DRUNK, 'NEVER BEEN TOUCHED', 'FUTURE MILF', and 'BEST RACK'. In the beginning, the young women we see are still living with internalised misogyny: Vivian and Claudia discuss who they believe will win the titles, worrying that they should have gone to a pool over summer to be seen by the guys. Vivian proceeds to tell Lucy that she should just ignore Mitchell (Patrick Schwarzenegger), the glorified football captain who has been harassing her since the minute she stepped into her first class and that he'll move on to someone else. She's complacent in the toxicity until she notices Lucy's actions and finds her mum's old trunk packed to the brim with riot grrrl memorabilia. As zines fall all over the place, the scribbly DIY aesthetic filling the frame, Lucy dons her mum's old leather biker jacket to the sound of Bikini Kill. This is our protagonist's awakening, but there is another story blossoming.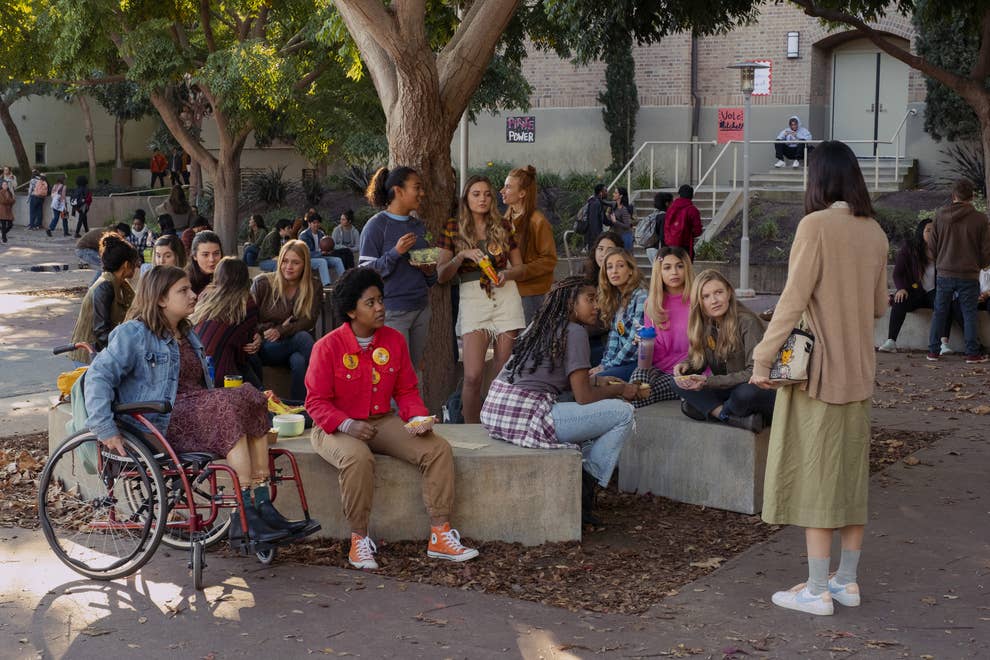 Lucy, a young Afro-Latina woman, has just transferred to the school from the sunny San Francisco Bay Area. She's very aware of feminism and its intersections; she even reminisces about the zine culture in her former home but has suddenly found herself in small-minded-small-town suburbia. On her first day in class, when asked to speak about women in The Great Gatsby, she suggests that the syllabus shouldn't be restricted to old books by white guys and is interrupted and belittled by Mitchell. The football team's celebrated captain then proceeds to harass her, touch her without consent, and spit in her soda. Upon bringing this to Principal Shelly (Marcia Gay Hudson), Lucy is shut down, and Mitchell's harassment classified as 'bothering', in a scene that acknowledges how white women can be passive in the fight against patriarchy. Lucy is already fighting back and has a very prominent voice at the beginning of the film, but her story diminishes as Vivian's grows.
The young black women in Moxie are aware of the culture at the school, as established by Lucy's character introduction. When they first meet together, Keira explains her dislike for being voted 'BEST ASS' as Amaya discusses how 'historically, Black women have been judged by their asses and hair.' Amaya also anecdotally says that there used to be a guy at school who pulled peoples' pants down… who is now a police officer. Lucy and Amaya then start the bid for Keira to compete for a sports scholarship against Mitchell. Additionally, Claudia calls Vivian out for her white privilege later in the film, which is followed by a scene of Vivian breaking down. Despite the presence of POC characters, Vivian remains the centre of the film, and the experiences of her marginalized friends are used for her character growth.
In 2021, it is great to see a feminist coming-of-age movie with a diverse cast, as well as a film for younger audiences that discusses issues like transphobia, ableism, racism, and misogynoir. We see CJ trying out for Audrey in Little Shop of Horrors despite people still using her deadname at school, Claudia navigating life as a young Asian woman held to different standards than her white peer, and Keira as a young black woman losing the college scholarship to Mitchell despite the underfunded girls' soccer team is more successful. It is crucial, nonetheless, to critique our media. As Anita Sarkeesian said, 'It's both possible, and even necessary, to simultaneously enjoy media while also being critical of its more problematic or pernicious aspects.' The fact that we are opening up these conversations with young audiences is undoubtedly a good thing. Still, in the context of Moxie, the representation sometimes appears as tokenistic or performative, such as the split-second kiss between Lucy and Amaya that is given no more context.
Despite Vivian's mum (played by Poehler herself) saying that she and her feminist friends 'weren't intersectional enough' back in the 1990s, the narrative in 2021 is still framed around a white girl. Lucy would have made a much better protagonist for Moxie. Better yet, the story could have taken the form of a series, allowing for a full exploration of feminism's different intersections. Instead, however, we have a film that explores themes of intersectionality but is still framed around a young-white-cis-hetero woman. Moreover, a large amount of the screen time is dedicated to her love story, despite this being a film about feminism and solidarity between women. I enjoyed the romance between Vivian and Seth (Nico Hiraga); it importantly showed a male love interest being vulnerable about sex and opening up about whether or not he was ready, which is something we should see more of in media. This storyline was a refreshing representation of a teen relationship and would have worked within a series exploring different narrative branches. But, because Moxie is a feature film, and Vivian is its protagonist, too much of the story focuses on them, and so the representation of intersectionality feels unbalanced.
Moxie is a fun, punky feminism starter, with great costuming and a sparky soundtrack. It does suffer from the outdated editing of social media use (at one point, Claudia texts Vivian what appears to be a random stock image of a dog in sunglasses?). Still, if I'd have seen it as a teen, you can bet I would have drawn hearts and stars all over my hands at school every day. It's also refreshing to see a teen film where young women are united! No matter how much we all used to love High School Musical, I now can't watch it without recognising the overly-feminine villain trope and how much girls were shown to hate each other across genre movies of the 00s. As Bikini Kill states in the lyrics to Moxie's anthem Rebel Girl, Lucy teaches Vivian to keep her head up high. Moxie is a conversation starter and a reminder that we need to keep talking about intersectionality within feminism as we all learn and grow together.
Moxie is available to watch on Netflix, watch the trailer here: