Luigi Barraza Cárdenas reviews a colourful four-episode series exploring a woman trapped in a political crisis in Brazil
Travel restrictions stink. Yes, I understand this is the most privileged of problems to have, but they still stink. Thankfully, cinema and its power to transport people to beautiful places is something that epidemiological disaster has not destroyed, just yet. I jumped to the occasion to review The Last Days of Gilda as an opportunity to digitally relive Brazilian life and culture, and spruce up my rapidly deteriorating Portuguese language skills. This relatively small-in-scope production (only four episodes) took me by complete surprise and became what most captured my imagination during the Berlinale. Life has a sense of irony, hiding away jewels in plain sight and showing us that our expectations can always be subverted. The Last Days of Gilda stands out from the Berlinale Series with its unique personality, vibrant visuals, and an engrossing collection of eccentric characters. Based on a play by Rodrigo de Roure, the series not only shines as an artfully crafted piece of visual storytelling, but also slashes across a range of sociocultural and political themes that relate to contemporary Brazil in shocking, unexpected ways.
All four episodes of Gilda open with a boldly coloured sequence that exudes patient theatricality. Slowly zooming in, the increasing sound of sharpening knives is enough to produce instant chills. In the pilot episode, we are introduced to Gilda (Karine Teles) a radiant woman who embraces her free-spirited nature. She farms pigs and chickens in her backyard property and slaughters them with precision and skill. Gilda is full of energy and dances flagrantly to the rhythm of her own music. She is in complete command of her sexuality, succumbing to lustful encounters with multiple lovers, often simultaneously. She cooks succulent and elaborate Baiana meals for her partners and merrily drinks cold beer on hot carioca nights. She enjoys being by herself as much as she enjoys company. Gilda is, without a doubt, full of joie de vivre. Karine Teles' performance is transfixing, successfully bringing strength, complexity, and charm to Gilda, and thereby making her an instant icon.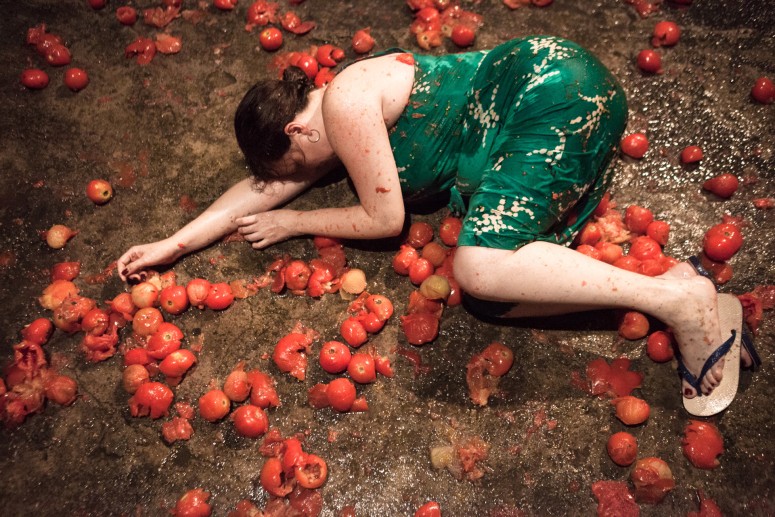 Things are not so laissez-faire outside Gilda's worldview and property. Despite a moderately respectful co-existence with the community, some neighbours don't embrace or respect her freedom. Casilda (Julia Stockler) and her husband Ismael (Higor Campagnaro) deem her actions indecent and reproach her political dissidence. Others are quick to pass judgment on her multiple sexual partners and Candomblé religious practices. To complicate matters, territorial conflicts are bubbling in her neighbourhood. Cultural and political tensions are rising, exacerbating the feeling that security may not always be guaranteed. The story is set in a 'comunidade' around Rio de Janeiro (I don't subscribe to the term 'favela' as it carries pejorative implications in Spanish). The juxtaposition of beauty and grit is never more sensorial than in the Carioca 'comunidades', and it's in this fascinating peri-urban context that the series comes to life most vibrantly.
Expressionistic in style, Gilda never shies away from inspired artistic flourishes, painting a detailed portrait with robust textures and exquisite production values. The use of bold typography, intimate moments, and the beautiful selection of music add a layered richness to the affair. The velvety sounds of bossa nova and the explosive percussions of samba are perfect companions to this picturesque canvas. However, what starts as colourful and sensual quickly evolves into gritty and savage as the plot moves forward and the characters around Gilda disappear and unravel. In almost Goldingesque fashion, the story becomes one of violence and chaos, grimly highlighting the fragility of our social environments.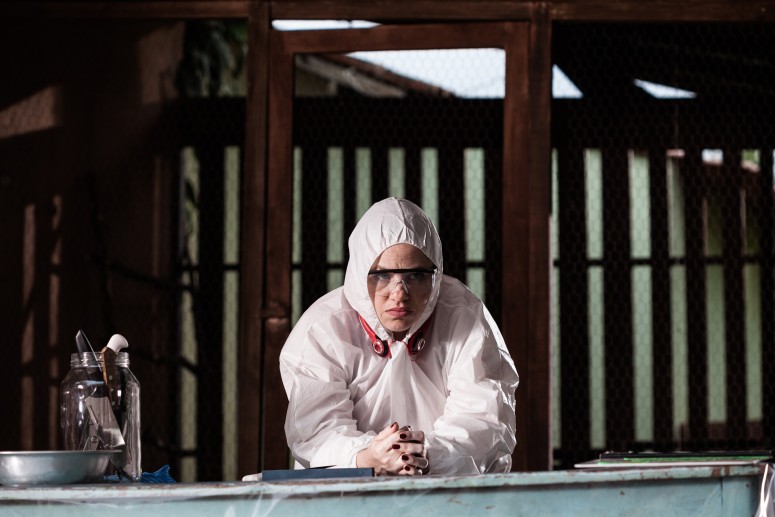 I must admit that my enjoyment of the series might be tightly related to my general connection with Brazil and Brazilian culture, and might not be everyone's cup of café. My relationship with Rio de Janeiro is quite complicated, but Brazil will always be part of my heart: it is one of the most exciting places on earth, full of music, dancing, and late-night beer drinking. The country is a sensorial experience, an explosion of colour, sounds, and smells that Gilda gleefully embraces. Brazil is diverse, rich, exuberant, yet suffers from the same challenges that affect most countries in Latin America. Wild inequalities, violence, gender discrimination, racism, and political unrest are themes we understand quite well. All of these issues are so realistically rendered that they become almost tactile, thus strengthening the construction of a fascinating story. But perhaps Gilda's grandest accomplishment is how it captures the richness and complexity of Brazil without ever leaving the confines of one home and the streets of one 'comunidade'. At a cumulative length of 106 minutes, director Gustavo Pizzi skillfully pulls off what can only be described as a magic trick. 
The Last Days of Gilda premiered at Berlinale 2021.