Anna Ainio reviews a harrowing story of loss and the tragic events that unfold after the trauma of stillbirth in 'Pieces of a Woman'.
How does it feel when everything on which you have built your future expectations and projects falls apart? Terrible, for sure. But the aftermath is worse. Because life, relentlessly, goes on, and you are left carrying the weight of your loss alone. Netflix's newest feature film, Pieces of a Woman, is all about that aftermath. The woman in question is Martha, the main character, who is at once given and deprived of the joy of giving birth. What seems to be a tragic end is actually the beginning of another story, in which Martha is left picking up the pieces of her life. The stakes of this film are high, and therefore, so are one's expectations. Unfortunately, in my view, the film doesn't meet them.
Kornél Mundruczó's film is an incredibly intimate one: the screenwriter, Kata Wéber, is his wife, and the story recounted is their own. Martha (Vanessa Kirby) and Sean (Shia LaBeouf) are a Boston couple expecting a baby girl. They seem very much in love and have everything set up for their homebirth. Martha's water breaks and she starts to go through a tremendously painful labor with Sean and Eva, her midwife, at her side. But something goes wrong, and, right after Martha gets to tenderly kiss her daughter's forehead, the baby dies. This is where the story actually begins: life goes on. As it does, we witness each character's attempts to cope: Sean, who progressively moves away from Martha; Elisabeth (Martha's mother), whose only preoccupation seems to be to convict Eva (Molly Parker); and, finally, Martha, whose devouring pain seems hardly understandable by anyone else.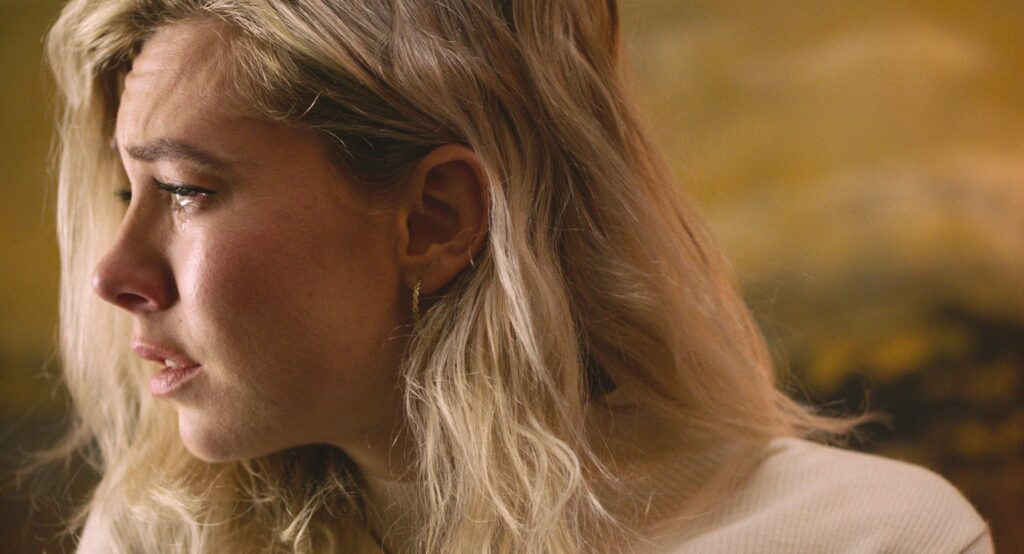 Vanessa Kirby does not just carry her own character's emotional weight, but also that of the entire film. Indeed, her performance during the first scene is so convincing that it made my own mother ask me whether I was watching a partum documentary (I know, why would someone do that?). Perhaps even Mundruczó secretly knew that Kirby's performance would decide the outcome of his film: his filming technique is characterized by extremely long-takes that both capitalize on Kirby's acting and increase the scenes' emotional charge.
After the initial disputes on the baby's burial, the film progresses at a slow rhythm, and we are invested with the feeling that something is about to happen. This is stressed by recurrent shots of the Boston bridge's building site, where Sean works; the story unfolds as the bridge is being built. But one fails to identify any concrete direction or actual character development. Instead, time seems frozen, like the apparently never-ending winter days in the city. After the umpteenth shot of the couple's dirty house, one starts to wonder what the point is. Whether it be showing the voidness of the passing days or the purposelessness of pain, it remains on that side of the screen, as it were. Despite Kirby's efforts, this pain remains shown, not felt by the viewer, and the result is somewhat alienating.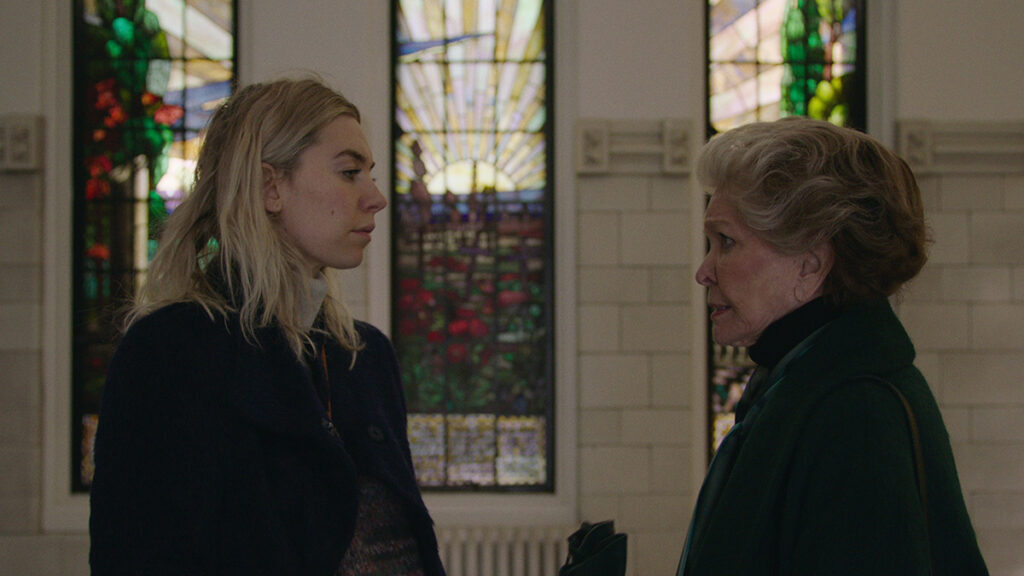 One of the themes which seems central to me is Martha's conflicting relationship with Elisabeth. A second-generation holocaust survivor, Elisabeth (Ellen Burstyn) recounts her own mother's story to Martha in one of the most moving dialogues in the film. Elisabeth's mother had given birth to her without nurses or midwives while escaping from the Nazis in Hungary. 'That is a woman's duty', Elisabeth seems to imply. 'You have failed it, and, with you, I too failed as a mother'. Martha, enraged, reacts badly. 'Stop it!', she whispers before becoming silent, at a loss for words. The event doesn't seem to have any follow-up in the story, and, isolated as it is, remains just an interesting cause for reflection. How is the concept of motherhood different for Martha and Elisabeth? Is Elisabeth's conception of motherhood just a question of family lineage, or is it something more? Is Martha a mother, or is she not?
These are some of the critical questions that the film raises, and on which it fails to elaborate. And, despite the director's efforts and the poignancy of its premise, the film fails to convey any message powerful enough to endure.
Pieces of a Woman is available to watch on Netflix. Watch the trailer here: