Anna Ainio reviews Gonzalo Maza's Chilean drama as part of of our Raindance 2020 coverage.
"At least you're alive, look at me."
These are the words that Susana (Paloma Salas) attributes to her dead friend Eva. Susana and Cristina (Mariana Derideriàn) are staring at Eva's shrine: a kitsch tree with photographs, letters, and a pink bike – remainders of Eva's death. This sentence sums up the background feeling of the film marking Gonzalo Maza's solo directorial debut: a weak, clumsy sensation of adequacy. Try to picture that feeling you get when you sublimate your strong desire to eat something sugary, and instead of a piece of cake, you eat an apple. This feeling of subtle dissatisfaction is the background refrain of this film. But Ella Es Christina is more than this: it is a film about a specific generation of women in their thirties who do not fit in the normative ideas of where they should be in their lives (i.e. married with kids). It is also a film about love, and probably not the kind you would think of. Overall, the topics and the premise are very promising, but the realisation is quite unsettling.
Susana and Cristina are two friends in their thirties who live in the same city in Chile. Susana is still in her mother's house, jobless, and has a crush on Marcelo (Bernardo Queseney), an extraordinarily dull character, as are all men in the film. An artist who does not seem to ever believe in her potential, Cristina's most striking feature seems to be her relentless tendency to fall into the unhealthiest relationships with men. From the one with her ex-husband Rùben (Néstor Cantilliana), whose aggressive attention-seeking behavior is almost grotesque, to the one with Ròmulo (Roberto Farìas) whose condescending treatment of her is as irritating as his overt unfaithfulness. These are the characters whose lives we are going to meticulously follow throughout Ella Es Cristina.
The film is divided into three parts which, honestly, do not seem to bear any relevance beyond emulating a kind of Tarantino/Wes Anderson vibe. Conversely, Maza's choice of using black and white and a 1:1 ratio in the movie (meaning that the frame is square) seems a fairly decent way to link it with Roma, the successful autobiographical tale by Cuaròn, or perhaps to the French post-new wave films by Philippe Garrell. The film's cinematography is overall very charming, with some interesting sequences: for instance, when Cristina's screenwriting group gathers around a table, reading and commenting their work. The alternation between facial close-ups and snapshots of the entire table gestures towards theatre, recalling a Goddard-like absurd atmosphere. This beautifully ties in with the politically engaged environment in which Cristina is immersed, populated by left-wing intellectuals. Its absurdity lies both in the students' incoherence, who do not seem to be committed to the political cause save for their artistic entourage, as well as in Cristina's participation in the group. She does not seem to have an opinion at all and behaves like an embarrassed student asked to comment on the reading they have not done.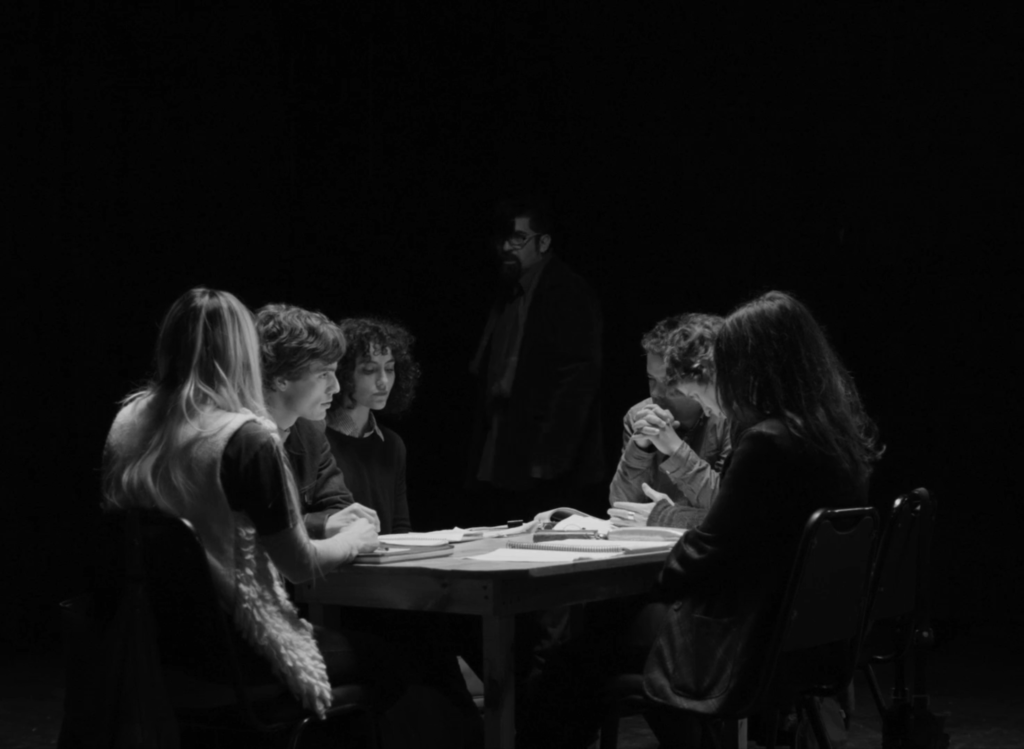 I believe this film has the potential to treat very important topics. The most urgent is women's role in society. Susana and Cristina are in their thirties, but they do not conform to any of the stereotyped ideas one might have of a thirty-year-old woman. They are not married nor have they stable relationships, they do not seem to be economically independent and, perhaps most importantly, they do not seem to be mature. They do not have a clear idea of who they are nor of what they want to do in their lives. Cristina wants to be an artist, however, she seems very little committed to becoming one – Susana is jobless, she spends half of her time looking at car-accidents tapes on Youtube and the other half with her dog Karma. The only real relationship they have is their friendship which, despite some difficulties, is their lives' single firm point.
However, despite the initial outset, the character development is lacking and Ella Es Cristina seems to do everything it can to avoid the most interesting theme, Susana and Cristina's friendship, which only comes up as late as the end. There is a sense in which the director's will is that the characters undergo a development, from being lost and very fragile to becoming self-conscious of their position in life. However, this remains unactualised. An instance of this is, again, Cristina's artistic vocation which is rediscovered after she leaves her second husband and she confesses to Susana: 'the only good thing about this (referring to her relationship with her ex) is that I couldn't stop writing, reading and writing'. But this self-conscious act is not accompanied by any consideration of what her position as a woman in that unbalanced relationship meant for her, instead, this conversation arrives at a tepid conclusion with Susana asserting 'But this (referring to her creative practice) is incredible!'. A defeat.
Being a single woman in your thirties means many things: first and foremost, having to justify your position in society, especially in a heavily machista one like Chile's. Susana is repeatedly asked justification for her disinterest in romanticism, both by her mother and her father. However, she just avoids the question by responding with irony. Furthermore, though she never shows it, the director seems to suggest she has an interest in Marcelo. Her ambivalent position is never explored too much as part of her character. And this, to me, is – again – a wasted opportunity. It would have been interesting to build on a character who clearly challenges the structures of a peculiarly strict society, maybe by exploring her desires, passions, or inner world. Instead, Susana remains from beginning to end what she is: a sardonic, good, but overall boring character. And the sensation one gets is that the film, unwillingly and silently, confirms the structures it aims to undermine. The only light at the (very) end of the tunnel is Susana and Cristina's friendship. This is the only pure relationship, untouched by the corrupt dynamics of men's aggressiveness: a safe space. Where the characters will find their place in the world, at last.
In sum, Ella Es Cristina is an aesthetically pleasing film that has a lot of potential. Exploring urgent topics such as women in society, machismo in Latin American countries, and friendship, the film runs quite smoothly through the lives of its two main characters: Susana and Cristina. However, these topics are treated superficially, as is the character development in the story, leaving the spectator very disappointed. Watch it if you are a very peaceful person and, unlike me, do not get very nervous in witnessing too many wasted opportunities.
Ella Es Cristina is available to view for free until 7 November as part of Raindance Film Festival. Watch it here:
https://cinema.raindance.org/film/ella-es-cristina/