Ellie Lachs praises an animated documentary about a refugee's extraordinary journey to Denmark.
In this documentary, director Jonas Rasmussen tells the story of his personal friend Amin (whose real identity is kept confidential for purposes related to his safety). Amin is an Afghan refugee who had to escape on a boat from war-torn Kabul in the 80s. The boat took him and his family to Estonia, but they were later sent to Moscow where they were treated with the lowest level of dignity. With the assistance of a trafficker, Amin finally escaped to Denmark where he sought refuge and in doing so was forced to lie about his life, and forget his family. Needless to say, all of this was traumatic beyond imagination.
Years later, Amin now has a stable life in Denmark as an openly gay man, with a fiancé and a thriving academic career. But with the weight of history on his shoulders, the notion of settling, accepting and even enjoying life is complicated by the memories of his past and this is one of the documentary's most heart rending tensions.
The film is told through various styles of animation and weaves together Amin's memories with his present life, alongside various clips of real life footage. Rasmussen takes a unique approach here, as he draws the filmmaking process into the narrative. He animates his interviews with his friend, in which Amin lies flat on a carpet as he musters the strength to open up. These emotionally heavy conversations reveal the long-term effects of such a ruptured childhood on even the most stable of adulthoods.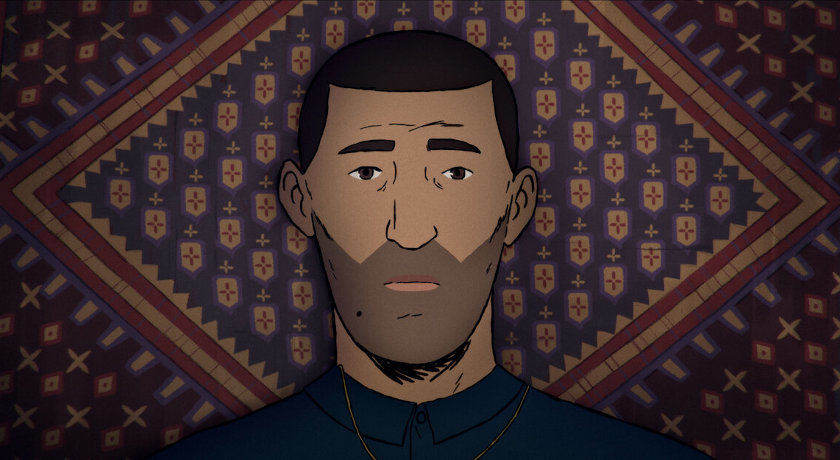 The film artfully interlaces different styles of animation according the tone of the story. The majority of the film relies on a half simple, half detailed form of animation which gives each character enough detail to look recognisable and expressive, but not so much as to distract us from the story and action. In the moments where Amin recalls distressful memories of fleeing from Afghanistan Rasmussen implements a black and white, charcoal-like form of animation which adds a level of depth and highlights the injustice suffered by Amin and his family with a firm sense of gravity. Granted, the inserted moments of real life footage come as a curt reminder of the recency and reality of this story, but the use of animation is remarkably, and arguably more impactful. Real life footage can cause an audience to impose their own ideas and opinions onto events, as well as allowing them to turn a harsh blind eye in order to avoid being 'upset'. The use of animation forces us to engage with Amin's story from a closer position. It does't feel like we are merely peering in on his experience: we are instead dragged right into the centre of it. We are on his journey and there is, rightfully, limited space for critical distance. This film is not a debate or question, it is an account of personal strife. 
But this is also a story about Amin finding his identity, whether it be his sexual identity when he comes out to his family or finding a space that he can consider home. There are multiple light-hearted and endearing moments in the film that delve into this, such as an imagined wink from a wrestler on a poster, Amin's first experience in a gay bar, or his going house hunting with his fiancé in the hope of finally being able to accept the fact that he is now 'someplace safe, somewhere [he knows he] can stay'. No doubt, this film is filled with complexities and discomforts; events that might feel obviously happy are nuanced and made grey by past traumas.
And yet, Jonas still manages to instil a message of love and hope into this thought-provoking, must-watch film. Flee humanises those who are, in this society, most likely to be subject to blind eyes or discarded as inhuman despite the hurt and struggle that they face. Ultimately, it gives a face to the those that borders most readily scrutinise with their beady and uncharitable eyes, and it unveils the power that love holds to make even the most vulnerable people feel safe.
Flee was extremely well received at Sundance, winning the World Cinema Grand Jury Prize for Best Documentary. The UK distribution rights to Flee were bought by Curzon with a release date yet to be announced.