Welcome to Lockdown Round 2: Electric Boogaloo! As we have all (hopefully) been staying home for the second time this year, members of our blog have been thinking about the films they turn to for comfort in tough times. In this first part of our lockdown-themed series of posts, some of our team tell us about the movies they turn to for a hug when they have to keep friends at arm's length.
---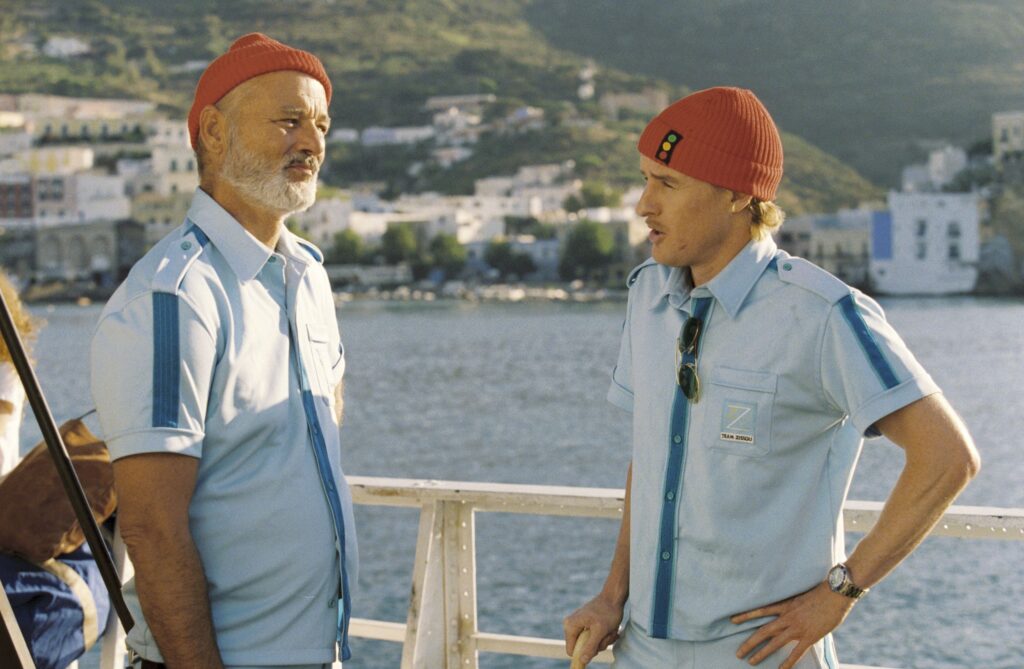 The Life Aquatic with Steve Zissou
Bryn Chiappe
The Life Aquatic is not by any means Wes Anderson's most accomplished film in terms of story or character studies. It's unlikely to be remembered as part of the cinematic canon of the 2000s and currently only holds a 62 rating on Metacritic. However, I live in faith that the childlike sense of joy I experienced watching this film for the first time will not be an experience unique to myself. It feels refreshing to watch a film so defined by escapism that it has no identity crisis over what it's trying to achieve. There's the typical Anderson dysfunctional families and dry humour, but the focus of the film is very much its aesthetic value and tone of warmth and comfort. I am not ashamed to say that, in my opinion, there is a time and a place for style over substance. Steve Zissou (Bill Murray) and his crew set sail to find the Jaguar Shark that he believes to have eaten his wife in search of revenge and a re-ignition to his declining career as an oceanographic documentary-maker. The crew all wear Jacques Cousteau-style red beanies, the underwater scenes are animated, and there are regular musical interludes from Brazilian musician Seu Jorge singing David Bowie songs in Portuguese with an acoustic guitar on the deck of the ship. I was well and truly charmed by that combination and don't care about how superficial it may be. I tend to revisit this film when I'm stressed or sad and it always does the trick for switching off from overthinking (if there's not time to watch it then listening to the soundtrack is a strong option for a mental detox too). Wes is a bony man who wears tweed suits so I'm assuming that his physical hugs leave a lot to be desired, but his filmic ones really do hit the spot.
The Life Aquatic is available to buy on Amazon Prime.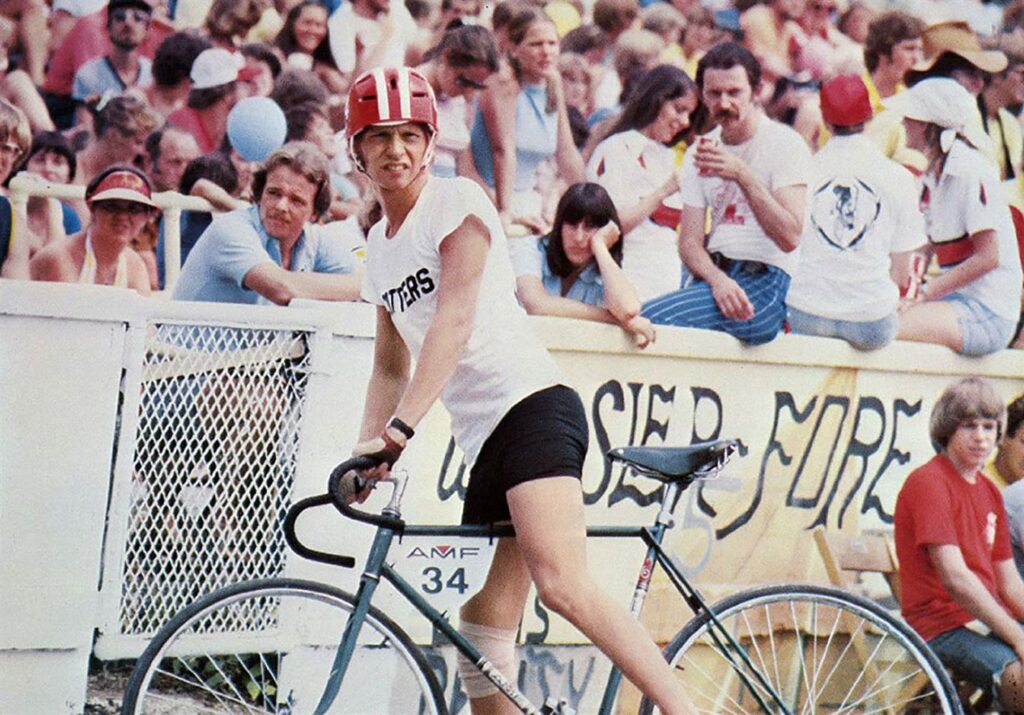 Breaking Away
Jamie Cradden
I didn't watch Breaking Away till last summer. It took my housemate weeks of pestering me, of him swearing it was the perfect film for me, that I would love it. I caved, and we watched it. And now it is my turn to pester you. Please, please, please…. Watch Breaking Away! I promise you'll love it! It has all the thrill of the Tour de France, except you are actually emotionally invested in the people. It has it all: Italian accents, class politics and bicycles. Please watch it. It is a perfect snapshot of that summer after high school, bored and excited all at once, full of potential and angst. You deserve the rush and exhilaration of seeing our hero keep up with a lorry on the motorway, of seeing him singing and cursing and cycling. The power of friendship. When was the last time you felt joy? Real joy, from seeing a wrong in the world righted? Breaking Away delivers joy. I promise you. You'll be out of your seat screaming at the finale. You'll love it. You'll be dying to ride a bike. Please watch it? For me?
Breaking Away is available to rent online. This blog does not condone piracy (but I do).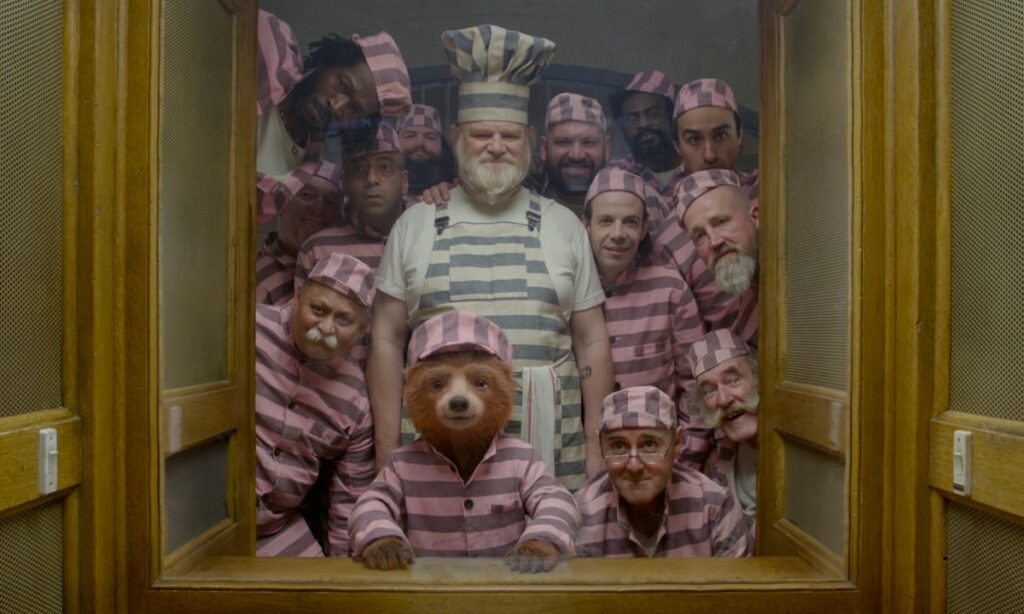 Paddington 2
Pihla Pekkarinen
I once heard someone say that a film about a talking bear has no business being this good. And they'd be right. I did not grow up on Paddington and therefore, going in, I had no particular emotional ties to this pillar of British children's literature. I really did not expect to feel particularly strongly about Paddington 2. I could not have been more wrong. Paddington 2 is, perhaps somewhat embarrassingly, one of my favourite films of all time. It is a charming story of Paddington Bear trying to earn the money for a special gift for his aunt's 100th birthday and ending up being framed for a crime. Hugh Grant is absolutely outrageous as the main villain, playing a washed-up actor resigned to dog food adverts. He, and every other person on set, are clearly having the time of their lives. And how could they not? Paddington is a charming, heart-warming, compassionate bear who makes you see the good in the world once again. And if you're in need for a happy ending for once, you'll find it here. I do not remember the last time I have sobbed that hard — in a good way.
Paddington 2 is available to watch on Amazon Prime.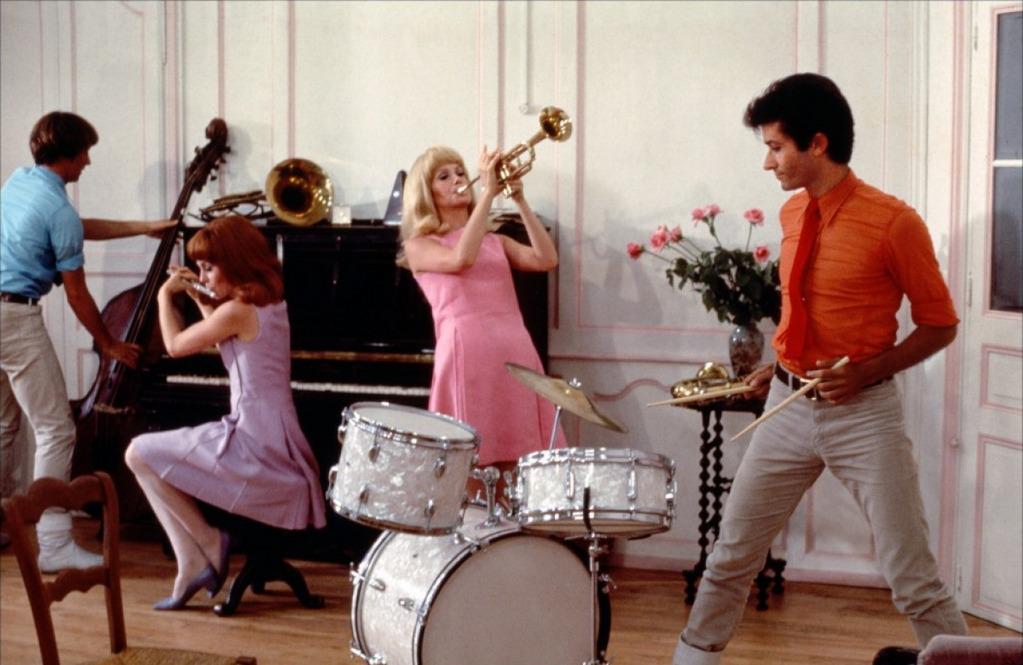 The Young Girls of Rochefort (Les Demoiselles de Rochefort)
Isabel Milford
Les Demoiselles de Rochefort came to me at a point in the UK's first national lockdown when I felt most lost; an emptiness hung over the days, which had begun bleeding together. I'd finished my undergraduate dissertation a few weeks beforehand, and where before I'd spent my time madly researching and writing in a frenzy all day long, life suddenly slowed. So, one day, whilst slumped on the sofa looking for a film to fill a few hours of my time, I came across a review of Les Demoiselles de Rochefort on Letterboxd and decided to give it a go, and what followed when I began to watch, was magical.
I was engulfed in a 1960s Francophilic dreamworld. Jacques Demy's vision immediately bursts with life as dancers move freely to the opening music, you escape entirely into the screen. We follow two sisters, (Catherine Deneuve and Françoise Dorlèac), dance teachers and songwriters by day, searching for love and an escape from their hometown of Rochefort, France. The story begins when a carnival comes to town alongside an American musician (Gene Kelly), and the characters' lives begin to intertwine. The costumes are all carefully colour co-ordinated in an unrealistic but insanely enjoyable way, and when combined with the music and sixties set designs, this endeavour into a stylised romantic explosion of a musical becomes a happy, sunny escape—a temporary fantastical break filled with hope.
The Young Girls of Rochefort is available to watch for free on Kanopy using your UCL login.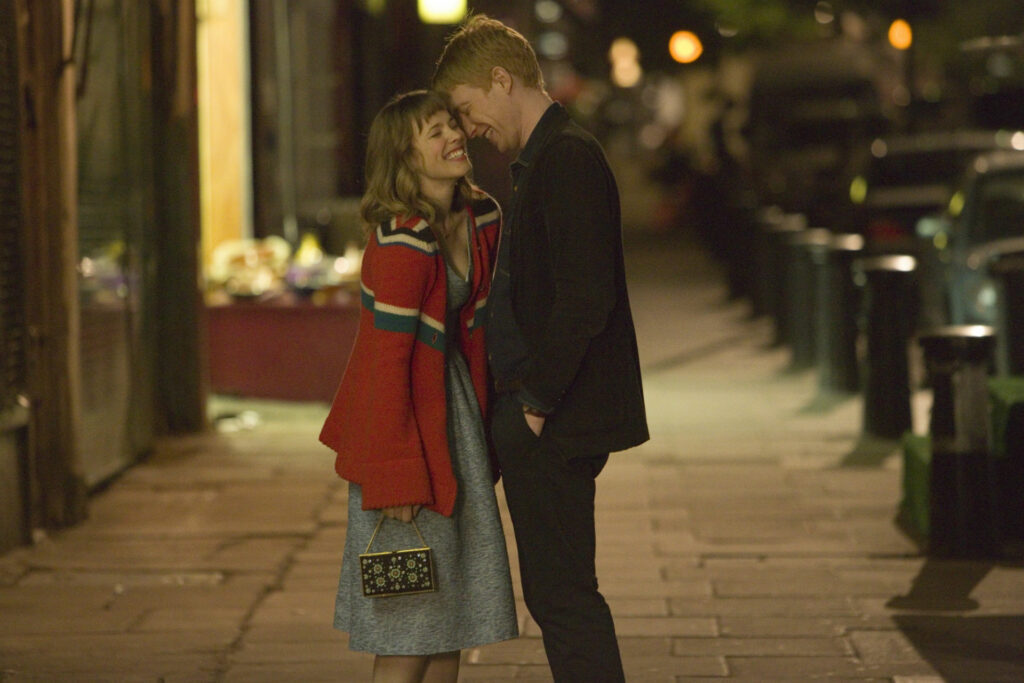 About Time
Tomi Haffety
I am twelve, sitting under the stars on the north Portuguese coast and feeling the warmth, not only of the lingering summer heat, but the comforting energy radiating from Richard Curtis' 2013 feature, About Time. Something about the endearing awkwardness of the whole cast and the authenticity of the love between families, friends and lovers lures me into watching this film whenever I feel like I need cheering up. While About Time has all the ingredients of a standard romantic comedy (directed by Richard Curtis is pretty much all a film needs to be in this genre anyway), the added magic realism of Tim's time travelling ability takes it from a modern Notting Hill to a unique and reliable feel-good watch. Interwoven into the story, the unbeatable soundtrack only enhances the heartfelt atmosphere of the film, whether it be the omnipotent charm of Jimmy Fontana's 'Il Mondo' playing as Mary walks down the aisle, or the contemplative calmness of Ben Fold's 'The Luckiest' playing after Tim realises there is no longer a need to travel back in time if he learns instead to make the most of every day. Perhaps I picked this as my 'warm-hug' selection because watching this film makes me feel safe and welcomed into Nick Cave's metaphorical arms.
About Time is available to watch on Netflix.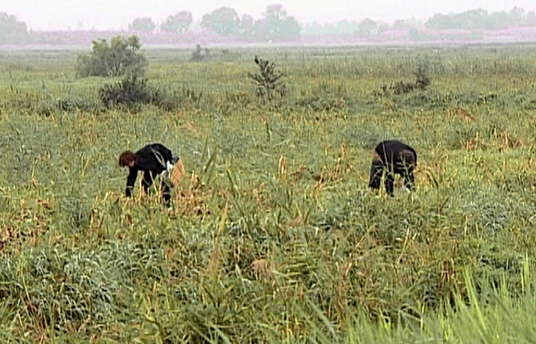 The Gleaners and I
Lydia De Matos
How does a documentary that's ostensibly about trash turn into a subtly beautiful, profound treatise on the human condition? I'm not exactly sure how, but somehow Agnès Varda, with her wonderfully magical way of looking at the world, manages it. She does not approach her subject with a cold, examining eye, but rather a human one, rarely seen in specific subject documentaries. Waste is not just the the subject, but a concept which she weaves into all aspects of the film, including joyful scraps of footage that most other documentarians would have left on the cutting room floor; accidentally filming the floor and the lens cap swinging wildly from the camera becomes 'The Dance of the Lens Cap', set to wonderful jazz, and an ever-closening shot of her hand while driving allows for a ponderance on the filmmaker's own mortality. Like so many of Varda's documentaries, you walk away from The Gleaners and I feeling as though you've gotten the chance to know an incredible range of people, to know Varda too, and feeling all the better for it.
The Gleaners and I is available to watch for free on Kanopy using your UCL login.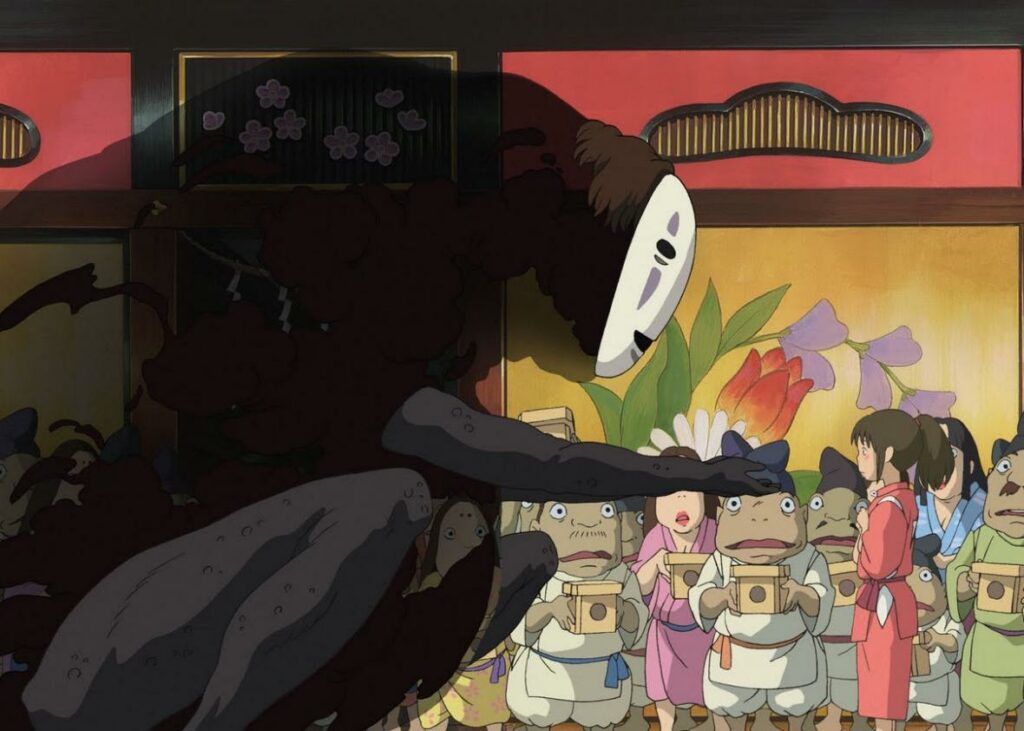 Spirited Away
Emma Davis
To a child, Spirited Away is a horror. There are strange, frightening creatures and our hero, a relatable ten-year-old girl, is thrust in an unfamiliar world that threatens to trap her forever. Categorising it as a feel-good film is illustrative of the light and dark side of nostalgia. Thinking of simpler times of childhood can be comforting but also, seeking refuge in the past can be unhealthy, especially for those who need to move forward. For me, watching Spirited Away is a reminder of the joy and complexity of Studio Ghibli's animated world. Quite frankly, anything is their filmography is a warm hug in trying times. These are children's films that are not here to play, in neither their rollercoaster narratives nor their stunning visual look. It is nothing short of magic. The warm and calming embrace of Spirited Away comes when our protagonist Chihiro and No-Face sit on the train. There is a perilous and important task ahead of the characters, but the audience is treated to beautiful visuals and an intimate soundscape. The slowness is meditative and the lack of dialogue makes it stand out from the chaos of the first half. Overall, the film's message yearns for a lifestyle beyond excess consumption. The world of the bathhouse that Chihiro steps into strongly resembles the minimalist and thoughtful world that Shinto beliefs espouse. Created from a place of anxiety about the liminal space between modernity and tradition, Spirited Away is sure to aesthetically and thematically soothe any worries of the current apocalyptic global pandemic.
Spirited Away is available to watch on Netflix, along with the rest of the Ghibli repertoire.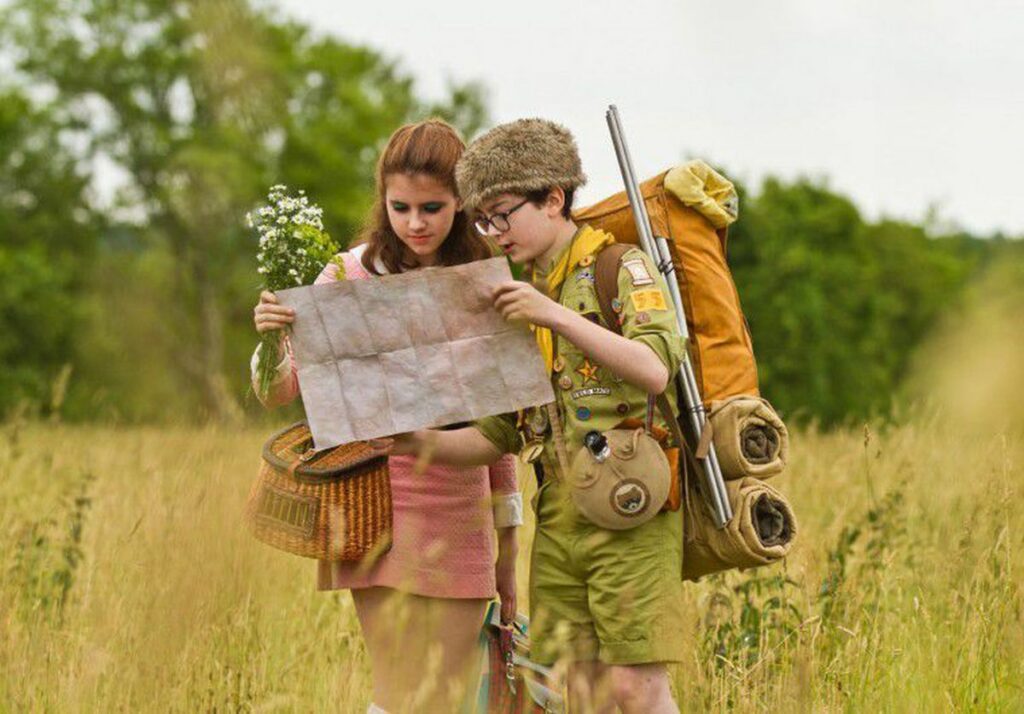 Moonrise Kingdom
Liam Brennan
As young kids, we all want to grow up. We want to be tall enough to reach the top shelf at Tesco's, to be smart enough to read a really thick book, or be old enough to watch an 18 rated movie. (For me, that film was Fedé Alvarez' Evil Dead reboot (2013), but that's not the point.) Wes Anderson's Moonrise Kingdom is my personal go-to flick when the pains of adult life require an urgent dose of catharsis.
The story enveloping our two main characters (boy scout Sam and his love interest Suzy) is typical of a coming-of-age love tale, with a naive budding relationship littered with obstacles. However, Anderson and Coppola's script halves itself between the dialogue of our protagonists, and the adults that haphazardly pursue their young ones. Through the idiosyncratic symmetrical lens of Wes Anderson, the viewer is privy to the undiluted love of our protagonists, Hardy-esque in its references to natural law and the pastoral world. as well as the all-too-familiar worries of adulthood, symbolised by the constructions of 'worrying parents', 'social services' and 'the police'. The lens isn't just Wes Anderson's. We see the events of the film through the adolescent lens of Sam and Suzy, where social services is quite the malicious entity (definitely owed to a fabulous performance by Tilda Swinton). The catalyst for love in Anderson's story is a plan executed by the characters while Suzy is performing in a rural performance of Benjamin Britton's Noye's Fludde. The opera is, aside from yet another reference to the persistence and naturality of love, a reference to how Sam and Suzy's relationship was built free of maturity; a completely pure love that Anderson knows his adult viewers will always crave. The continued success of Moonrise Kingdom lies in an incredible story, great acting from our young leads, and a masterful script.
Moonrise Kingdom is available to buy and rent on Amazon Prime.
Christopher Robin
Maria Cunningham
Almost everyone has a little soft spot in their heart for Winnie the Pooh. So when it was announced that a live-action Winnie the Pooh film would be produced, audiences responded with noticeable trepidation, to put it mildly. For me, botching a retelling of one of my favourite books would be unforgivable. Quite frankly, I was concerned it would ruin the series forever.
I was pleasantly proven wrong.
Christopher Robin follows an adult Christopher Robin who, following war and family tragedy, has stopped believing in the magic of the Hundred Acre Wood. A spilled jar of honey in our world causes the CGI Pooh to stumble through the gateway to post-War London, where he reunites with Christopher Robin. Throughout the film the other beautifully animated Winnie the Pooh characters make their way into the human world with the help of Christopher Robin's daughter, and manage to help Christopher rediscover his love for the world and reconnect with his family.
The film is a beautiful homage to A.A. Milne's creation, despite the story and animation being grounded in the real world. The characters from the Hundred Acre Wood are all animated in the style of the original toys, rather than the Disneyfied characters, and their dialogue is crafted so closely to the original that it feels ripped out of the pages of AA Milne's work. It is possible to see the love that the film was crafted with in the animation, in Ewan McGregor's portrayal of Christopher Robin, and in the wonderment demonstrated by the moving performance of Bronte Carmichael as his daughter. The film is also incredibly bittersweet, and deals with hard-hitting subjects such as post-war PTSD, the struggles of adulthood and the difficulties of parenting in an incredibly mature way, highlighting also the struggles that A.A. Milne went through during the war and how he created this world as a way to escape. The storyline is hard-hitting and often very moving, ending with the promise of Christopher Robin beginning to fix his relationship with his daughter and with his own personal happiness.
This film is just one big warm hug, whether you are watching it for its commentary on adulthood and hope, or just as a die-hard Winnie the Pooh fan. Despite being nostalgically bittersweet, and possibly making you cry, the relationships between characters, especially between the Winnie the Pooh characters themselves, with their slow talking nature and pure hope at the world, is the main element of the film that is a masterpiece. Indeed, instead of being enveloped in one big warm hug, the viewer will feel like they are being squished in multiple soft hugs of varying sizes – a lovely hug including Pooh, Tigger, Piglet, Kanga, Roo, Owl, Rabbit and of course the predictably downcast Eeyore.
Christopher Robin is available to buy and rent on Amazon Prime.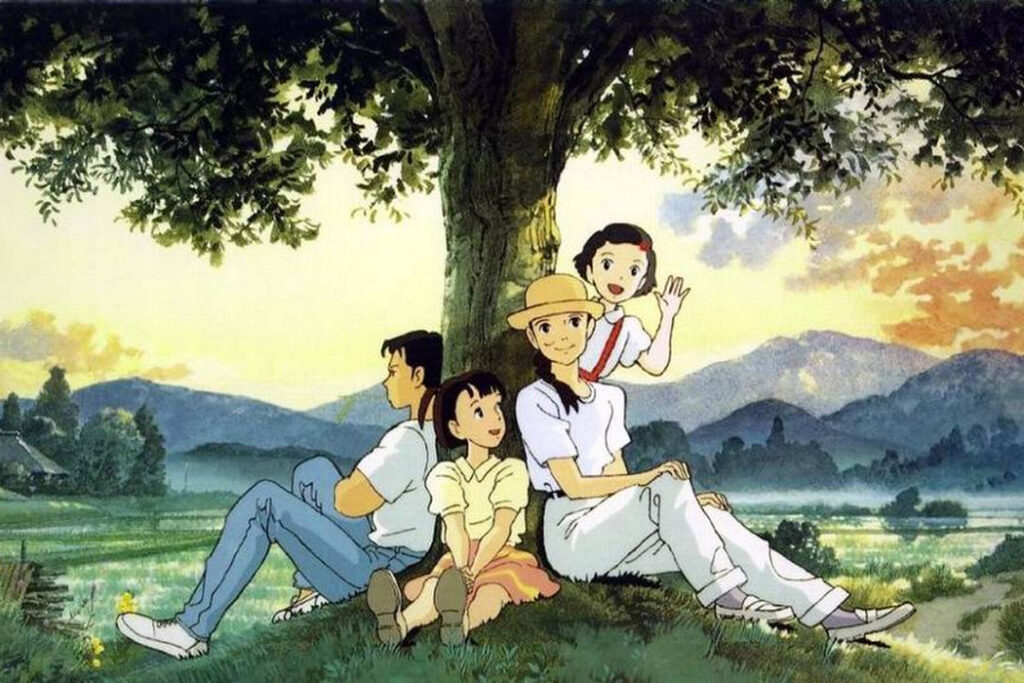 Only Yesterday
Sungleen Moon
"If today's no good, you'll have tomorrow. If tomorrow's no good, you'll have the next day."
Sometimes, the warmest of the movies and media we consume rely on nostalgia. Isao Takahata's animation never fails to deliver a beautiful realism of life that will make you feel comforted and emotionally attached to the story and the characters. Only Yesterday reminisces upon childhood and growth, the delicacy of innocence, and the importance of experience. We follow Taeko during a trip to the countryside as she dreams of the more exciting days of her youth, contemplating if the current career-driven city-life is right for her. As we watch Taeko rediscover her past and reflect on her memories, we are also wishing for a return to yesterday as we struggle through this second lockdown, longing for a place where we aren't stuck inside endlessly for hours and physical warm hugs can be exchanged without concern. The film, however, doesn't only offer nostalgia, but a much-needed the message of hope for the future. Taeko looks back on her past and keeps it close to her, but also realises she has the power to carve her own narrative for her happiness. We ourselves are approaching the end of the year (and hopefully the end of the global-pandemic chapter) and, like Taeko, we can look back on this year's memories as the new "yesterday" and have some hope for the "tomorrow" and beyond.
Only Yesterday is available to watch on Netflix.
---
COVID-19 is a global health emergency. For up-to-date guidance in the UK, visit https://www.gov.uk/coronavirus.