Ellie Lachs reviews a whodunnit set in Nazi-occupied Poland, filled with complex love triangles and webs of deceit.
The body of a beautiful young woman, Aneta Landau (Maria Debska), is found strewn across her kitchen table. There is a knife through her chest, crimson blood spilling onto the tiles. Her body remains in an alarmingly animated position; it is clear that this murder did not occur without a struggle. It is upon this scene that Janesz Majewski's Black Mercedes pivots, as it begins its deep dive into Nazi-occupied Warsaw, unveiling a dark underworld bursting with fake identities, corruption, and sex.
The complex web into which this murder fits soon becomes clear, as we learn that despite being Jewish, Aneta somehow managed to slip through the cracks of being pushed into the Warsaw Ghetto. This, being an illegal offence, forces her to find refuge at the house of Professor Holzer (Artur Żmijewski), her old teacher. Faking her identity as his wife, he sets out to protect her. However, being a fairly prominent academic figure, Holzer attracts the attention and friendship of SS commander Count Maximilian von Fleckenstein (Aleksandar Milicevic), and thus we are entered into a world in which Aneta's real identity is constantly at risk of being revealed.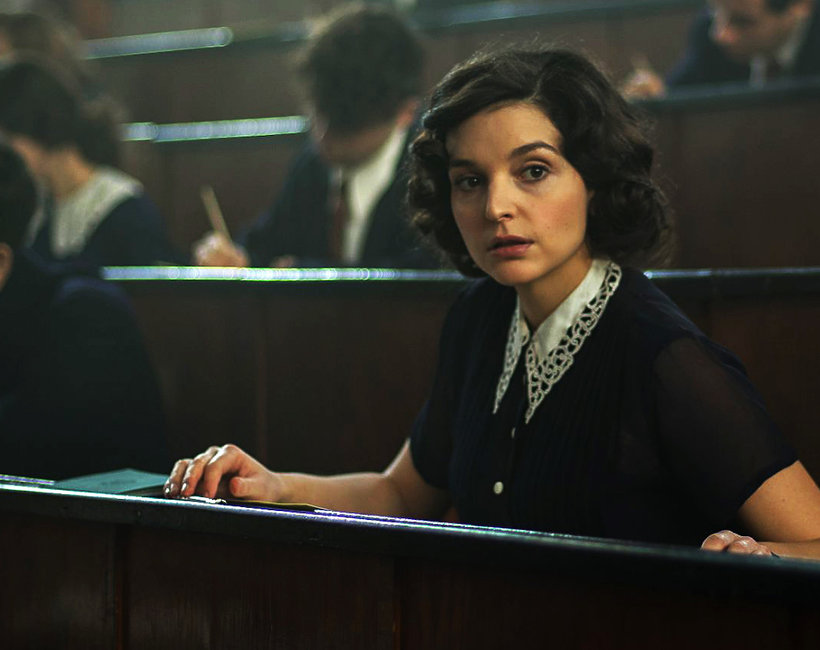 The film quickly descends into an elaborate whodunnit, in which Majewski ensures that we remain suspicious of everyone, constantly dropping hints as to the cast's potential motives. In classical whodunnit style, the plot weaves the characters' relationships into tighter, more trusting yet more complicated positions, and the audience are left awaiting the point at which things will unravel.
Much of this anticipation is generated by the film's multilayered tone. While the brutality of the Warsaw Ghetto and the SS remain ever-present in the background of the film exuding danger and turmoil, there is an ongoing seductive and sexual subtext which plays alongside it. Maximilian pursues an affair with his secret (male) lover Egon, all the while pining for Professor Holzer, who spends his nights sleeping with his house maid despite his secret love for Aneta. Meanwhile the neighbour spends his time spying on the house maid in a particularly pervacious manner. Amongst all of this is Aneta's lover from university, who spends his time trying to find her in order to rekindle their relationship.
Where love and sex are concerned, Majewski and director of photography Arkadiusz Tomiak shroud the screen with a romantic and softer lighting. Whereas in the Ghetto, we find ourselves left in a grey, gruellingly stark setting. Thus, we begin to see the ways that this unique and surprising film melds classic noir motifs with its disturbing vision of a city under siege.
Torment and romance become intertwined; it's difficult to decipher who has real motive and integrity when everyone involved is sleeping with, or dreaming about sleeping with each other, all the while existing in the brutal and oppressive landscape of the Nazi regime. Throughout, Aneta remains without a voice; even in the moments where she is alive, her opinions and voice remain hushed, in part because her safety lies in her silence, but also perhaps, because there is particular feeling of male dominance and authority throughout Black Mercedes, of course largely due to its historical context.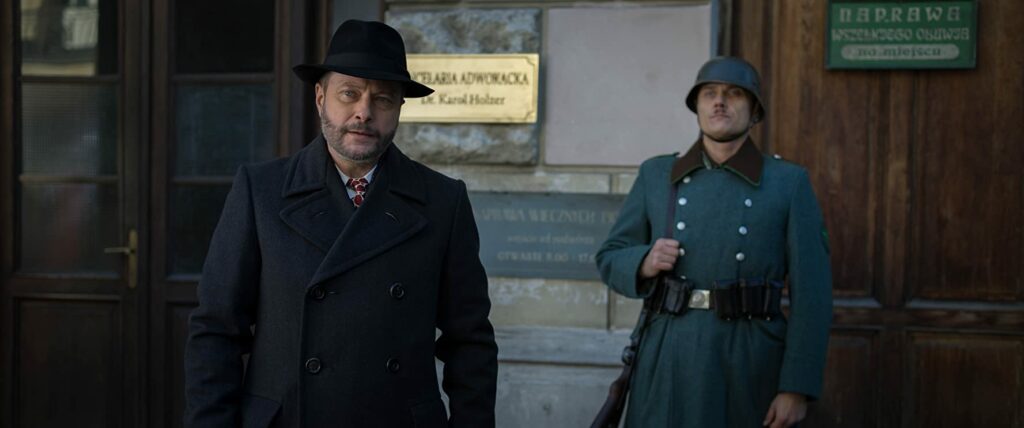 However, when we finally learn of the moments leading up to Aneta's murder, this dominance is subverted. As the drama comes to a close and the details rise to the surface, we learn that Aneta had far more agency than was initially shown. Melding high society, gossip, seduction, and all the juicy themes which underline most murder mysteries, with the background of the holocaust, the film as a whole functions as a stark reminder of both the frivolity of human nature, and the ways in which the Polish people interacted with their country's role in the holocaust.
We are then left wondering which part of this complex, multilayered film is supposed to have the most lasting aftertaste. Majewski manages to provide a detailed image of every section of Warsaw's social and geographical landscape, causing us to become so firmly entrenched in 1940's Poland that it's difficult to leave the film behind when it comes to a close. Perhaps it is this which makes this film so effective.
Black Mercedes was screened at UK Jewish Film Festival, but is not available to watch in the UK at the moment. Watch the trailer here: