London Korean Film Festival returns for its 15th edition. From new releases to hits from renowned Korean directors, the FilmSoc Blog reviews a selection of films showing at this season's festival.
Dominic Ko considers the geopolitical messages of the star-studded action film, Ashfall.
Ashfall, also known as Baekdusan ('Mount Baekdu') in Korea, is an exhilarating disaster film revolving around the volcanic eruption of Mount Baekdu. Despite being released in December 2019 in Korea, it still earned a spot in the top three local grossing films of 2019, with 6.8 million tickets sold in only one month. This is hardly surprising when you consider the film's star-studded cast, which includes Ha Jung-Woo (Along with the Gods franchise, Take Point); Lee Byung-Hun (G.I. Joe: Rise of Cobra, I Saw the Devil, Terminator Genisys); Ma Dong-Seok (Train to Busan and Marvel's upcoming Eternals); and K-pop idol Bae Suzy.
While most domestic movies in Korea cost less than USD $10 million to make, Ashfall has a reported budget of USD $17 million, making it one of the most expensive South Korean blockbusters to date. With ambitions that match its budget, the film stretches the limits of the disaster genre with a nuclear heist, buddy cop dynamics, and even some political critique.
Ashfall has a rather condensed 128-minute run-time, and therefore wastes no time in setting up its story: within the first five minutes, the affluent Gangnam district of Seoul is destroyed in an impressive, CGI-heavy earthquake. The protagonist, bomb disposal specialist Captain Jo (Ha), survives in extremis and manages to reunite with his pregnant wife, Ji-Young (Suzy). But the situation is dire. According to Korean-American geology professor Kang Bong-Rae (Ma Dong-Seok), or 'Robert' as he prefers to be called, Mount Baekdu will explode three more times – and the last eruption is expected to destroy the entire Korean Peninsula.
Using the same kind of ludicrous logic displayed in Armageddon (1998), the government plans to stop the last cataclysmic explosion with a nuclear detonation at the base of the volcano, thus reducing the pressure inside the magma chamber. However, to do so, they would have to steal nuclear warheads from a hidden underground facility in North Korea, which the United States are trying to denuclearise. To make matters worse, the only person who knows the location of the obscure facility is a jailed North Korean informant, Ri (Lee Byung-Hun). As with all disaster movies, nothing goes according to plan: Captain Jo ends up with the Herculean tasks of locating Ri in North Korea, breaking him out of jail, finding the nuclear facility, stealing the warheads, and detonating them inside Mount Baekdu. Uncooperative and politically jaded, Ri forges an uneasy alliance with his Southern counterpart, Jo. Throw in American intervention, Chinese subterfuge, and you've got a plot that stretches the bounds of plausibility while raising the stakes ever higher, as the North Korean and South Korean pair race against time to save the peninsula.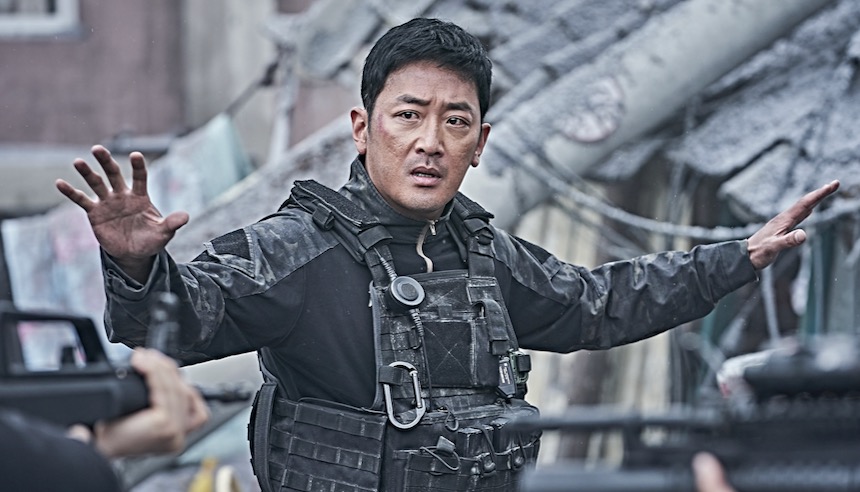 Taking advantage of the classic North Korean/South Korean duo trope, the exchanges between Captain Jo and Informant Ri play off their ideological differences in entertaining and hilarious ways. Lee Byung-Hun's performance as Informant Ri is particularly impressive, especially when we see his character come to grips with his failure as a father. The two men's reluctant alliance slowly evolves into a bond of mutual respect and trust, as they learn more about each other's experiences with fatherhood. By the end, their bromance culminates in an emotional tearjerker.
I enjoyed the geopolitical overtones of this film, which are highlighted by its focus on Mount Baekdu, a cultural icon in Korea. Mount Baekdu is known as the mythical birthplace of the Korean people, and its significance is made evident by its inclusion in both North Korea and South Korea's national anthems. In light of the mountain's symbolic status, a peace summit between North Korean and South Korean leaders was held there in September 2018. The decision to centre the film around this landmark fits well with the theme of North-South cooperation, and resonates with the local population's desire for reunification and peace.
Ashfall also offers a critique of US hegemony, portraying the country as self-interested, and obstructive to Korea's plan to save the peninsula. Korean-American geology professor Kang Bong-Rae is briefly shown to struggle with his bicultural identity, as he transitions from his American to Korean name when introducing himself. Often typecast as a strong, burly brawler, Ma Dong-Seok shows off his acting range and comedic skill as a gutless but smart professor.
Despite obvious influences from Hollywood blockbusters, this geopolitical critique is what gives Ashfall its unique Korean cinema appeal. Trailing after Take Point, The Spy Gone North, and Steel Rain, Ashfall is the latest addition to a growing list of contemporary Korean films that reflect a longing for the reunification of Korea, while criticising the interference of foreign state powers like China and America, who have designs of their own. However, Ashfall primarily aims only to entertain with its far-fetched action-packed plot, as well as spectacular CGI and practical effects. With a little more sophistication and investment into the political aspects of its storyline, the film would no doubt have garnered more international acclaim.
7/10
Ashfall was released in December 2019 in Korea, and is showing on December 6th as part of London Korean Film Festival. Watch the trailer here: