BFI's London Film Festival is in town! The FilmSoc Blog is back for the 64th edition of one of Europe's largest film festivals, delivering a first look at the hits and misses of the 2020-21 season.
Dan Jacobson takes a critical lens to new Irish drama Wildfire.
Social realist dramas, which have made up a significant portion of this year's festival, are supposed to be as much a reflection of the context within which the story is occurring as they are about the characters. Wildfire, the debut feature from Cathy Brady, takes this a step further by making the central characters an allegory for the tempestuous history of the country within which it is set. This may be completely, undoubtedly, unambiguously apparent from the film, but just in case you missed it, don't worry, there is an opening montage of newsreel footage showing the deployment of British troops to Ireland, Bloody Sunday, the Troubles, the Good Friday Agreement, and the Irish border following Brexit — just to make it a little more obvious.
Wildfire focuses on two sisters in modern Northern Ireland. Kelly, portrayed hauntingly by the late Nika McGuigan, has returned home after having gone missing for a year, the reasons for which are unclear. Laura, played by Nora-Jane Noone, is stoic and unemotional, though clearly plagued by the same affliction affecting her sister. Brady uses Kelly's return to the town to examine themes such as sisterhood, and the effect of its division and unification, as well as more abstract discussions of intergenerational trauma, and the lesson that a broken past cannot facilitate a functional future. Et voilà, we have the film's central metaphor.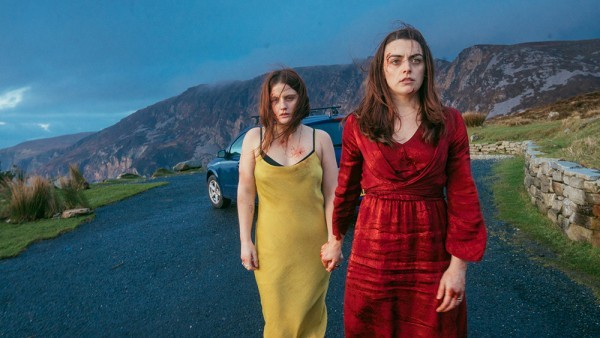 For me, this connection worked well concerning the latter theme. Their mother's fate and affliction, which is revealed in flashbacks throughout the film, is endlessly discussed and contemplated by everyone around them. The town gossips and hypothesised endlessly about their mother and about Kelly's return and mental state. This is further affirmed after the sisters get drunk in a bar and are harassed by a man who is revealed to have been a terrorist released from prison after the Good Friday Agreement, and the man responsible for their father's murder. Laura mirrors the lack of closure and resolution experienced by many who had suffered unimaginable horrors during the Troubles. She strongly resembles Caitlin Carney, from Jez Butterworth's The Ferryman, who learns of her husband's murder at the hands of the IRA ten years after his 'disappearance'. This is an extension of the terror reigned over Ireland which lasted far longer than the explosive bouts of violence. And with the new problems provided by Brexit, we learn that if a problem is left to fester, it will return with a vengeance.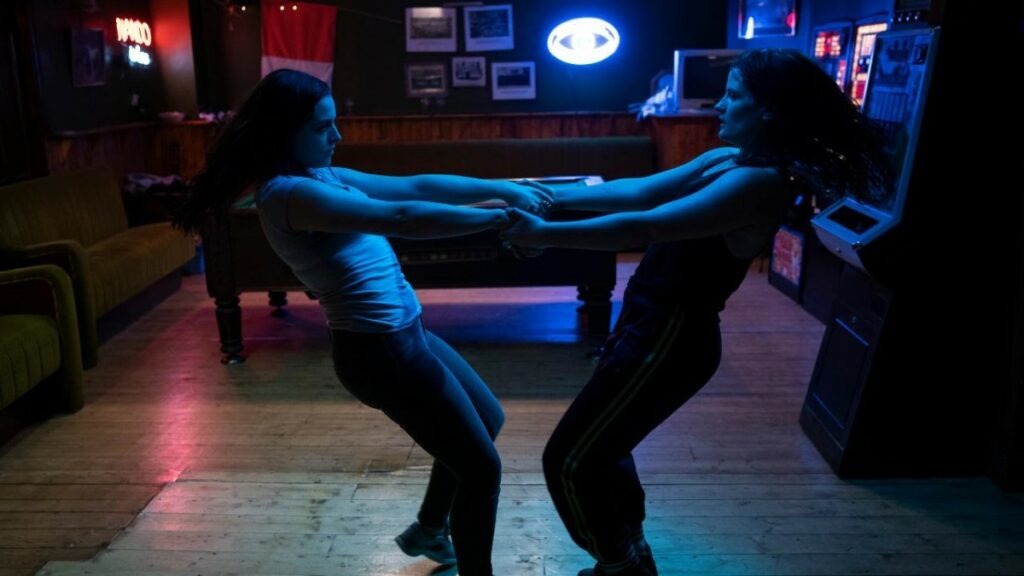 It seems that the intention of the film was to combine these small and large themes in order to develop our understanding of both. However, I can't help but think that Wildfire works much better as a simple human story than as a political statement. Whilst there are some poignant and powerful moments enhanced by the film's setting, many of the references to Ireland, from the opening montage to a pond which the border crosses through, seem shoehorned in with the purpose of simply 'being political', and ratifying the film's social-realist themes. This is noticeable, as it breaks up Brady's sensitive and unobtrusive direction as well as Noone and McGuigan's engaging and emotional performances.
The end result is a film which seems to lose itself in this profound association – one which is pushed so blatantly that any emotional connection feels impossible. What is apparent, though, is that the filmmakers and actors show a deep connection to this film, one which I wish I could share with them. I'm aware that simply identifying with a topic does not make it meaningful, but this feels like what the genre of social realism is designed for. At the very least, it brings some light to an important era which has been criminally ignored for a very long time. 
Wildfire screened at London Film Festival, where director Cathy Brady won the IWC Schaffhausen Bursary in association with the BFI. Watch a clip here: