BFI's London Film Festival is in town! The FilmSoc Blog is back for the 64th edition of one of Europe's largest film festivals, delivering a first look at the hits and misses of the 2020-21 season.
Editor-in-chief Pihla Pekkarinen praises Shirley, Josephine Decker's gothic take on Shirley Jackson's life and art.
Writer Shirley Jackson is probably best known for her novel The Haunting of Hill House, which is widely considered to be one of the best ghost stories of all time. The novel draws its terror from uncertainties: complex relationships between difficult characters and the constant search for evidence of the supernatural. Shirley may be, by description, a biopic – a fictionalised film about the life of a real person – but director Josephine Decker (Madeline's Madeline) draws more from Jackson's works of fiction than the facts of her life. Watching Shirley is almost like stepping into one of Jackson's novels, this time with Jackson herself as the subject. In steering away from a strict biographical account of Jackson's life, Shirley becomes a much more compelling work of art, a disquieting, engaging and engrossing film that leaves you wanting more.
Writer Shirley Jackson (Elisabeth Moss) lives in Vermont with her husband Stanley (Michael Stuhlbarg), and spends most of her time in bed and not leaving the house. Frustrated with her lack of motivation for her writing, Stanley recruits his TA Fred (Logan Lerman) and his pregnant wife Rose (Odessa Young) to stay with them in their home in exchange for Rose helping Shirley out with the housework. Though deeply insulted at first, Rose slowly develops a tentative friendship with Shirley as they spend more time together in the house, bonding over their shared experiences of womanhood in the 1950's. The film explores the various relationships between the four characters as they move around each other, Shirley and Stanley manipulative and controlling, Fred and Rose feeling the strain on their marriage.
The film, unlike other biopics, is very limited in its scope. It zeroes in on a period of less than a year, features a very limited cast of only four speaking characters save for a few lines here and there, and is mostly set in and around Shirley and Stanley's home. This narrow focus proves to be the film's greatest strength. It allows for breathing room for more experimental scenes, and the narrative arc is much more cohesive than in most other biopics. Shirley doesn't concern itself with the truthful recitation of facts, but rather on creating the sense of uncertainty and dread so present in Jackson's novels.
Throughout the film, the camera stays very much on the skin of the actors. It is handheld, always moving, almost never settling on a face from straight ahead. The effect is tense, leaving the viewer feeling as ill at ease as Rose does living in the Jackson home. The tension is increased by the strange eroticism injected into the film, a strange will-they-or-won't-they between Shirley and Rose. Josephine Decker toys with this eroticism nonstop, even offering us a few dreamy sequences of university girls suggestively caressing trees to enhance them. Shirley is constantly presenting you with unanswered questions, positioning itself in the gaps between dreams and reality, the insane and the sane, the gentle and the violent, leaving you gnawing your lips and searching for understanding.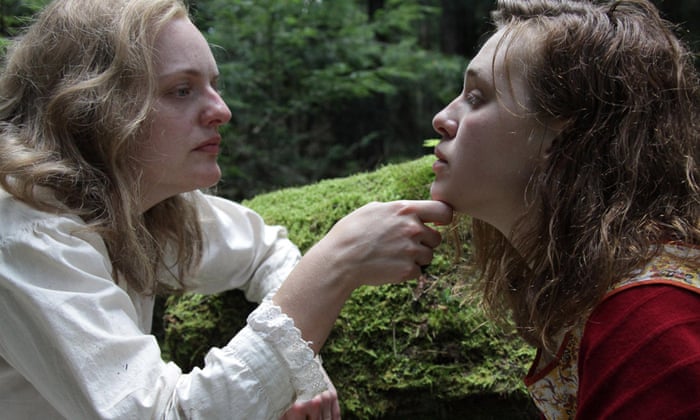 The cast give immaculate performances as the inhabitants of the Jackson house. Logan Lerman's role is nothing to sink your teeth into, and his performance is less memorable than the others, but Michael Stuhlbarg as Stanley makes your skin crawl, and Odessa Young hits each note in her descent from young university hopeful to broken and lonely housewife. Elisabeth Moss leads the cast as depraved, antisocial, rage-filled Shirley Jackson, and somehow never goes over the top and never leaves you wanting. Whether her performance is an accurate reflection of Jackson herself I don't know, but she is a remarkably charismatic lead whilst also being deeply disturbing.
Shirley is as good as biopics get. Everything it sets out to achieve, it achieves. It's a masterclass in tension and character building, and it does not rely on any prior knowledge of or affection for the subject. By paring their subject down, Decker is free to experiment with the plot a little more, and succeeds in building a frankly rather unsettling world of uncertainty and manipulation against the backdrop of horror writing.
Shirley is showing at London Film Festival and is set for a UK wide release on the 20th October. Watch the trailer here: