BFI's London Film Festival is in town! The FilmSoc Blog is back for the 64th edition of one of Europe's largest film festivals, delivering a first look at the hits and misses of the 2020-21 season.
Dan Jacobson reviews a harrowing new horror tackling the subject of dementia.
Two films at this year's BFI London Film Festival centre themselves on dementia and attempt to, firstly, comprehend it and, secondly, study how we may respond to noticing it in ourselves or in those we love. One is Supernova, a poignant, beautifully acted, sensitively directed romantic drama surrounding a couple on a road trip coming to terms with one's progressing illness. The other is Relic, an Australian-American horror which, although it does not approach these themes with the expected tender touch, displays the harrowing nature of a family being torn apart, and a person losing their identity and grip on reality, more effectively and truthfully than any film I have seen in a long time.
Admittedly, I only 'discovered' horror films myself during the lockdown period, but I have already become fascinated by how filmmakers adopt ideas and tropes of the horror genre in order to reflect very real concerns shared by the audience about the society in which we live. It seems like dementia is the near-perfect subject for these tropes, in its invisible invasion of the core of someone's very existence, forcing of them to shed their personality and transform into a wholly different person, whilst simultaneously forcing their loved ones to make unimaginably difficult decisions based on it.
Relic, the debut feature film by Natalie Erika James, begins in a fairly predictable way for a film about dementia. Kay and Sam, a mother and daughter, are travelling to the remote home of their grandmother, Edna, who has gone missing. The film's opening act is reminiscent of a slow-burning, psychological thriller. Combined with the thick surrounding woodland and perpetual shrouding in dark clouds, it offers a strong Prisoners feel. After a short while, Edna returns to the house and is unable to remember her recent whereabouts. She initially reverts back to her familiar, nurturing self, but as you may be able to guess, this does not last. The true strength of Relic lies in how it progresses with Edna's dementia, morphing from psychological thriller, to haunted house, creature feature, even slasher film, culminating in a deeply intense, disarming, engaging film which lures you in only to attack when it feels like you may be starting to 'settle in'.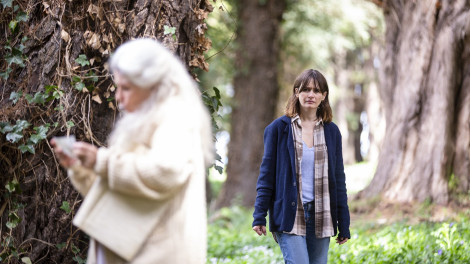 Often, this willingness to embrace multiple horror themes and ideas may be evidence of an unfocused script and overexcited production crew. In the case of Relic, though, every unexpected moment, every extreme tonal shift, and every complete genre overhaul is perfectly natural as part of an overarching story of dementia. It's impossible to think of dementia "creeping in" without spectral connotations, or to declare "it's no longer her in that body" without conjuring an alien form slowly taking over. In its refusal to follow established horror conventions, Relic depicts a more painful and visceral version of dementia than could have been imagined.
Alongside this masterful depiction of Edna's worsening dementia, Relic is also a true representation of the experience of her family members. Kay and Sam argue about placing Edna in a home, to Edna's intense chagrin, insulted that she not be considered part of the discussion, even though she probably shouldn't be. They are the targets of her ever fluid and volatile mood swings, oscillating between kind and caring, and paranoid and aggressive. And finally, they can't find it in themselves to agree if Edna, eviscerated by the disorder, is still herself at the end. The result is a combination of a poignant and heart-breaking final farewell, and a desperate attempt to escape the claws of Edna's dementia.
What I have learnt from my very limited, if enthusiastic, foray into horror films is that they are an attempt at understanding a world that is intrinsically confusing. Particularly for a concept as torturous, yet abstract, as dementia, we all need ways of comprehending and coming to terms with it. For many, that may be through Julianne Moore forcing herself to memorise words in Still Alice, or Colin Firth helping Stanley Tucci with his shirt in Supernova, and that is understandable. However, Relic, armed with an encyclopaedic knowledge of horror and a unique perspective, taps into the dark side of dementia in a way that mainstream drama films avoid, and the outcome is shockingly good.
Relic is currently screening at London Film Festival, and will be out in cinemas on October 30. Watch the trailer here: