BFI's London Film Festival is in town! The FilmSoc Blog is back for the 66th edition of the city's largest film festival, delivering a look at the hits and misses of the 2022-23 season.
◯ Warning: this review contains spoilers.
Dominic Ko reviews Martin McDonagh's newest tragicomedy, starring Colin Farrell, Brendan Gleeson, and Barry Keoghan.
Breaking up with friends as an adult is hard. Even more so when it is between men who lack the emotional capacity to express themselves. Set on a fictional Irish island in 1923, against the backdrop of the Irish Civil War, The Banshees of Inisherin is an examination of masculinity in crisis and the emotional complexity of male friendships.
Written and directed by critically acclaimed director and playwright, Martin McDonagh, Banshees masterfully traces the breakdown in relationship between two middle-aged best friends, Pádraic (Colin Farrell) and Colm (Brendan Gleeson), and its startling consequences for them. Pádraic, a good-natured, affable milk farmer spends every afternoon with his inseparable drinking companion, Colm, a stoic fiddler with lofty aspirations of composing his masterpiece song. One day, Colm abruptly cuts his friendship with Pádraic. Simple-minded and a born chipper, Pádraic is unconvinced and probes for the genuine reason why Colm might choose to end their friendship of many years. His wiser sister, Siobhán (Kerry Condon) casually speculates it could because "He just don't like you no more." But the deeper reason, as Colm confesses to his priest (David Pearse) is that it could be symptom of his depression, a reason Pádraic also speculates but marginally appreciates. Catching up to his years, Colm simply wishes to be left alone to exhaust his remaining days on composing music, instead of wasting it on meaningless conversations with Pádraic. Stubborn, hurt and confused, Pádraic cannot seem to take no for an answer until Colm poses an ultimatum to him – for every instance Pádraic attempts to converse with him, he will cut his own finger off with his shears.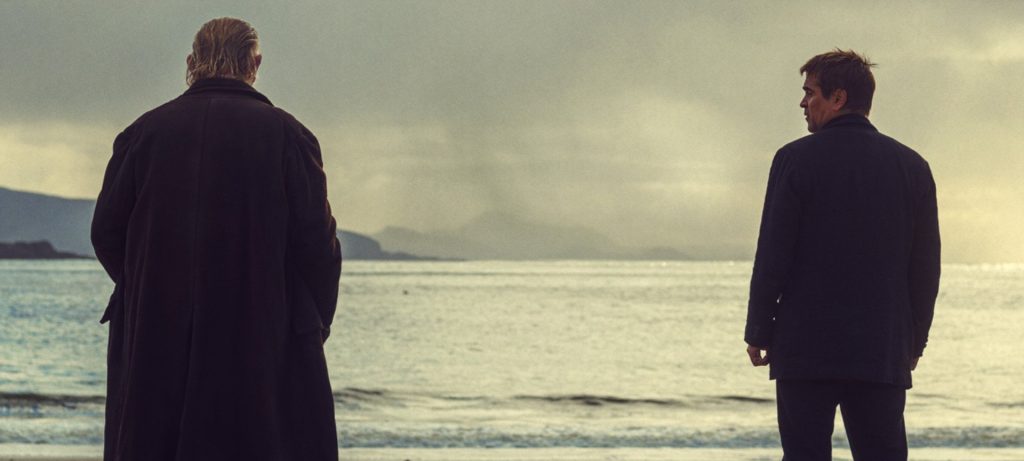 The rest of the film plays out in violent, humourous yet sorrowful episodes as Pádraic repeatedly seeks reconciliation. Struggling to mend this blindsiding break-up, he even confides with the local village idiot, Dominic (Barry Keoghan), who muses, "What is he, twelve?" Indeed, the two leads behave like children at a playground who are not emotionally equipped to handle their pain. With this relatively simple premise, McDonagh digs deep in exploring their masculine pride and the film adopts a thicker, more sorrowful tone in its second half.
In one of his career's best performance, Farrell does a superb job in taking us along Pádraic's emotional journey. A simple, seemingly childish man, Colin plays Pádraic with so much intricacy and complexity. Farrell's ability to convey Pádraic's confusion, loneliness and eventually anger is extremely impressive, and you cannot help but sympathise with him. Brendan Gleeson's Colm is just as relatable with his ambitions to leave a legacy before he passes on. Gleeson's performance is just as strong as Farrell's, but it is Farrell who is given the most screentime to demonstrate his skill. It is astonishing that neither Farrell nor Gleeson has been nominated for an Oscar, but I believe that would change this upcoming awards season.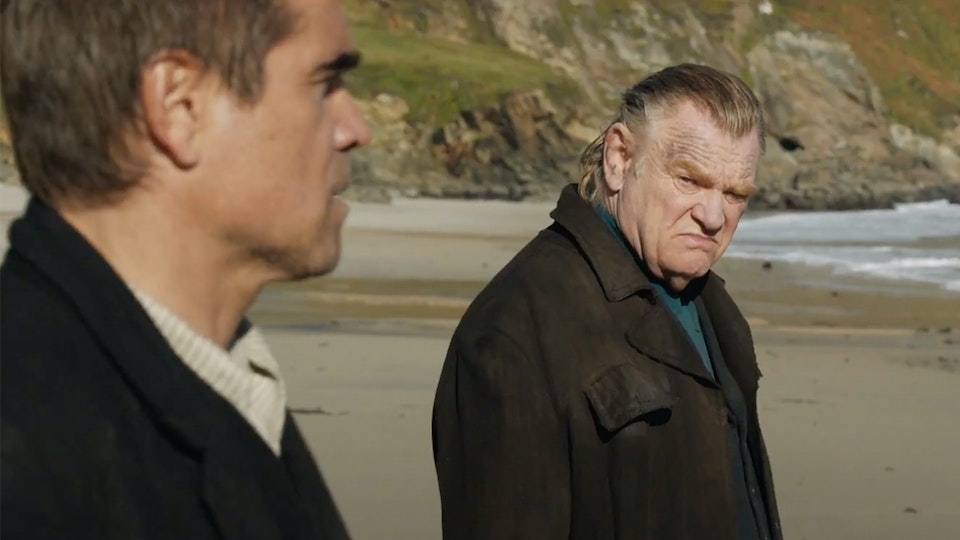 It is also worth recognising Barry Keoghan's earnest portrayal as the village idiot, Dominic, and Kerry Condon's performance as Pádraic's sister, Siobhán. Even with these two powerhouses leads, Keoghan still manages to steal the scene whenever he goes on with his blend of vulgar brashness and sweet vulnerability. Likewise, Condon holds her ground playing the only female character in this world of infantile men. As Siobhán, Condon projects a fierce, firm presence in Pádraic's life and I really empathise with her character struggling with ambitions to break free of her monotonous life on the island. With a relatively small cast, everyone is given moments to shine, and the supporting cast really throw themselves into it.
The cinematography is lush and visually poetic, as it blends lights and shadows to express the stark sadness of Inisherin. Even with wide, expanse shots, there is something claustrophobic and oppressive with how cinematographer, Ben Davis, presents the island. Inisherin is painted as both a paradise for those seeking peace and a prison for those with ambition. The haunting soundtrack by consistent McDonagh collaborator, Carter Burwell, further adds to the despair the characters feel. Nevertheless, all these components only serve to build upon the core bedrock of the movie – the layered, nuanced script that dissects the human condition.
Sharp, witty and lacerating, McDonagh's screenplay really delivers as a comedy and a deeper exploration on male pride. However, it is unclear how deep a metaphor the break-up is for the Irish Civil War taking place in the background. On an island far removed from the fight, the residents are unsure why the civil war is happening, and they are just as clueless why Pádraic and Colm bicker. McDonagh's ending for Banshees is ambiguous and tragic, and its abstractedness might be a slight drawback for an otherwise outstanding screenplay. Nevertheless, it does more than enough in its sublime exploration of a friendship soured. Layered with emotional depth and humour as black as the Guinness the protagonists knock down, the Banshees of Inisherin entertains while pulling our heartstrings. A real awards season contender not to be missed.
Banshees of Inisherin is currently showing in cinemas. Watch the trailer here: