LEAFF 2021 celebrates its sixth year with a programme of thirty films from celebrated and debut filmmakers. Championing East Asian cinema, LEAFF aims to bring a wide range of cinema to London and offer the opportunity to experience a new culture of cinema.
Alexia Mihaila reviews the emotional directorial debut from screenplay writer Erica Li.
Colorful and ambitious, Erica Li's Just 1 Day is a strong directorial debut. The story is not only a love letter to Hong Kong, but also an architectural homage to urbanism and self-expression through art, all packaged in a soapy and dramatic emotional rollercoaster.
The film follows Angelfish (Charlene Choi), a desk assistant at a bank, depicted as a hopeless romantic who hasn't found her special person to watch sunrises with. She is stuck in a toxic relationship with her boyfriend (Eric Kwok), who cheats on her with another woman with whom he's built a life with in Canada. Angelfish is unhappy, working a menial job and still dating the man she knows is unfaithful to her.
Mosaic (Wong Cho-lam) comes in her life as a two in one deal: emotional bandage and distraction from her breakup. He cares. Mosaic is Angelfish's former classmate who she used to lend pastels. He is a hopelessly romantic architect who suffers from ALS, and still has a crush on Angelfish even ten years after their graduation.
Artistry makes Just 1 Day distinct from most of the cheesy friends-to-lovers narratives out there, while still making use of the standard rom-com tropes — such as an adapted 'meet-cute' where Mosaic climbs on top of a box just to appear taller than Angelfish, to one partner going out of their way to ensure their crush's safety. Accordingly, the hopelessly romantic personalities of the central couple go hand-in-hand with the artistic identity in general — since artists are always on the lookout for their next muse, but also in particular to Mosaic. Drawing as a form of nostalgia the ever-changing Hong Kong architecture, with their former school being scheduled to be demolished soon, Mosaic finds himself connected to his past through his lingering crush, Angelfish, as a new form of inspiration.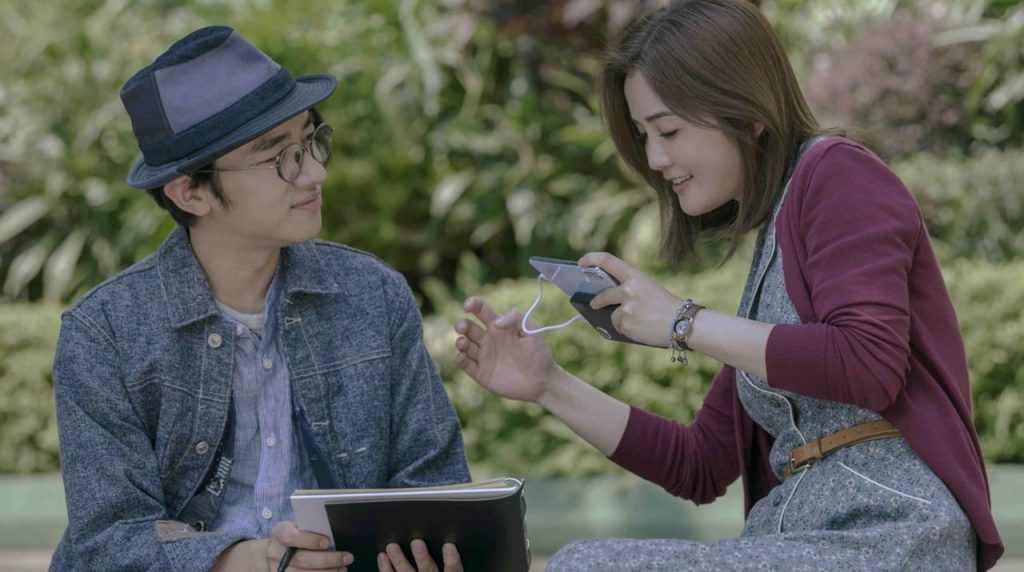 There are many parallels to Just 1 Day and Chen Yu-hsun's My Missing Valentine: from the hit by the bus, welcome-to-reality scene, to how both female leads have menial jobs that give their crushes an opportunity to check up on them without being too obvious about it, to waiting for true love and instead falling for obsessive childhood friends turned artists that haven't yet shed their boyhood fantasy of dating their crushes. What My Missing Valentine did better was to approach the topic of obsessive artistic love lightheartedly, as comedy. Just 1 Day takes itself too seriously as a romance, raising red flags on the nature of Mosaic's ten years crush.
Both leads get, in the end, what they desire. Despite not actually falling in love, their personal troubles with hopeless romanticism become, in a way, resolved. Angelfish wanted someone to care for her and show her she is worthy of love and, of course, see the sunrise with someone that loves her. Mosaic wanted Angelfish to be his girlfriend, mostly emotionally, easily complying with Angelfish's 'one-day' rule of no touching. Most importantly, Mosaic fulfills his main character's story. He plays Angelfish the song he wrote for her, he draws her. None of these were specifically activities Angelfish would necessarily enjoy, but she did, for someone actually truly cared for her for once.
The symbolism of the fish both in Angelfish's name and through the artworks showcased might represent change, the force that drives the couple together. It exists as a lesson for the audience, too: time moves fast. Change is the reason Mosaic dares to approach Angelfish in the first place because as his diagnosis advances, he never knows if he'll ever see her again. Besides, art carries an important role in the film from the meticulous miniature models to the dynamic CGI to beautifully portray Hong Kong as a staple for creativity, passion, self-expression, and evolution.
Although very predictable at times, Just 1 Day did force me to hold back tears at its end. Erica Li's directorial debut is a powerfully executed story of two people mutually appreciating each other to fulfill their romantic potentials and is well worth watching.
Watch the trailer here: